Giulia Scarpaleggia reveals the secret to the perfect Italian meat sauce. Learn how to make a delicious ragu with this wonderful recipe.
By Giulia Scarpaleggia
On January the 1st a few years ago I got up early (early given the dinner and party the night before), and I made my first ragù, the well renowned Italian meat sauce, with my grandma. I can see the scandal in your eyes: how can it be possible? you have been writing about food for several years now, you hold your own Tuscan cooking classes and you dare say you have never made a meat sauce before? Candidly I will answer: no! No, because, in my opinion, the meat sauce is something that requires the dedication of a Sunday morning or of a holiday, it requires you to get up early and it necessitates your total attention.
Mum's or Grandma's make ragù. I generally enter the kitchen and the meat sauce is already there, simmering on the stove. A pot partially covered, a mystery to me until a few months ago. Thanks to the time I had as a gift for Christmas (time, precious time, one of the most beautiful gifts, a little time for me and my passions), I decided it was the right moment to learn how to make our family meat sauce.
This is not the Bolognese sauce by the book… this is just the sauce I feel mine, the sauce of my mum, of my grandma and of those who sit at table with us. Now I'll tell you how to make it step by step, as my grandma did with me in that wonderful morning!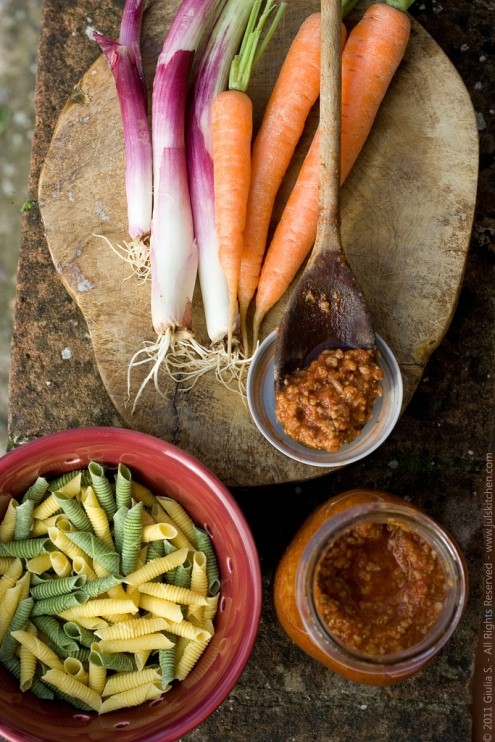 This is the modern meat sauce, made according my grandmother's likes. My great-grandmother Pia used to make it adding the chicken livers, or, more often, the rabbit livers. Apart from this particular – and the fact that this time I added dried mushrooms, following again grandma's advice – this is the meat sauce that has been made in my family for over 80 years! They used an enamel pan, the deepest pan, but today I've used my reliable Staub pan, perfect for the meat sauce.
The ragù was the sauce that was used to dress the pasta on holidays or special occasions, such as threshing or harvesting. On a daily basis there was always a broth or a soup, but on that special days! They used the homemade egg noodles, made right on the moment, or very rarely bought pasta.
While my grandma was explaining me how to make the meat sauce step by step according her own rules, she began to tell me about her memories related to this sauce. Shortly after her marriage, Aunt Valeria used to visit regularly my grandma. Aunt Valeria, my grandfather's sister, was from Melfi, from the South of Italy, therefore belonging to a rich food culture, a very different culture from the Tuscan one, but of course not less fascinating.
Every Sunday Aunt Valeria used to hear a noise in the kitchen, a continuous tac tac tac tac she couldn't define. It was grandma who was using the two-handled chopping knife on the chopping board. I can still remember that chopping board, over used and with a small hollow in the center made by the past time and the rhythmic movements of the blade. Aunt Valeria loved that meat sauce! She understood that to make it she needed the ground meat and the chopped vegetables, so she decided to try it. She wanted to overdo herself and make the best ragù ever, so she decided to increase the amount of meat and instead cut the presence of vegetables… but it was not even remotely similar to grandma's one, and she was so disappointed!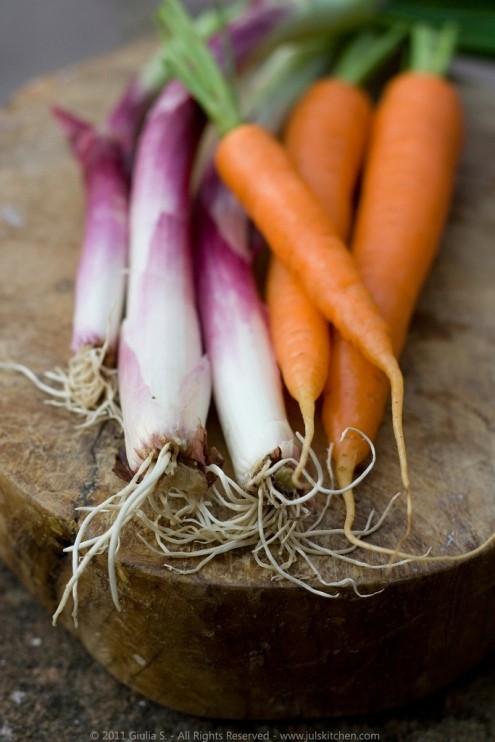 As my grandmother told me, that's not how it works! To save money and increase the final volume of the meat sauce they used a lots of vegetables… that's the trick to a successful meat sauce, along with, of course, a wooden spoon and a very slow cooking!
See Also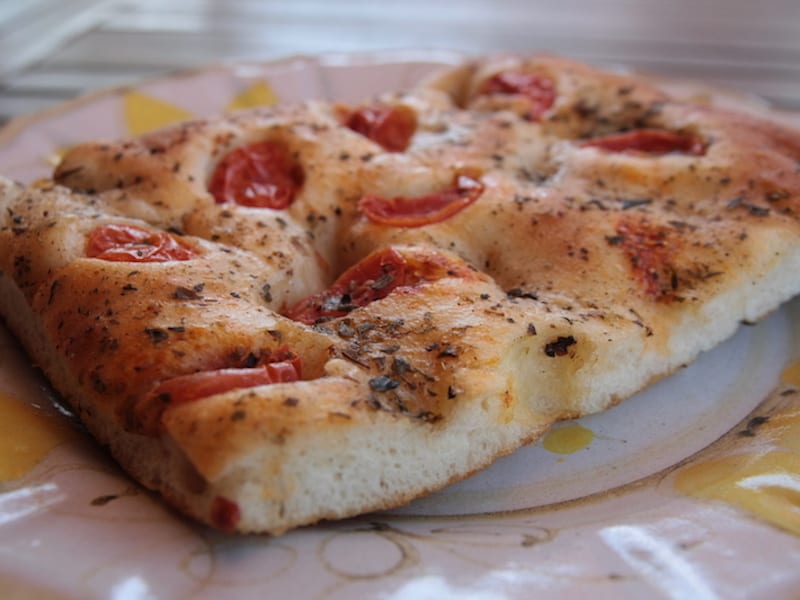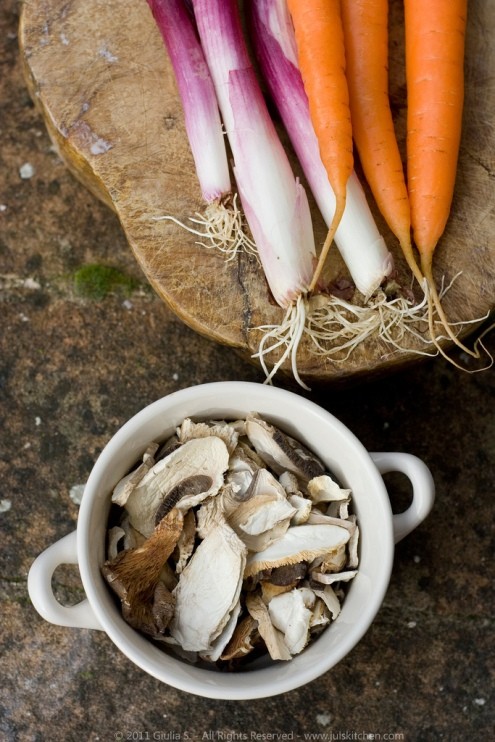 Print
My Big Fat Italian Meat Sauce
---
Author:

Giulia Scarpaleggia

Total Time:

2 hours 45 mins

Yield:

6

-8

1

x
Description
Giulia Scarpaleggia reveals the secret to the perfect Italian meat sauce.
---
1

red onion
or

2

red spring onions finely chopped

2

large carrots, finely chopped

3

stalks celery,  finely chopped
extra virgin olive oil

0

,7 oz (20 g) butter

3

,5 oz (100 g) mixed dried mushrooms

0

,7 lb (300 g) ground pork

1

,5 lb (700 g) ground beef

1

and 1/2  tbs salt

1 tsp

pepper

1

glass red wine,

6

,4 cups (1,5l) tomato sauce
---
Instructions
Cover with extra virgin olive oil the bottom of a heavy large saucepan and add in the butter and the chopped vegetables. Sauté for about 10 minutes, stirring frequently with a wooden spoon. Pay attention not to overcook the vegetables: they should get lightly golden and soft.
Soak the mushrooms in a cup of hot water until soft.
Add into the meat and sauté on a medium heat, stirring constantly with a wooden spoon to break up any meat lumps. Stir continuously to let the meat cook evenly and mix it to the chopped vegetables. Cook for about 20 minutes, until the moisture from the meat has evaporated. Scrape the bottom of the pan with the wooden spoon while stirring. Season with salt and pepper.
Pour in the red wine, bit by bit, not all at once. Grandma recommended to add it in three times, stirring with the wooden spoon and letting it evaporate before pouring the remaining wine. You'll need about 10 minutes.
Add the tomato sauce, stirring thoroughly to mix it with the meat. Let it simmer for about 5 minutes, then add in the squeezed and finely chopped mushrooms and the strained mushrooms water.
Partially cover and simmer for at least 1 hour and a half. Stir frequently to prevent the sauce from sticking.
Meanwhile, mum peeped out from behind my shoulders and, while I was stirring my ragù, she whispered: it will be ready when it will be covered by a few spots of grease
Notes
I know I used a large quantity of ingredients! It's better to cook a good supply since it calls for time and dedication, isn't it? We usually use a part of the meat sauce to dress pasta, spaghetti or lasagne on the very same day, a part is kept to be stored for a few days in the fridge, closed in a glass jar, and a part is frozen. You can use ice-cube trays to freeze single portions of meat sauce or small aluminium muffin size moulds if you want to have two large portions of it.
Prep Time:

15 mins

Cook Time:

2 hours 30 mins

Category:

Pasta

Cuisine:

Italian
Giulia Scarpaleggia
Giulia Scarpaleggia, Juls to friends and readers, is a Tuscany based and world oriented food blogger, writer and photographer. Her first passion was English and foreign countries: now she has deeply fallen in love with the vision that foreigners have of Tuscany. Simple and sunny, she has an insane passion for cooking.