Mustard and Chickpea Fritters with Harissa Aioli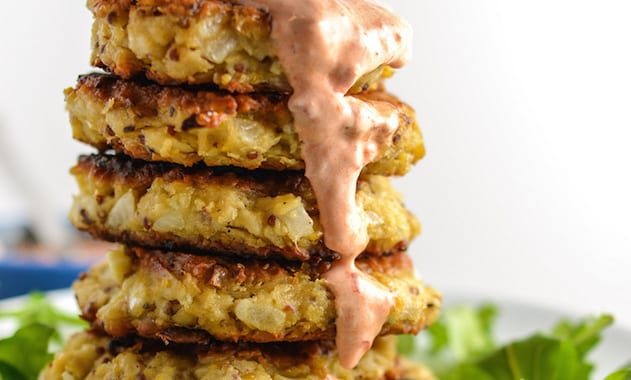 Crisp and flavored with Dijon, garlic, and onions, fry up these fritters now and douse them in the addictive harissa sauce.
By Vicky Cassidy
These dijon chickpea fritters are pretty straightforward to make. Just mash up your chickpeas with some onions and garlic. Add a bunch of dijon mustard, an egg, and a little flour to help bind the fritters together, and throw them in a hot pan with canola oil. Once you've got them browned on both sides, top them with the simple aioli.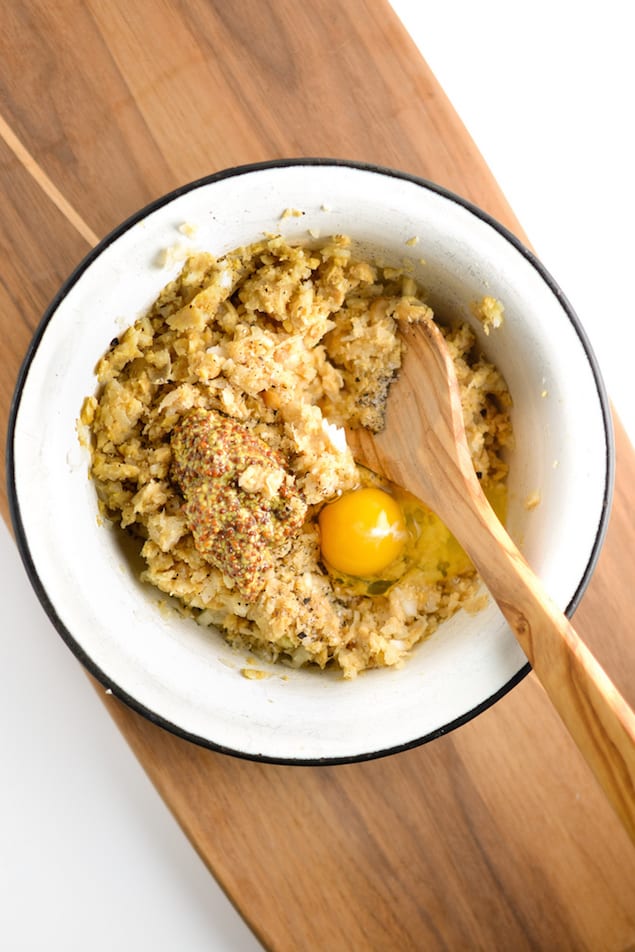 You can serve these as an entree for two with a nice green salad on the side or as an appetizer for a bigger group.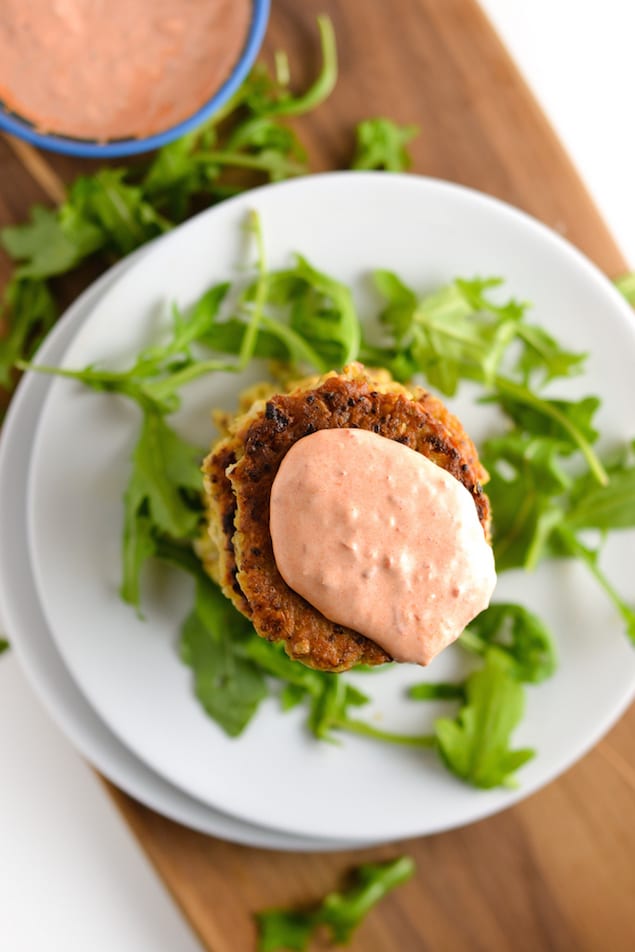 Mustard and Chickpea Fritters with Harissa Aioli
Crisp and flavored with Dijon, garlic, and onions, fry up these fritters now and douse them in the addictive harissa sauce.
Recipe Type:
Appetizer, Side
Serves:
2 servings as an entree, 4 as an appetizer
Ingredients
1 15 oz can chickpeas, rinsed and drained
½ medium yellow onion, minced
3 garlic cloves, minced
2 tablespoons Dijon mustard
½ teaspoon Kosher salt
¼ teaspoon freshly ground black pepper
1 egg
2-3 tablespoons all purpose flour
canola oil
⅓ cup mayonnaise
2 tablespoons Harissa
Instructions
In a large bowl, mash chickpeas with the back of a wooden spoon or a potato masher until they are completely broken down. Add onion, garlic, egg, salt, and pepper. Mix until fully combined. Add flour, one tablespoon at a time, until there is no visible liquid but it is still relatively wet.
Heat canola oil in a cast iron skillet. Using your hands, form 6-8 fritters and drop them into the hot oil. Cook on each side for 3-6 minutes, until nicely browned, then flip and repeat on remaining side.
Meanwhile, stir together mayonnaise and Harissa.
Serve fritters with Harissa aioli.
Vicky Cassidy
Vicky Cassidy can usually be found in her Madison, WI kitchen with cumin or paprika in her hair and olive oil smudges on her camera. She is a self-taught cook and the occasional baker, and she loves oversharing stories about her kitchen and life on Things I Made Today.