Tender Pork Chops with Mango-Pineapple Salsa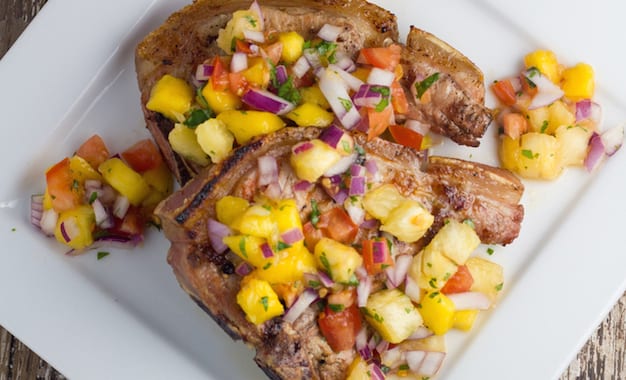 Whip up the salsa and get creative. Whether you serve it with pork, chips or as a quinoa salad it is sweet with a bit of bite from chilis, onions, and lemon.
By Vanessa Vickery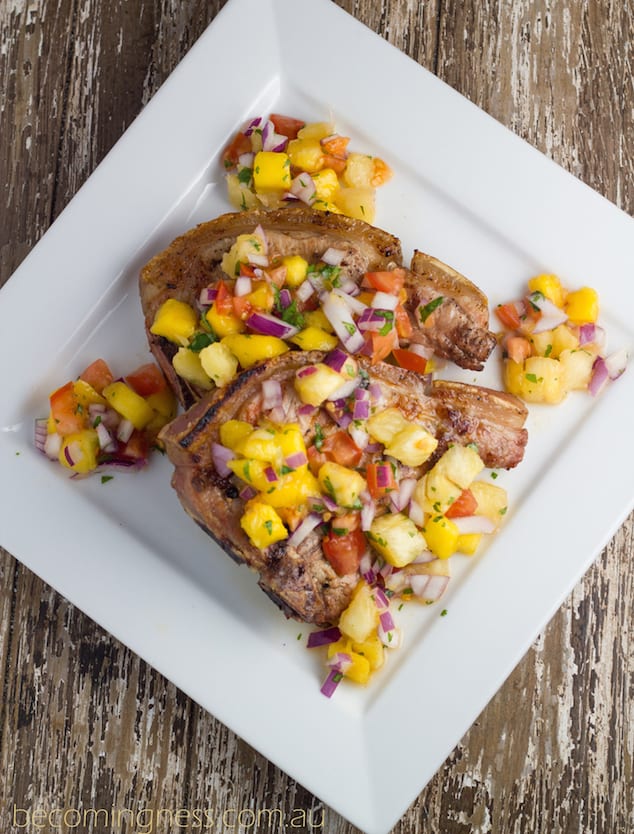 The Salsa is a great mix of smooth, sweet flavours (thanks to the fruit) and a bit of bite (thanks to the red chili, red onion, lemon and lime juices). The result is a fantastically fresh way to enjoy pork, and it's healthy enough to enjoy simply with my recipe below, or accompanied by a side salad. I highly recommend my Apple, Avocado, Cranberry & Walnut Salad or Quinoa Salad with Pumpkin, Avocado & Tomato.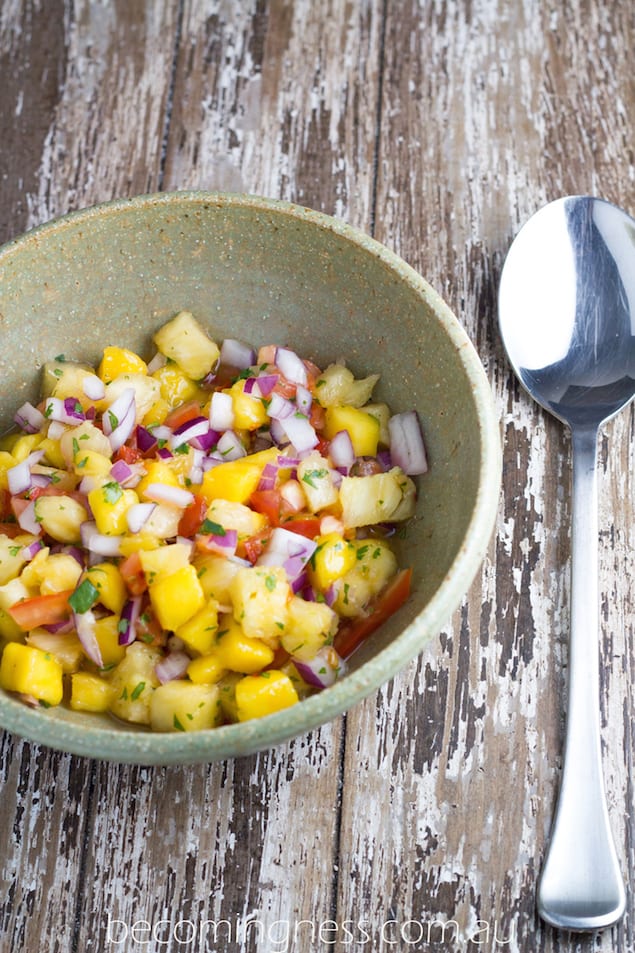 Tender Pork Chops with Mango-Pineapple Salsa
Whip up the salsa and get creative. Whether you serve it with pork, chips or as a quinoa salad it is sweet with a bit of bite from chilis, onions, and lemon.
Ingredients
6 pork loin chops
Pinch of sea salt
Pinch of black pepper
Pineapple & Mango Salsa
1 cup fresh pineapple, diced
1 cup fresh mango, diced
1 large tomato, diced
½ small red onion, diced
½ to 1 red chili, finely chopped
2 tablespoons coriander, finely chopped
2 tablespoon fresh lime juice
1 tablespoon fresh lemon juice
Pinch of sea salt
Pinch of black pepper
Instructions
To make the salsa, add the ingredients to a bowl and mix to combine. Refrigerate until required.
Preheat BBQ on medium heat. Season the pork chops with salt and pepper and cook for 6-8 minutes (depending on your preference) each side. Once cooked, remove from the BBQ, cover with foil and let rest for 10 minutes.
Spoon the salsa on top of each chop and serve
Vanessa Vickery
Ness is a qualified nutritionist, a life & wellness coach in-training, and a mother of two extremely energetic toddlers. She has created Becomingness, a health and wellness website, to help women achieve their health and wellness goals by providing accurate, accessible and attractive products and services that promote motivation, empowerment, self-belief and happiness.