Mushroom Trifolati is normally served as a side dish all over Italy. The addition of crisp, homemade chips turns this dish into the perfect first course.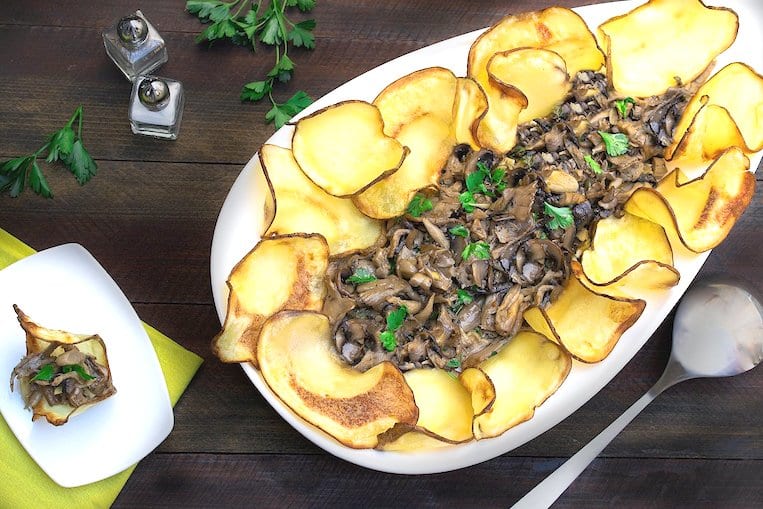 Funghi Trifolati, or Mushroom Trifolati, are sautéed mushrooms that are served all over Italy; as a side dish to steaks, or on top of creamy polenta or as a crostini.
I used a variety of wild mushrooms: porcini, oyster, and cremini, but you can use whatever mushrooms that are fresh and in season, then just sauté with garlic, olive oil, parsley and some spicy peperoncino flakes. Instead of making a side dish, as is so common in the Piemonte region, I made this into a delicious and unique appetizer. I made my own thick-cut potato chips, which are used as a scoop to pick up the medley of mushrooms into bite-sized portions, which is perfect for a cocktail party, and a very impressive presentation.
Buon Appetito!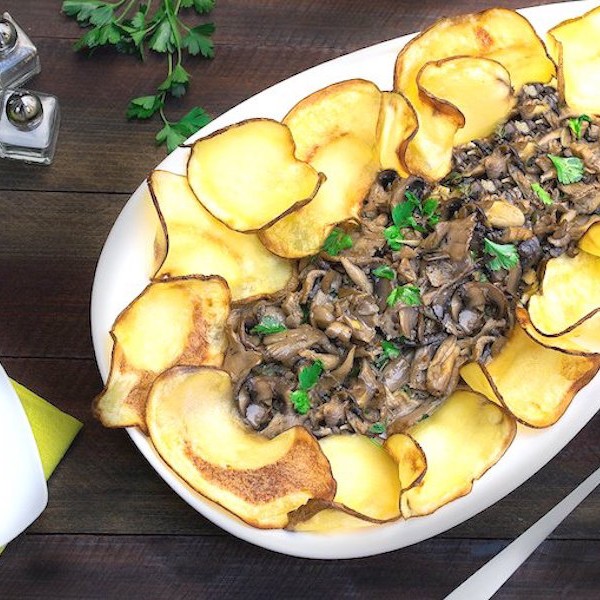 Francesco Romano
Ingredients
1

pound

oyster mushrooms

thinly sliced

1/2

pound

cremini mushrooms

thinly sliced

1/2

pound

dried porcini mushrooms

4

garlic cloves

finely chopped

5

tablespoons

extra-virgin olive oil

1/4

teaspoon

red chili flakes

1/4

cup

of fresh Italian parsley

finely chopped

1

large Russet potato

sliced 1/8-inch thick

Salt and pepper to taste
Instructions
For the Potatoes
Preheat the oven to 425°F.

Slice the potatoes into 1/8-inch slices using a mandoline.

Soak the sliced potatoes in a large bowl water.

Transfer to a clean kitchen towel and pat them dry.

Brush each slice with olive oil gently bend and fit into a muffin pan.

Add salt and pepper to taste and bake at 425º for 25 minutes.
For the Mushrooms
Finely slice the oyster and cremini mushrooms lengthwise. Set aside.

Soak the porcini mushrooms for 30 minutes in very hot water until reconstituted.

Drain and rinse the porcini mushrooms in a colander to clean any remaining grit. Set aside.

In a large skillet heat 4 tablespoons of extra-virgin olive oil over medium heat. Add the garlic and sauté until fragrant about 1 minute.

Add the porcini and sauté for 1 minute, add the rest of the mushrooms, 1/8 cup of the parsley, chili flakes and salt and pepper to taste.

Cook for 15 to 20 minutes or until tender.

Serve on a platter with the baked chips surrounding the mushrooms. Top with the remaining parsley.
Francesco Romano
Francesco Romano was born in Italy and has been living in America for 25 years. As he was growing up, he didn't realize how spoiled he was! He had two of the best chefs under one roof, his Grandmother Nonna Sara and his Mama Francesca, who made every meal from scratch and with love. As a kid, he would sit in the kitchen for hours while these women were hard at work, enjoying the smells, tasting when he was allowed to, and later being put to work to help make fresh pasta. It wasn't until he was a grown up, moved away from home, and later to America, that he understood how much of his heritage and family centered on food. It was always made from fresh seasonal ingredients and was a way of bringing the family together to savor, to bond and to enjoy. On his site you WILL find mouth-watering food that is fresh, easy and authentic Italian, straight from my Mama's kitchen to yours.