This appetizer is so delicious you might want to make it your whole meal.
By Faith Gorsky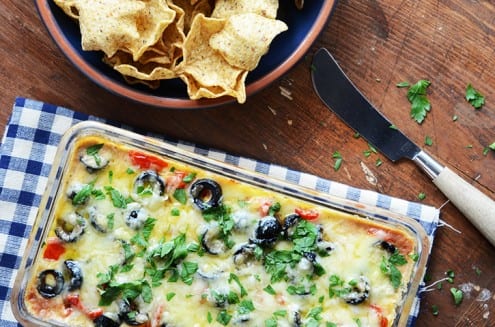 Mult-layer Cheese and Bean Dip
This appetizer is so delicious you might want to make it your whole meal.
Ingredients
1 (13.6 oz/385 g) container refried pinto beans
4 oz (115 g) cream cheese, softened
½ cup (115 g) plain, low-fat yogurt
½ medium onion, finely diced
½ teaspoon cumin
½ teaspoon chili powder
½ teaspoon dried oregano
½ teaspoon granulated garlic powder
¼ teaspoon salt
⅛ teaspoon black pepper
6 oz (170 g) sharp white cheddar cheese, shredded (or use a full 8 oz/225 g if you want!)
1 cup (150 g) cherry tomatoes, chopped
½ cup (60 g) pitted black olives, sliced
1 tablespoon chopped parsley leaves, for garnish (optional)
Tortilla chips, for serving
Instructions
Preheat oven to 400F.
Stir the refried beans and spread them in the bottom of a 9 by 5-inch loaf pan.
Stir together the cream cheese, yogurt, onion, cumin, chili powder, oregano, garlic powder, salt, pepper, and ⅔ of the shredded cheese (reserving ⅓ of the shredded cheese for topping). Spread the cheese mixture on top of the refried beans.
Spread the tomatoes on top of the cheese mixture, and then sprinkle the olives on top. Top with the reserved ⅓ of the shredded cheese.
Bake until bubbling in the center, about 20 minutes. If you want it more browned on top, run it under the broiler for a couple minutes (stay with it, because it will brown quickly under the broiler!).
Sprinkle the parsley on top; serve warm with tortilla chips for dipping.
Faith Gorsky
Faith Gorsky is the writer, recipe developer, photographer, and food stylist behind the blog An Edible Mosaic. Her recently-released first cookbook, An Edible Mosaic: Middle Eastern Fare with Extraordinary Flair (Tuttle Publishing), is a collection of authentic Middle Eastern recipes handed down to her from her husband's family during her extensive time spent in the Middle East. Faith loves to travel, especially to places steeped in rich culture and history.