Enjoy making this mulled cognac cranberry and clementine chutney recipe from Alisha Randell.
By Alisha Randell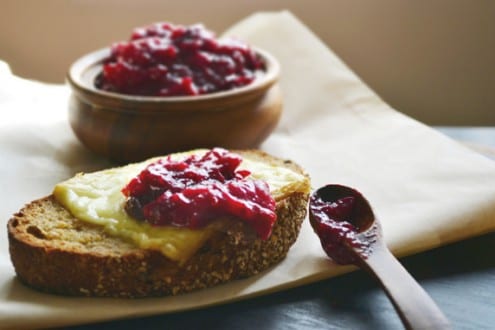 Mulled Cognac Cranberry and Clementine Chutney
Enjoy making this mulled cognac cranberry and clementine chutney recipe from Alisha Randell.
Ingredients
For the mulled cognac
2 rounded tablespoons mulling spices
1 cup cognac
4 clementines, juiced
For the chutney
12 ounces fresh cranberries
3-4 clementines, skinned and chopped
½ cup maple sugar
1 teaspoon light oil (like grapeseed)
1 cup mulled cognac
Instructions
For the mulled cognac
Place mulling spices that have been bruised or lightly crushed into a prepared
sachet, or create your own with cheese cloth and cooking twine.
In a small to medium sauce pan, place fresh clementine juice and cognac
along with sachet of mulling spices.
Over a moderate heat bring mixture to just below a boil. Reduce heat and
cover allowing to simmer on low heat for about 20 minutes.
Note: if your sachet is not completely submersed in liquid, stir occasionally
making sure the spices stay damp.
Set aside
For the chutney
Begin by peeling your clementines then sectioning them. Removing the
membrane and inner skins, then chop into chunks.
Place cranberries and clementines into a medium sized pot. Add sugar
gently agitating with a wooden spoon to coat the fruit.
Now add oil and mulled cognac bringing mixture to a low boil. Using
a wooden spoon continue to mix ingredients and press cranberries
along the sides of the pan to release juices.
Reduce heat to low and allow sauce to simmer for about 25 minutes or so,
or until desired thickness is achieved.
Note* If chutney becomes too thick, add more mulled cognac or juice
to bring to desired texture.
Serve warm with your favorite bread and cheese...
Alisha Randell
Alisha Randell is a former Executive Chef turned Private Chef and Culinary Instructor. She is the Co-Creator/Author of The Ardent Epicure blog "An Ode to the Pleasures of Food". Growing up with a dad as a culinary guide, whom was as well an executive chef, food and seeing food as an art form has been a lifelong passion and exploration.