Rustic, verdant, and literally easy peasy. Celebrate the soon to open farmer's markets/farm stands without even having to turn on your oven, or break a sweat.
By Vanessa Pastore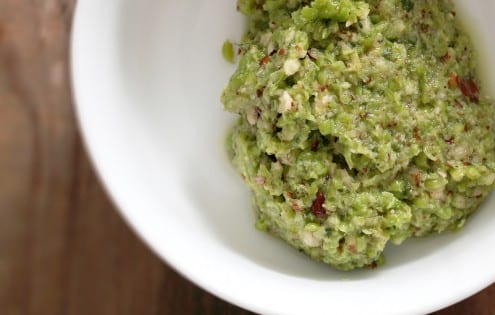 Spring Pea Guacamole
Rustic, verdant, and literally easy peasy. Celebrate the soon to open farmer's markets/farm stands without even having to turn on your oven, or break a sweat.
Ingredients
1 cup Shelled peas
⅓ cup Hazelnuts
1 Tablespoon Fresh lemon juice
5 Leaves or so of Fresh mint
Extra virgin olive oil to combine
Salt/Pepper to taste
Instructions
I tried a fork, a foodmill, and then resigned myself to food processor. Fresh peas are nothing if not resilient. Combine the peas, hazelnuts, lemon juice, mint, and salt/pepper in the food processor and get to whizzing. Slowly drizzle in the olive oil while running until a cohesive paste forms. You can add more, depending on the consistency you want. I left mine a paste chunky enough to stand up to the bread.