If there's one thing to invest your time in – it's to make dumplings.  Versatile, scrump-delicious, really really easy to make and time saving.  So, what are you waiting for? Put on your creative hat and start making them.  
By Josephine Chan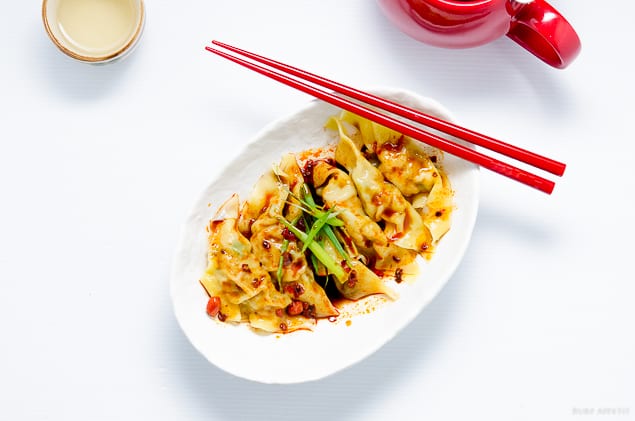 Chinese dumpling is one of the most versatile dish in the world – everything can be adapted to suit your needs and tastes.
"Making dumplings are fun – you can let your imagination run wild.  There are just so many things you can do with them…"
From the filling to the cooking technique and the sauce! For the filling, you can replace pork with seafood and then you can opt to poach, deep-fry or steam before completing your dish with just a dip (any dips – soy sauce or tomato ketchup will do too) or spicy sichuan sauce for the daring ones.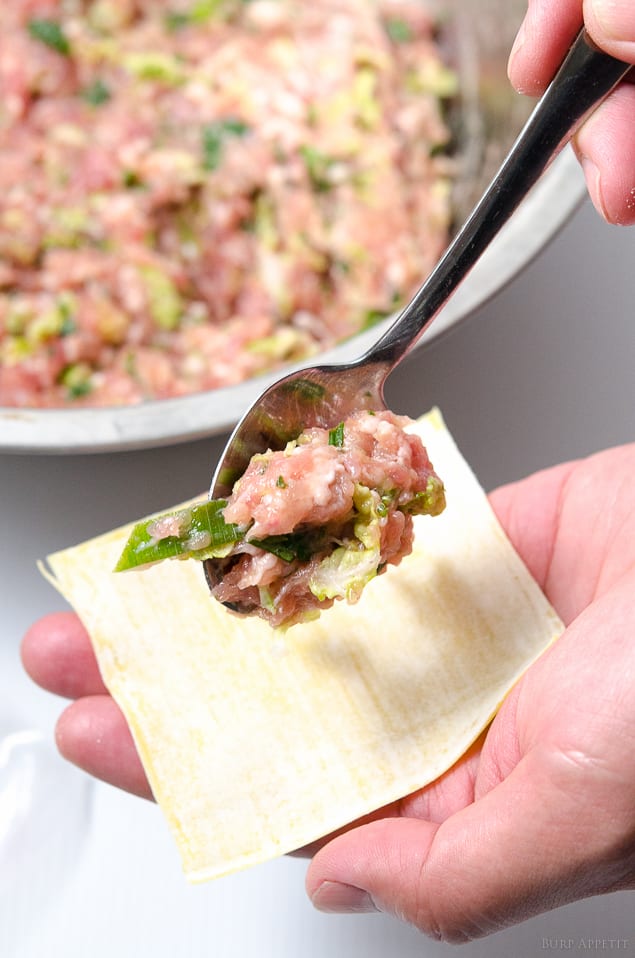 This recipe uses old school slam method to make the dumpling filling chewy and textured.  It's done by picking up the whole dumpling filling and then slam them back into the mixing bowl several times (about 6 times) until you can feel that the texture has changed from sloppy/sticky to a lot more tighter (and still juicy).  I had to say that I really had fun jam slamming with these dumpling fillings.

The end result is scrummmmmp-delicious! This recipe is adapted from Sebastian Goh's The Hot & Spicy Way

Mouthwatering Wonton Dumplings in Chilli Oil
Dumplings are so versatile that you can do anything you like with them. The best part is, make lots of them and keep some for other days.
Ingredients
1 pack wonton wrappers, store-bought
300g (10.5 ounces) minced pork, preferably with 15-20% fat
80g (3 ounces) chopped Chinese cabbage
20g (0.7 ounces) chopped Chinese chives
20g (0.7 ounces) chopped spring onion
10g (0.35 ounces) chopped coriander
roasted peanut
Seasoning
½ tsp salt
½ tsp white pepper
½ tsp chicken powder
1½ tsp light soy sauce
½ tsp sesame oil
1 tsp corn flour
1 egg
Chili Oil Sauce
60g chicken stock
½ tsp salt
½ tsp chicken powder
½ tsp mashed Sichuan peppercorn
3 tsp light soy sauce
1 tsp dark soy sauce
2 tsp chili oil
2 tsp chinkiang black vinegar
2 tsp sichuan
2 tsp chili bean sauce (doban djan)
1 tsp Shaoxing wine
½ tsp sugar
Instructions
Combine minced pork and all the chopped ingredients in a mixing bowl. Add seasoning and gently massage them into the mixture with clean hands. Roll everything into a large clump of ball. Then, slam them back into the mixing bowl. Repeat a few times until the mixture starts to tighten.
Place a teaspoonful filling in the middle of a wonton skin. Lightly rub some water around the edges of the wonton skin. Fold into half and pinch the edges to seal. Repeat until all the filling is used up.
Bring a pot of water to boil and gently poach the dumplings for about 7 minutes or until cooked through. Drain dry and place them in a serving bowl.
Mix the sauce ingredients in a bowl. Drizzle as much sauce as you like onto the dumplings. Garnish with some chopped spring onion and roasted peanut. Serve.