These Mocha Mousse Trifles are simply divine. Oreo crumbs are layered with creamy mocha mousse then topped with whipped cream and an espresso bean to give you a gourmet dessert that only takes 20 minutes to pull together. Small but decadent, they make the perfect ending for any meal.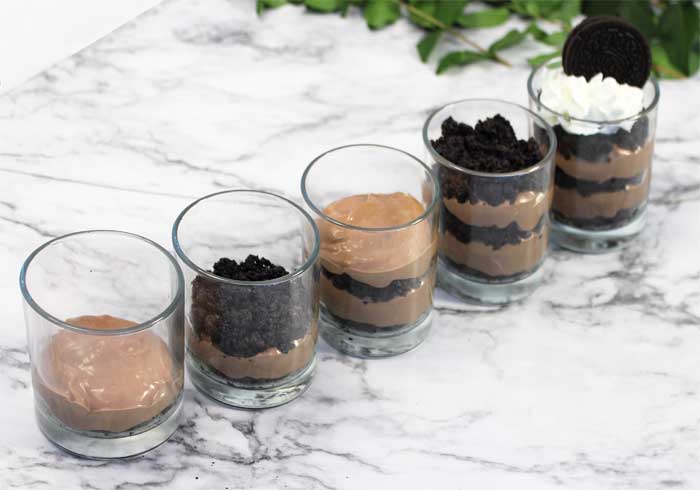 My sister is here this week and I always try to make her favorite foods just to spoil her a little. Of course, we're enjoying our time together, walking the beach, getting massages, dining out whenever and wherever we want and catching up on all the news.
One of the things that my sister likes above all else is chocolate and coffee. I have to agree with her there, I think those are just essentials for living, right? And what's better than combining the two into a mocha flavor and then adding it to a no-bake cheesecake base. Since I've made her my Dark Chocolate Kahlua Cheesecake and Mocha Cheesecake Cookie Cups I wanted to try something new. And since we are all watching what we eat, I decided to go the Seasons52 route and make mini indulgences.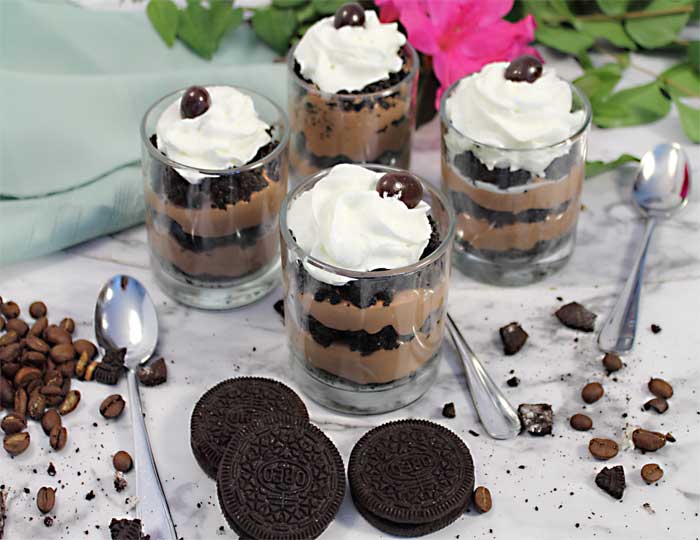 All you have to do for this dessert is crush some Oreos, make some strong coffee, melt some bittersweet chocolate and add it to some cream cheese and sour cream and voila – instant dessert. I layered the Oreo crumbs in the bottom then alternated between the mocha cheesecake and the crumbs until I reached the top. To make them look extra special, I decorated them with some whipped cream and topped them with either an Oreo cookie or a chocolate covered espresso bean. It really is an amazing dessert that takes hardly any time at all.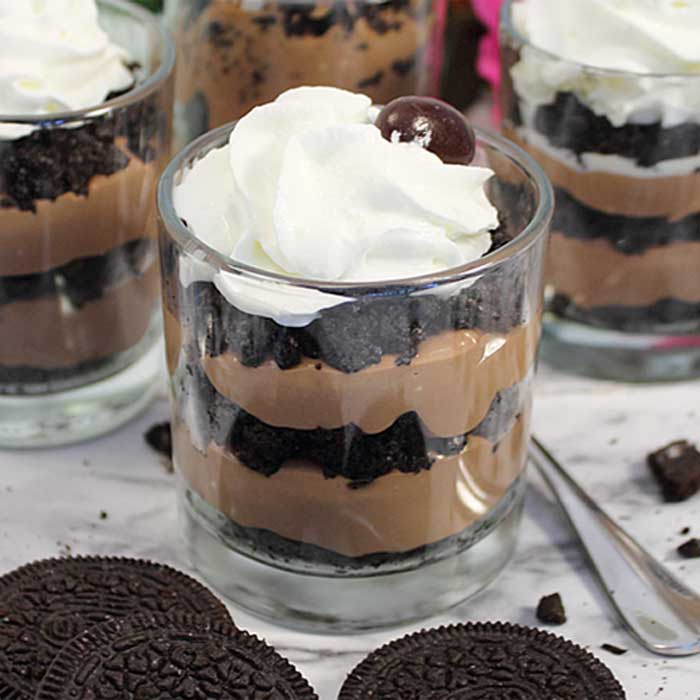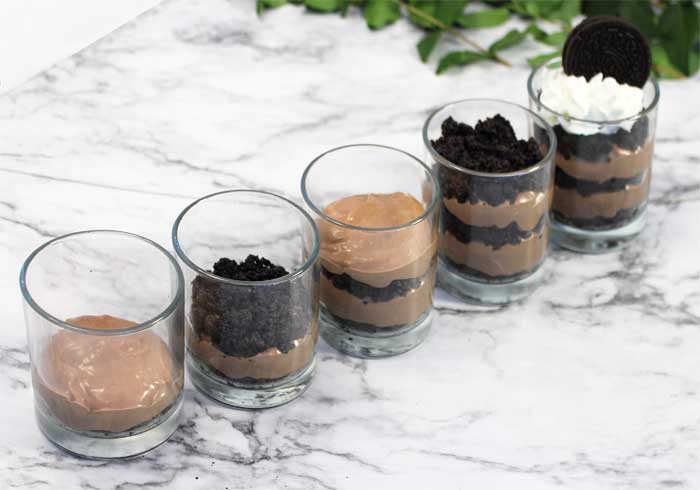 Mocha Mousse Trifles
Linda Warren
Ingredients
Oreo Crumbs
13

Oreos

1-1/2

Tablespoons

hot fudge topping

1-1/2

Tablespoons

butter

melted
Filling
1/2

envelope unflavored gelatin

1/4

cup

strong brewed coffee

8

oz

cream cheese

room temperature

3/8

cup

sugar

1/2

cup

sour cream

1-1/2

oz

bittersweet chocolate

Garnish: whipped cream

4 dark chocolate covered espresso beans or 4 Oreos
Instructions
Crush Oreos in food chopper, processor or place in a ziploc bag and roll with rolling pin until you have fine crumbs.

Place Oreo crumbs in a small bowl. Add fudge sauce and butter and mix til blended. Set aside.

Place coffee in a small saucepan. Sprinkle gelatin over coffee and let sit 1 minute.

Turn burner to low and heat until gelatin is dissolved. Remove from heat.

Add chocolate to coffee-gelatin mixture and stir until all chocolate is melted. Set aside.

In a large mixing bowl, beat cream cheese and sugar until creamy.

Continue beating while adding in sour cream and coffee-chocolate mixture.
To assemble
Place oreo crumbs in the bottom of 4 small glasses. You can use those made for mini desserts or, like I did, glass jars from Glade candles.

Place a dollop of mocha cheesecake over crumbs. Continue to layer Oreo crumbs and cheesecake until glasses are filled.

Garnish with whipped cream and top with either a chocolate covered espresso bean or an Oreo.
Notes
Slightly adapted from recipe found on Taste of Home.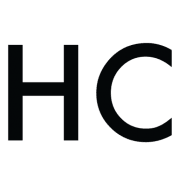 Linda Warren
Linda is a wife and mom with a background in marketing and exercise. She attributes her creativity and love of cooking to her mom and grandmother who were always willing to let her lend a hand in the kitchen. Linda currently resides in South Florida, where she raised two children with the help of her wonderful husband. She loves living in sunny Florida with its abundance of fresh fruits, vegetables and seafood that are available year round. Linda started her blog, 2 Cookin' Mamas, with her daughter Christina after her grandson's birth. Her daughter wanted to learn to cook healthy meals while still meeting the demands of work and baby. That provided the inspiration for the healthy, quick and easy meals on their blog. Of course, they sweetened it up with a few goodies too! When Linda is not in her kitchen she loves traveling, wine, reading, walking and yoga.