Who needs takeout when you can have a steamy bowl of Miso-Coconut Noodle Soup on your table in no time? This super simple recipe is ready in less than 30 minutes. No muss no fuss, and kid approved!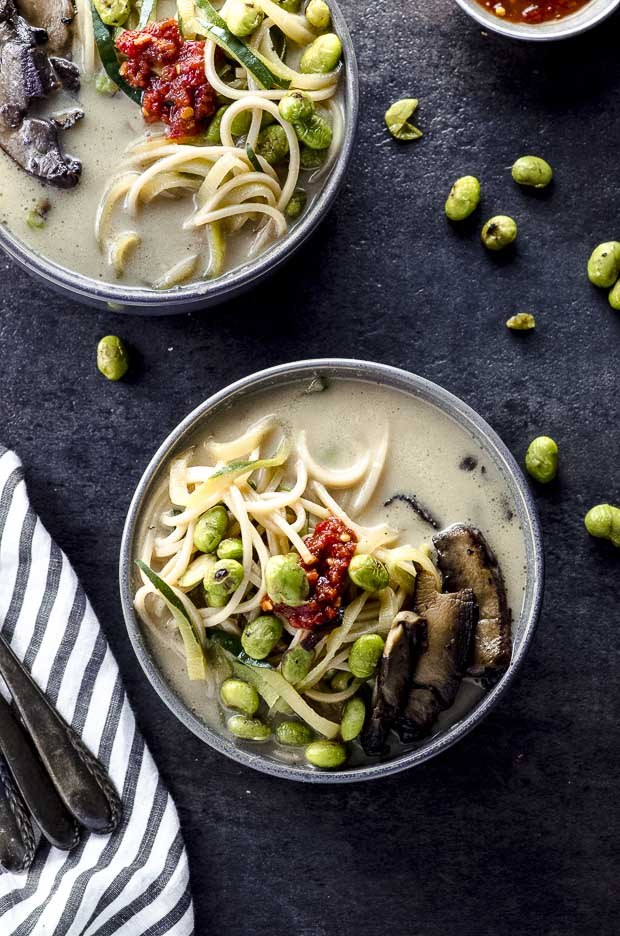 I'm more and more convinced that the way to get your kids to try something new, is to tell them they can't have it.
No, I'm not a mean mom who deprives her kid of good food. But, we are food bloggers after all, and pretty much any food that makes it to our stove has to be photo photographed before it can be eaten. It's a well-known rule at our houses, and our families are well aware of it ( even though they protest it EVERY.SINGLE.TIME ).
What happened with this miso ramen is quite interesting though.
"Mmmhh… Mom, what are you making? Smells so good!"
"Ramen. It's for the blog"
"Cool! Can I try it?"
"Sure. But just a taste, because you know aunt Vicky has to take the pictures"
"Ok"
Slurp, slurp.
"Mmmmhhh so good! Can I have more?"
"Ok. Just a little bit but that's it. I'll tell you what though, tomorrow I'll make a whole new batch and you can have as much as you want, deal?"
"K cool. Thanks! But let me have one more spoonful, please?"
Next day comes. A big pot of miso ramen on the stove. All for him. He eats half a bowl, and he's done. Never touches it again. See what I mean?
See Also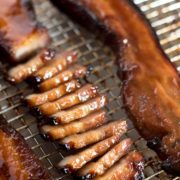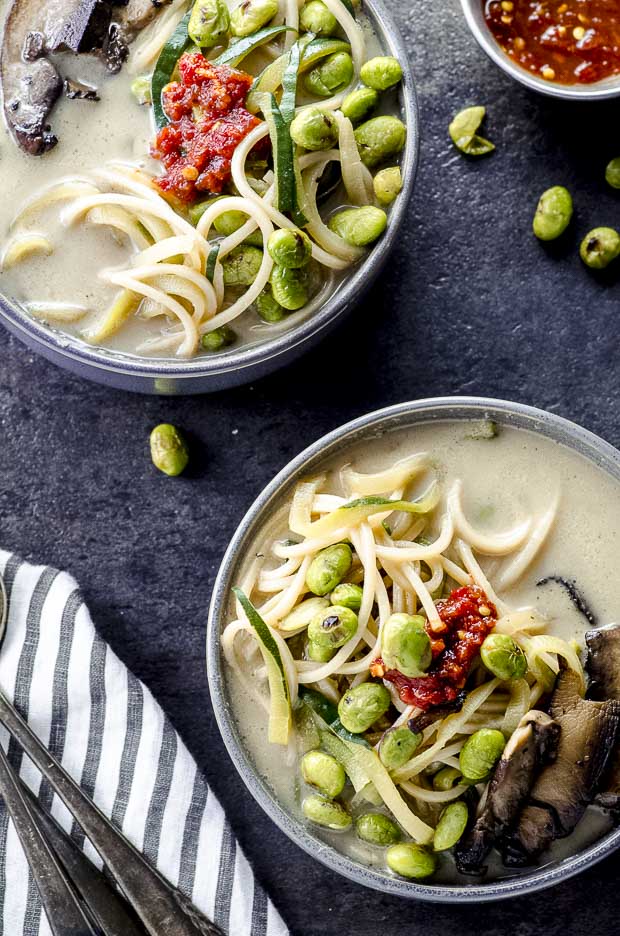 Thankfully this recipe is super easy to prepare and takes no time, so it wasn't a huge deal (and I got to it all!). All you need is a soup pot and a handful of ingredients that you most likely have in your pantry and fridge right now. And if you don't, they can easily be swapped for something else!
To flavor the broth, we used sesame oil, soy sauce, coconut aminos, coconut milk, and miso paste
No sesame oil? Try melting a tablespoon of peanut butter with a tiny bit of vegetable oil instead
No coconut aminos? You can sub regular liquid aminos or just use more soy sauce
No miso paste? Try some vegetable bouillon and a sprinkle of nutritional yeast
You can use gluten-free ramen noodles, or even your favorite pasta if you don't have ramen in hand (will it be exactly the same? No. But it will still absorb all of the flavors from the broth, which is delicious!)
We topped our miso ramen with seared Portabella mushrooms and shelled edamame. Use your favorite mushrooms, or any other veggies if you want! And you can also add tofu or your favorite protein.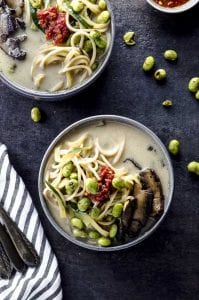 Miso-Coconut Noodle Soup
Vicky Cohen and Ruth Fox
Ingredients
3

tbsp

toasted sesame oil

divided

3

Portabella caps

sliced

1 1/2

cup

frozen shelled edamame

thawed

1

clove

garlic

minced

1

tbsp

grated fresh ginger

6

cups

water

1/4

cup

soy sauce

1/4

cup

coconut aminos

1- 13.5

oz

can light coconut milk

3

oz

ramen noodles

1

tbsp

miso paste

1

large zucchini

spiralized

Chili garlic sauce

optional
Instructions
Heat 1 tablespoon of the sesame oil in a large soup pot. Add the mushrooms and cook over medium-high heat for about 3 minutes, stirring constantly. Set aside

Heat another tablespoon of oil in the same soup pot. Add the edamame, and cook over medium-high heat for a minute, stirring constantly. Set aside

Reduce the heat to medium-low. Heat the remaining tablespoon of oil in the soup pot. Add the garlic and the ginger and cook for about 30 seconds, stirring constantly. Add the water, soy sauce, coconut aminos and coconut milk an bring to a boil. Add the noodles and cook for about 4 minutes

Turn off the heat. Ladle about 1/2 cup of broth into a heatproof bowl or measuring cup and whisk in the miso paste, until it's completely dissolved. Pour it back into the soup pot, add the spiralized zucchini, cover and let it sit for 10 minutes

Serve in bowls, topped with the cooked mushrooms and edamame, and chili garlic if using
Vicky Cohen and Ruth Fox
We are two sisters born and raised in Barcelona, Spain, with Sephardic and Middle Eastern roots. We grew up eating the best, most flavorful, comforting home-cooked meals prepared by our mom, who taught us everything we know about cooking. When we moved here to the U.S. we felt it was really important to keep our traditions and background alive, and we've done so by sharing it with everyone we've met throughout the years. After all, what better way to make new friends and share our love and culture than through food, right? Our friends have come to enjoy our food and gatherings so much that are always asking us for our recipes. That inspired us to start a cooking blog called "May I have that recipe" where we share recipes we've created inspired by our multicultural background.