Mint Pesto with Spring Peas and Roasted Asparagus and Radishes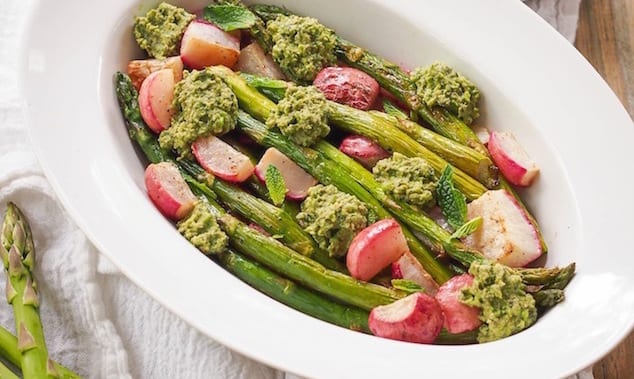 Roasted asparagus and radishes with a mint-pea pesto is a beautiful way to highlight spring produce. This simple side dish is sure to impress.
By Rachael Hartley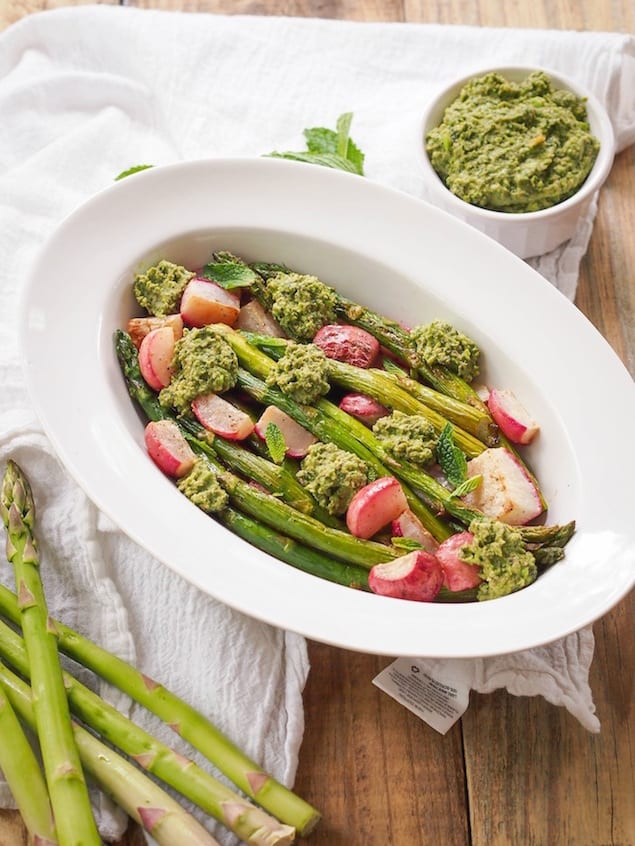 It's finally spring! Except if you're here in Columbia…then it's actually kind of summer.
I'm not sure what happened, but the temperature basically went from the 30s and 40s to the 90s in about two weeks, skipping the season of spring entirely. What's important is that Spring produce and the dogwood flowers are here and that's enough to make me happy.
This recipe is packed with everything I love about spring. I love raw radishes in salsa, garnishing a bowl of posole or on rye crispbreads with a little butter and sea salt, but I honestly never thought about cooking them. Roasting radishes mellows their peppery bite and turns it into something sweet, tender and almost juicy.
This recipe makes more pea pesto than you'll need, and you'll still wish you doubled the recipe! Use leftover pesto as a sandwich spread (it would be amazing on my smoked salmon breakfast sandwich), tossed with whole grain spaghetti, or as a dip for whole grain crackers. You can even freeze it, but you might want to put a light layer of olive oil over the top to keep the bright green color.

Mint Pesto with Spring Peas and Roasted Asparagus and Radishes
Roasted asparagus and radishes with a mint-pea pesto is a beautiful way to highlight spring produce. This simple side dish is sure to impress.
Ingredients
1 bunch asparagus, woody ends snapped off
8 ounces radishes, halved
1 tablespoon extra virgin olive oil
Pesto:
1 cup fresh peas
1 garlic clove, minced
¼ cup walnuts, toasted
¼ cup mint leaves, packed
2 tablespoons lemon juice
2 tablespoons walnut oil or extra-virgin olive oil
Instructions
Preheat oven to 400 degrees. Toss the asparagus and radish with olive oil in a large bowl and spread evenly on a large baking sheet. Roast for 15-20 minutes until tender and lightly browned.
While the vegetables are roasting, bring a small pot of salted water to a boil. Add peas and cook for two minutes. Drain and immediately transfer to an ice bath to cool and stop the cooking.
Drain the peas again and add to a food processor along with the garlic, walnuts, mint, lemon juice, walnut oil, salt and pepper. Process until pureed, scraping down the sides as needed.
Serve roasted vegetables dolloped with pea pesto, or toss it all together.
Rachael Hartley
Hi there! I'm Rachael Hartley, a dietitian, food blogger, whole food lover and avocado enthusiast. My mission is to help you rediscover the joy of eating. I believe living a healthy, fulfilled life should be fun, simple and most of all, delicious!