Leftovers of the batter and the topping can be turned into even smaller versions of this sweet dessert using cupcake liners.
By Siri Pulipaka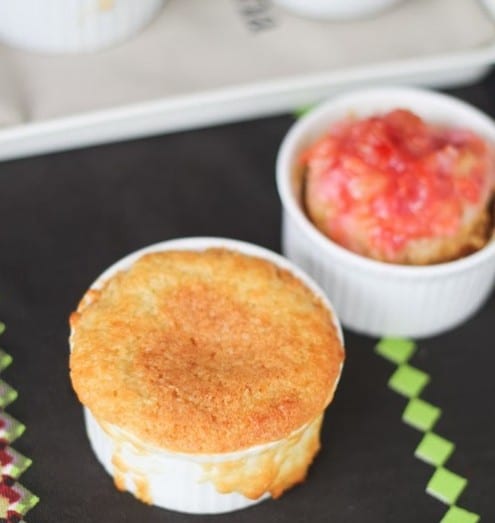 Mini Plum Upside Down Cakes
Leftovers of the batter and the topping can be turned into even smaller versions of this sweet dessert using cupcake liners.
Ingredients
For the cake batter:
2 cups all purpose flour
¾ cup softened unsalted butter
1 cup sugar
1 tsp baking powder
½ tsp salt
2 eggs
2 tsp vanilla
For the topping:
1 tbsp unsalted butter
2 tbsp sugar
1 cup plum wedges
Instructions
Melt a tbsp of butter, sugar and add plum wedges. Mix well until they are even coated and cook for 2 to 3 mins. Turn off heat.
Sift together flour, baking powder and salt. Whisk to combine. In a mixing bowl, cream butter and sugar until fluffy. Add eggs and vanilla.
Beat well for 2 to 3 mins on medium speed using electric mixer or whisk rigorously with hand.
Add flour mixture half cup at-a-time and Mix everything until just combined.
Preheat oven to 350 F or 180 C. Grease ramekins with butter and place a layer of fruit at the bottom. Top with few spoonfuls of cake batter and evenly distribute it.
Place these ramekins on a baking sheet and bake for 25-30 minutes until golden brown and a tooth pick inserted in the center comes out clean. Allow to cool for a 5 to 10 minutes. Gently invert each ramekin and unmould the cakes. Serve.