Milanese Ossobuco with Gremolata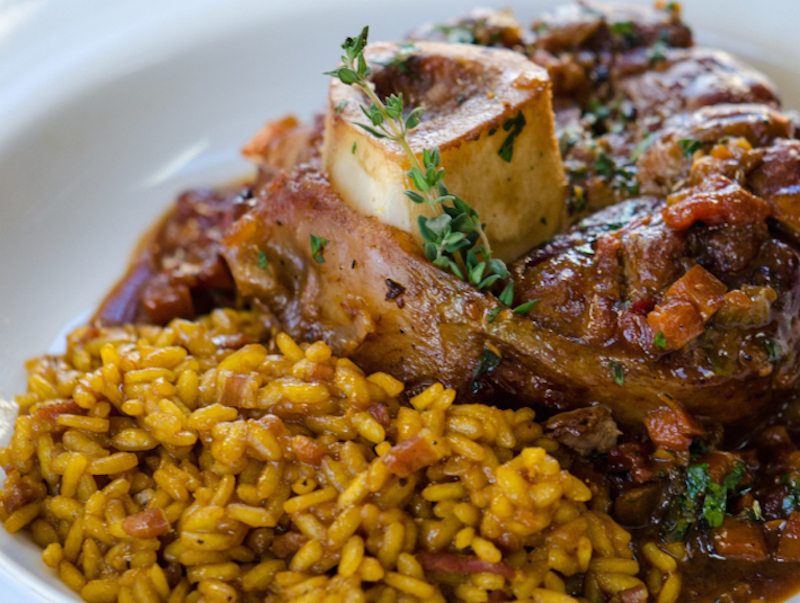 Traditionally served with gremolata and a small spoon to enjoy the marrow from the bone, ossobuco is a dish common of Milan that is known around the world.
As guests on our Italiaoutdoors Food and Wine Italy tours discover, Italian cuisine is very diverse in nature, exhibiting unique regional identity. But some dishes have escaped their regional borders and have been adopted throughout Italy, and even worldwide. Think Insalata Caprese, Spaghetti alla Carbonara. One dish, initially from Northern Italy, that now enjoys a world wide reputation is Ossobuco.
Ossobuco alla Milanese, hails from Milan. Ossobuco comes from the local dialect, oss bus, or "bone with a hole". The basic ingredient for Ossobuco is veal shank, preferably the widest part of the hind shank which has a fair amount of meat around the marrow bone. Marrowbones and veal shanks were used in Italian cooking as far back as the middle ages, but it is doubtful this dish is that old. Its first appearance in a cookbook is not until 1891, in Pellegrino Artusi's "La Scienza in Cucina e l'Arte di Mangiare Bene" (The Science in the Kitchen and the Art of Eating Well), one of the first collections of Italian national cuisine ever published.
It is traditionally seasoned just before serving with gremolata, or gremolada, a mixture of grated lemon peel, parsley and garlic. Culinary historians note that in the late 18th century, lemon, which grows in much of Italy, began to be used as a seasoning to replace more expensive spices that had to be imported, like cinnamon and cloves. Since that time, the dish has come into its own, a staple on the menu of the many osterie and trattorie in Milan, and worldwide. In Milan, it is served with risotto alla milanese, and a litte spoon for extracting every last morsel of the luscious marrow from the bone. This city takes its local dish so seriously that in 2007, the City Council included oss bus in the De.Co. (Denominazioni Comunali), officially proclaiming their ownership of this local specialty.
Recipes for Ossobuco now appear in cookbooks in France, the US, and the UK, so as one would expect, there are many variations. Should you use tomatoes? Tomatoes were not introduced to Italy until the late 19th century, so the original version probably did not include them, but today tomatoes are used more often that not. Some versions braise in the oven, others on the stove top. Variations of gremolata include other herbs like rosemary and sage, and many include an anchovy. Let your personal taste be your guide.
A perfect wine to enjoy with your Ossobuco would be a robust red from Valtellina. The most prestigious zone for red wines in Lombardy, this region, located in the Alps north of Milan, is the only region outside of Piedmont to produce a Nebbiolo based red, locally called Chiavennasca.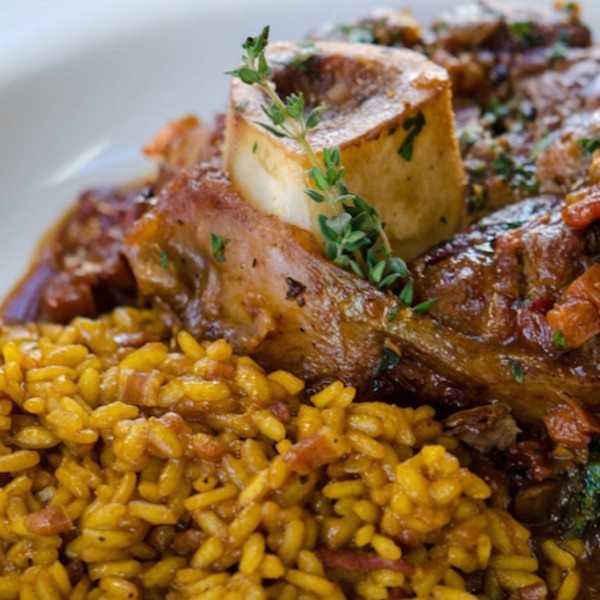 Kathy Bechtel
Ingredients
4, 2-

inch

thick slices of veal hind shank

tied

Kosher salt and freshly ground pepper

Flour

leave out for gluten-free

1

tablespoon

extra virgin olive oil

1

tablespoon

butter

1/2

medium onion

1/4" dice

1

carrot

1/4" dice

1

celery stalk

peeled and cut into 1/4" dice

1

teaspoon

garlic

minced

1/2

cup

dry white wine

1 1/2

cups

beef stock

1 1/2

cups

diced canned plum tomatoes

2

sprigs fresh thyme

1

bay leaf

2

or 3 sprigs parsley
Gremolata
1/4

cup

chopped parsley

1

teaspoon

grated lemon peel

1

clove

garlic

minced

1

anchovy filet

minced (optional)
Instructions
For any braise, use a heavy bottomed pot with a tight fitting lid, large enough to accommodate the veal shanks in a single layer

Lay the veal shanks out on a sheet pan and season generously with salt and pepper. Dust with flour, shaking off the excess.

In the large pot, heat the olive oil and butter over medium-high heat. When hot, add the shanks to the pan and brown well on all sides. Allow space between the shanks, searing them in batches if they are too large to fit nicely in the pot. You want them to sear, not steam. When nice and brown, remove from pan and set aside.

Add the onion, carrot, and celery to the pan, and cook until beginning to soften and brown. Season with salt and pepper. Add the garlic and cook until aromatic, about 1 minute.

Add the white wine, bring to a boil and reduce by about half.

Place the veal shanks back in the pot on top of the vegetables. Add the stock, tomatoes, thyme, bay leaf and parsley. The shanks should be covered about half way with the liquid. Bring to a boil, then reduce to a low simmer.

Cover the pot tightly, and allow to simmer over very low heat until the veal is very well done, and falling off of the bone, about 2 – 3 hours, depending on the size of the shanks. Alternatively, you can transfer the braise to a preheated 325° oven and cook there, rather than on the stove top. Just make sure your pot is oven-proof (no plastic handles.)

Remove the pot from the oven, and top the shanks with the gremolata. Turn a few times to mix the gremolata into the braising liquid. Serve with risotto alla milanese. If you wish a thicker sauce, remove the shanks and reduce over high heat until it is the desired consistency.
Gremolata
Combine all the ingredients in a small bowl.
Kathy Bechtel
Kathy Bechtel's obsession with food and cooking began as a teenager. After years following a traditional career path as a telecommunications engineer, she left to attend culinary school and wine training, and is now combining her passions for food and wine, the outdoors, and travel as owner and Culinary Tour Director of Italiaoutdoors. In this role, Kathy leads small bicycle, skiing and walking tours that explore the authentic regional cuisines, local products and undiscovered wines of Northeastern Italy.