Mauro Colagreco is known around the world as a World's Best and 2-Michelin Star Chef. From Argentina, the chef has gone back to his roots with a great( but definitely not simple – grass fed beef, hand-cut chips, homemade condiments…. and more!) hamburger joint –CARNE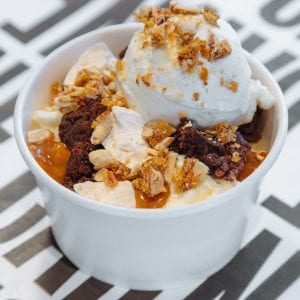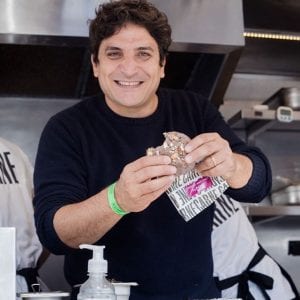 Headed by his hardworking and lovable sister and husband – Carolina and Rafael – desserts are a must at the very cool and trendy burger place in the heart of San Telmo, Buenos Aires.
Rather than giving you a burger recipe from a top Michelin chef  – here is a dessert to help cure everyone's sweet tooth.
P.S It is a Michelin-star chef making this dessert so EVERYTHING is homemade and the recipe is more than just scooping ice-cream and mixing it with your fav brownie!
Sacher Cake with vanilla cream foam and Dulce De Leche
Ingredients:
For the Biscuit Sacher:
170g of extra bitter chocolate topping
140g of butter
10g of cocoa powder without sugar
40g + 35g of sugar
1 egg
1 yolk
1 white
For vanilla cream:
350 cc of milk cream
50 gr of sugar
1/2 vanilla bean
Dulce De Leche
35gr of icing sugar
8 cc of water
45 cc of liquid cream, boiling
1 gr of salt flower
To finish:
350 gr of ice cream
For the meringue:
For the first preparation:
85gr of whites
125gr of sugar
For the second preparation:
40gr icing sugar
10gr starch

Process:
For the Biscuit Sacher:
Melt the chocolate in a bain-marie. Work the butter until you get an ointment. Sift the cocoa powder and add it to the mixture. Beat the egg and yolks with 40 g of sugar, until whitening. Join the two preparations with a spatula. Make a meringue with the white and 35g of sugar. Add to the previous preparation, in an enveloping way. Place on a tray (covered with butter, greased paper) of 10cm x 15cm. Cook in preheated oven, at 170 º C, for 25 minutes. Reserve.
For vanilla cream:
Place the cold cream in a bowl with 50 g of sugar and ? vanilla beans (cut in the middle and scraped, to obtain their seeds). Mix gently and leave to infuse in cold temperature for at least 12 hours. Then, place the cream in a ½ liter siphon till its maximum capacity, close the siphon, load it with a load, shake and reserve in cold temperature.
For the Toffee sauce:
Cook the icing sugar and water until it reaches 165ºC, add the boiling cream. Attention with the drops that can jump, mix well and incorporate, finally, the flower of salt.
For the meringue:
For the first, mount the egg whites with the help of a blender and add the sugar in an enveloping form, once the meringue is well assembled make the second preparation. Pre-screen the ingredients and add them to the previous preparation in an enveloping way. Dry in the oven at 90º C for 4 hours.
Presenting the Sacher Dessert:
In a bowl put a spoonful of Sacher, then and with your hands break a bit of meringue and arrange it over the sponge cake. Distribute a little of the siphon cream and repeat the layers once more. Finish with a scoop of ice cream and some sauce.