When you've first tried Tacos Al Pastor Nancy Lopez-McHugh is sure you'll agree that they are the best tacos in the world.
By Nancy Lopez-McHugh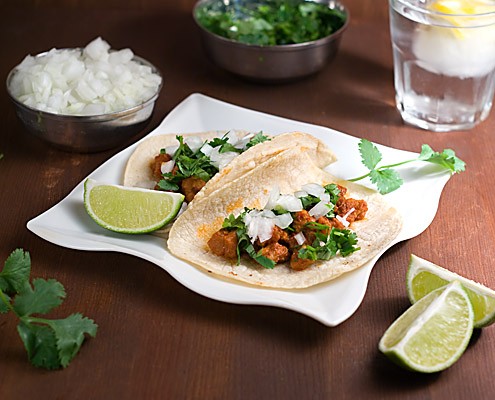 The Spanish word Pastor means shepherd, so these tacos translate to shepherd style tacos. Have you ever tried Tacos Al Pastor? If you have then I'm sure you'd agree that they are the best tacos in the world. Those of you that have never tasted Tacos Al Pastor have been missing out. These tacos are unlike any other tacos both in taste and origin. First let's talk about their origin, tacos al pastor are the new world cousin to the Lebanese  shawarma. Lebanese immigrants, to Mexico, introduced the method of cooking meats on vertical spits, like shawarma or kebabs as is typical in the middle east. And this is how tacos al pastor were born. The Lebanese immigrants cooked lamb that was marinated with local Mexican herbs and spices then pineapple was placed a top the spit. The meat is cooked on the spits and thinly sliced to be served on top of corn tortillas as tacos. Over time the meat changed from lamb to pork, more typical of  Mexican cuisine.
The popularity of these tacos grew and overtime spread around the country. Different regions of Mexico will incorporate or change the recipe to use ingredients typical to the region. Tacos Al Pastor are one of those dishes where everyone has their own guarded personal recipes. In fact taquerias (taquerias are restaurants specializing in tacos) highly guard their secret recipes and will never share what makes their tacos taste better than or unique from the taqueria down the street. The tacos can have an array of ingredients such as oregano, cumin, cloves, chile guajillo, chile ancho, vinegar, pineapple juice, or fresh pineapple, orange juice, soda and/or achiote paste. It is these combinations of herbs, spices, juices, and cooking method that give tacos al pastor their unique taste. They are mild, tender with a hint of sweet pineapple and guaranteed to satisfy every palette.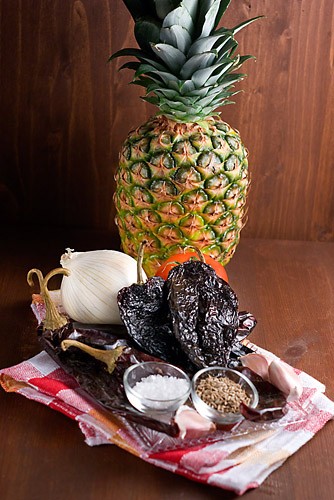 My recipe is a slightly evolved recipe that I was given by one of my sisters. This is a 2 day process and I highly recommend that you don't cut the marinating time short. The flavors of the chiles and spices will be best absorbed by the pork. Also allowing for the long marinating time will allow the the Bromelain in the pineapple to tenderize the pork. Since the tacos are mild I will, depending on my mood, add a couple/few chiles de arbol to spice it up. I've also read some recipes where people have used chipotle chiles to make the tacos spicier. I wouldn't recommend the chipotles because while they taste great, they will overpower the other chiles and spices. Another ingredient I will occasionally add is achiote paste for a more vibrant color. This is completely optional and will not affect the taste either way. You all know that Mexican tacos are always topped with finely chopped cilantro and onion, the same applies here. Some people also like to add fresh finely chopped pineapple to the tacos, I never do but it's your choice. Oh yes and don't forget to serve a salsa on the side, green will go great.
See Also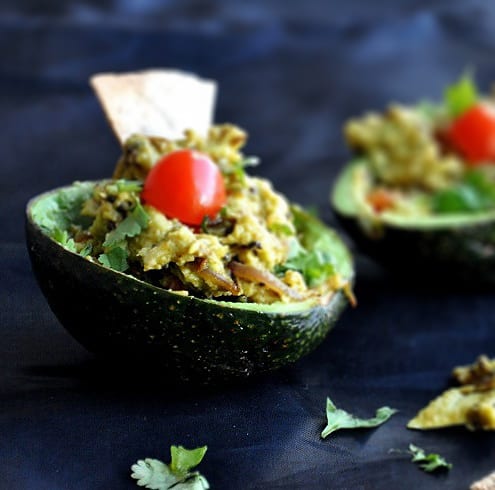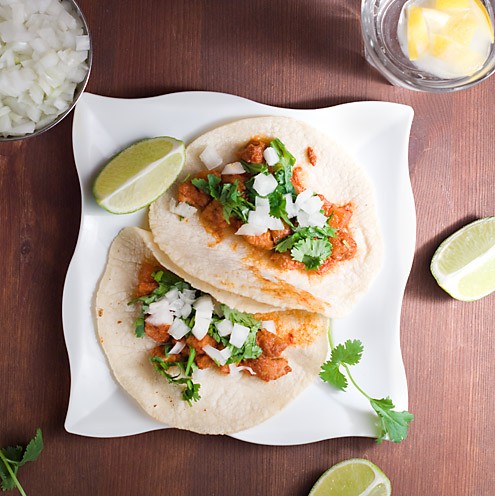 What the heck add an ice cold Corona for a truly heavenly experience. Buen Provecho!
Print
Mexico On My Plate : Tacos Al Pastor
---
Author:

Nancy Lopez-McHugh

Total Time:

24 hours 25 minutes

Yield:

4

-6

1

x
Description
Simply put Tacos Al Pastor are the best tacos in the world!
---
1

kilo or

2.2

lb pork, boneless, skinless and extra fat removed, chopped into bite size pieces

3

chile guajillos

2

chiles anchos

2

chiles de arbol, extra spicy optional

1

tomatoe

1 tsp

whole cumin seed

3

garlic cloves

1

small white onion, peeled and halved or

1/4

of large onion
pinch black pepper

1 tsp

sea salt or salt

1 cup

fresh pineapple, finely chopped
Corn Tortillas
Toppings:
fresh finely cilantro
fresh finely white onion
lime wedges
salsa
---
Instructions
Soak chiles in hot water for 15 minutes. In mean time blacken the tomato, onion and garlic cloves. Peel the tomato skin and remove seeds, place in blender. Add the onion and garlic cloves to the blender as well as the spices. Remove the chiles from the hot water and reserved the water. Remove the stems and seed from the chiles then place in blender. Add about 1/3 cup of the boiling water to the blender. Blend into a smooth salsa.
Place the bite size pork pieces and pineapple inside a container. Pour the salsa over the meat and add the pineapples. Stir until well combined, cover and place in the refrigerator overnight.
Next day, drain extra liquid from the meat. Heat a little bit of corn or vegetable oil in a large pan. Cook the pork until it has cooked all the way through. About 20 minutes. Allow to simmer under low heat until ready to serve.
Scoop a small amount into the middle of a corn tortilla, top with finely chopped onion, cilantro and lime wedges on the side. Please notice that a standard Mexican taco tortilla is smaller than a more common commercial sized corn tortilla, if using the smaller tortillas two can be/are stacked on top of each other before topping with the filling.
Prep Time:

24 hours

Cook Time:

25 mins
Nancy Lopez-McHugh
Nancy Lopez-McHugh is a food blogger, photographer and published author. Most recently she has published "Yummy Pics: A Food Blogger's Guide To Better Photos".