As someone who was embarrassed when I pulled out homemade sushi rolls out of my elementary school lunch bag, I'm pretty amazed at how western palates have evolved over recent decades to not only appreciate Japanese food that's not slathered in teriyaki sauce, but are now actually craving it and seeking out skilled preparations of the East Asian cuisine. You can now find sushi nearly everywhere, from fine-dining menus to convenience store fridges. But just as this cuisine (which is reliant on the freshness of raw seafood) increases in favor and demand, the quality and accessibility of its star ingredients are increasingly at risk due to climate change and overfishing. One restaurant, Mayanoki, in Manhattan's alphabet city is the only omakase sushi restaurant in NYC that is not only addressing this risk, but by doing so, produces some of the tastiest Japanese inspired dishes around.
Sustainability on East 6th
After its humble beginnings as a pop-up restaurant, Mayanoki found a permanent home in a cozy space on 6th street a few years ago. The entire restaurant is essentially an intimate room that only seats 8 guests around a comfortable sushi bar. The diners all sit facing the chef who not only prepares dishes one by one in front of them, but is only an arm's length away so that he can serve each dish individually from where he is cooking. With this stable home downtown, Mayanoki's small staff of entirely four people could truly focus on offering a menu consisting of sustainable and eco-friendly ingredients. Their concerns could finally shift from ever-changing pop-up restaurant logistics to figuring out which comparable ingredients would leave a smaller carbon footprint because it has a shorter distance to travel. That's how mindful Mayanoki is about sustainability.
It would do all restaurants (and the planet) a world of good to move toward this mindfulness; and not just because more and more diners are becoming aware of their impact on the environment. Simply, without sustainable fishing, oceans and other bodies of water will not be able to provide edible seafood indefinitely. Just having one species of sea life become endangered or extinct can cause a negative ripple effect that is difficult to stop. Mayanoki prides itself with ensuring that they are consistently adhering to best practices when sourcing sustainable ingredients by directly working with local farms, the Monterey Bay Aquarium Seafood Watch program, the James Beard Smart Catch program and a number of other ocean conservation organizations. Somehow, knowing that all that work is done before even one fish is scaled became the best palate cleanser for me. It was honestly the most gratifying amuse-bouche I've ever experienced.
Omakase
Aside from sustainable sourcing, Mayanoki is also unique in that it only serves omakase style dinners (2 seatings a night, 4 nights a week). Omakase means "I'll leave it up to you"  and is used to describe a Japanese meal where diners leave it up to the chef to serve whatever he/she thinks would be the best way to prepare the day's ingredients, typically in a series of small bites. Antithetical to ordering a la carte, omakase gives the chef creative freedom to give diners a unique culinary experience where flavors and dishes are eaten in the specific way the chef intends. Omakase style meals haven't enjoyed the popularity of bento boxes and 3-roll combo meals primarily because a restaurant's bottom line will favor set menu items that cater to the masses that have growing dietary restrictions and prefer to stick with what they know and like.  However, when foodies and more adventurous eaters realize that omakase chefs tend to choose the best ingredients for their tasting menus, that the entire meal is a bargain if you ordered similar dishes a la carte, and that the trusting gesture of "I'l leave it to you" is usually reciprocated with better service, I imagine omakase menus will grow in popularity and will be adopted by more and more restaurants, not just Japanese ones.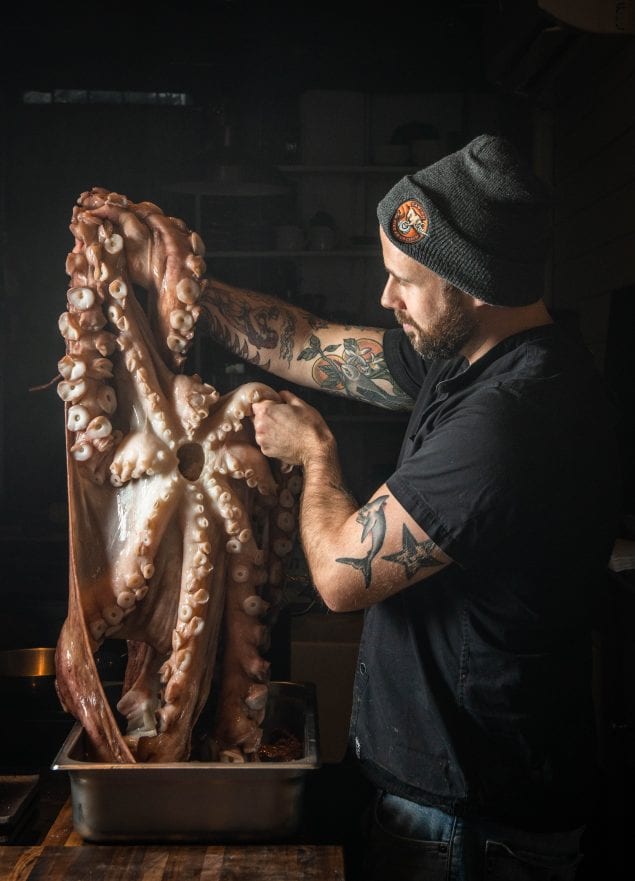 Because Mayanoki serves only omakase dinners, it can be safe to assume that the vast majority of reservations are being made by adventurous palates eager to try new and interesting dishes. In order to meet these expectations the chef (literally at the center of it all) has to be creative, knowledgeable and talented. Fortunately, owners David Torchiano and Josh Arak found all these characteristics in Chef Josh van den Berg. Though I was a little surprised at first when I saw the chef was not Japanese, I never doubted that the chef would have the skills to put out a delicious omakase. You're not tapped to lead such a specialized restaurant catering to adept palates with such limited seating if you're not vetted properly. Moreover, I was hoping that with a gaikokujin chef (American), there would be more banter throughout the meal (especially since I knew I was going to write about his food and the entire dining experience). Another benefit to omakase menus is that, when prepped/cooked in front of you, there's a performance aspect to the dinner. Chef Josh van den Berg won't flick a shrimp into your mouth with a spatula (though I'm always ready for that to happen). But you will witness the chef display different techniques he/she has mastered, from slicing to torching to plating. Most omakase chefs I've come across have definitely put on impressive culinary displays but have been shy and kept interactions with diners to just explaining what was about to be eaten, nothing more. Chef Josh not only explained each dish, he nearly named each local ingredient it was composed of and where they came from…and not in that obnoxious way so easily parodied by sketch comedy shows where servers tediously explain the lineage of individual ingredients. He seemed to read his audience fairly quickly and only elaborated on ingredients when one of the guests asked about it. When he wasn't talking about the ingredients, Chef Josh's disarming repartee included stories of about his cooking experiences in various places like a Michelen star restaurant or South East Asia where he lived for some time.
The Dinner

Before I describe the meal I experienced, it's important to understand that part of what makes an omakase special is that some dishes may never be offered again. The following menu is just a hint of what you may expect when Chef Josh van den Berg flexes his culinary muscles (which are appropriately tattooed with sea creatures). Chef Josh's preparations that evening were not just one nigiri after another. In fact, the first 3 dishes were not sushi, at all. We began the meal with a Moondancer oyster shooter textured by finely diced Asian pear that enhanced the Maine oyster's sweetness. It was further flavored with hibiscus and fermented chili which announced that the following meal could have both bold flavors and subtle ones that could be missed if you're not mindful of what you're tasting. More crunch followed with a toast topped with a smoked sturgeon cream and osetra caviar from North Carolina on one side and an oyster mousse with pickled pepper on the other. The third dish was a Scallop from Montauk that sat on pureed sunchoke and topped with sunflower sprouts and a sunchoke crumble. Certainly Japanese influenced, these dishes looked traditional but a New American presence was undeniable.

Then the more conventional raw fish courses followed which began with a torched seared Spanish mackerel accompanied by black garlic, benne seeds and pea shoots. That was followed by six pieces of nigiri that were at the perfect temperature to be savored.  The fresh sustainably sourced fish included black sea bass, fluke, ivory king salmon & trout. The nigiri that quickly became the most anticipated sushi of the evening was the escolar which was said to be cream cheese-esque. After carefully tasting the fish I'm not convinced it would go great with Everything Bagel Seasoning (but I wouldn't put it past Chef Josh to try). It was definitely buttery and paired beautifully with the barrel-aged soy sauce from Kentucky that Chef Josh brushed onto it.

The meal ended with three small bowls that veered back slightly to New American cuisine (which my mouth welcomed after the half dozen raw fish courses). The first consisted of giant Pacific octopus that Chef Josh pan-seared in front of us while we waxed poetic a little too long on fish containing wax-esters and its possible embarrassing side-effects. Luckily the instagrammable bowl of octopus and potatoes with beurre rouge came just in time to preoccupy mouths and change the subject. The second to last course was a velvety parsnip soup garnished with shiso, jonah crab, and candied pumpkin seeds. The meal ended with a surprisingly luscious bowl of braised cabbage and Maine mussels with caraway that hearkened me back to a delicate Thanksgiving stuffing I had many years ago. It was a homey finish to an elegant meal.
Throughout the omakase I was lucky enough to also speak with Mayanoki's new beverage director, Mikey Briones, who provided exemplary pairings throughout the meal and is also committed to the restaurant's philosophy on sustainability.  Having owned an Asian-inspired restaurant himself, Briones is well-versed in the flavors that could be enhanced by the local ciders and wines Mayanoki offers. Though they do have a few sakes from Japan, I found Briones pairing of cider in the beginning of the meal especially interesting as they didn't overpower any of the light seafood and subtle flavors Chef Josh prepared. Moreover, the craft sake from Brooklyn was impressive in their familiarity as a rice wine but Briones pointed out the distinct pleasant aftertastes unique to the local sake.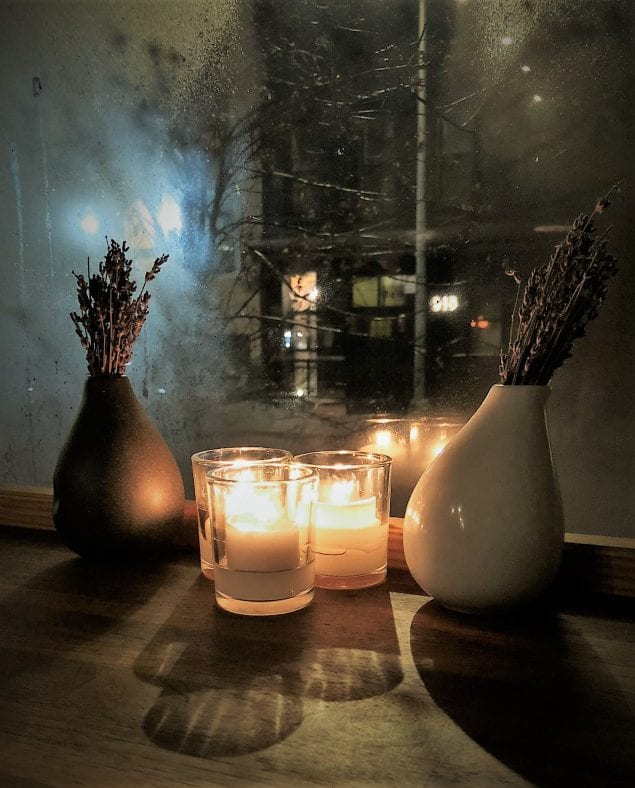 All-in-all, the dinner at Mayanoki was a great experience (so much so that some of us guests threatened to stay for the second seating of the evening). While creating a unique dining experience that has minimal negative impact on our oceans and environment, the tiny restaurant leaves plenty of positive impact on adventurous diners' palates.
Mayanoki is located at:
620 E. 6th Street. NY, NY 10009
Wendsday – Saturday
two seatings: 6:30PM & 9:00PM
info@mayanoki.com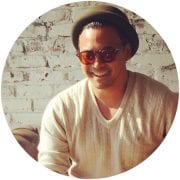 jordi adiao
I learned early in life to embrace your awkwardness... now, are you going to eat your chicken skin?