Mashed Potato and Cheddar Gratin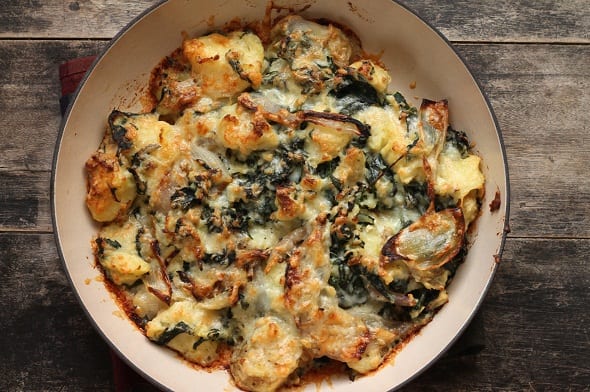 Cold spell comfort food is mashed potatoes mixed with winter greens, garlic, roasted shallots, and sharp cheese.
By Bryan Picard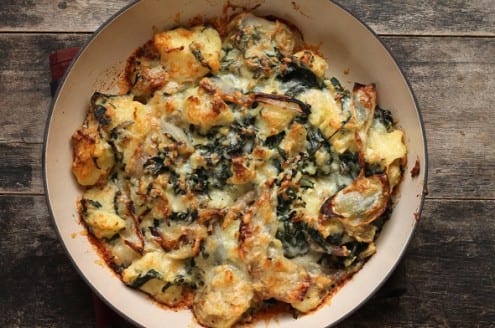 A delicious winter dish, where I roasted the shallots with the skins on – it boosts flavor and also helps to release natural sugars. Out of the oven, they were almost caramelized and deliciously complex. I could eat a whole pan of them and recommend serving them straight like this for an easy side veg. But, if you're feeling more adventurous, follow the whole recipe and enjoy.
Mashed Potato and Cheddar Gratin
Cold spell comfort food is mashed potatoes mixed with winter greens, garlic, roasted shallots, and sharp cheese.
Ingredients
6 shallots
5 medium potatoes (I used Yukon gold), cut in quarters
5 oz (two large handfuls) spinach, roughly chopped
3 cloves garlic, minced
4 tablespoons butter
2 tablespoons apple cider vinegar
½ cup milk (125ml)
75g aged cheddar, grated
salt + ground black pepper
Instructions
In a skillet, cook the spinach with a knob of butter for a minute. Set aside.
Pre-heat the oven to 450°F.
Cut the shallots in half lenghtwise, leaving the skin on.
Lay them face up in a baking tray and drizzle with olive oil. Cook in the oven for 40 to 45 minutes.
Once the shallots are roasted, simply peel off and discard the skin and set aside the shallots.
Meanwhile, bring a large pot of water to a boil and cook the potatoes for 25 minutes, until tender.
Drain the potatoes and put them in a large bowl.
Mash them around with the butter, garlic, and apple cider vinegar.
Add the roasted shallots, cooked spinach, milk and season with salt and pepper.
Lay the mixture in a baking pan, top with the cheddar, and bake for about 20 minutes, until the top is nicely browned.
Bryan Picard
Bryan Picard is a wild and homegrown food enthusiast. He lives in the Maritimes in Canada and has worked the kitchens as a cook and chef for the past ten years. He writes on his blog The Bite House.