An ode to Tex-Mex foods, these Jalapeño Poppers are loaded with chorizo and mascarpone to cool things down.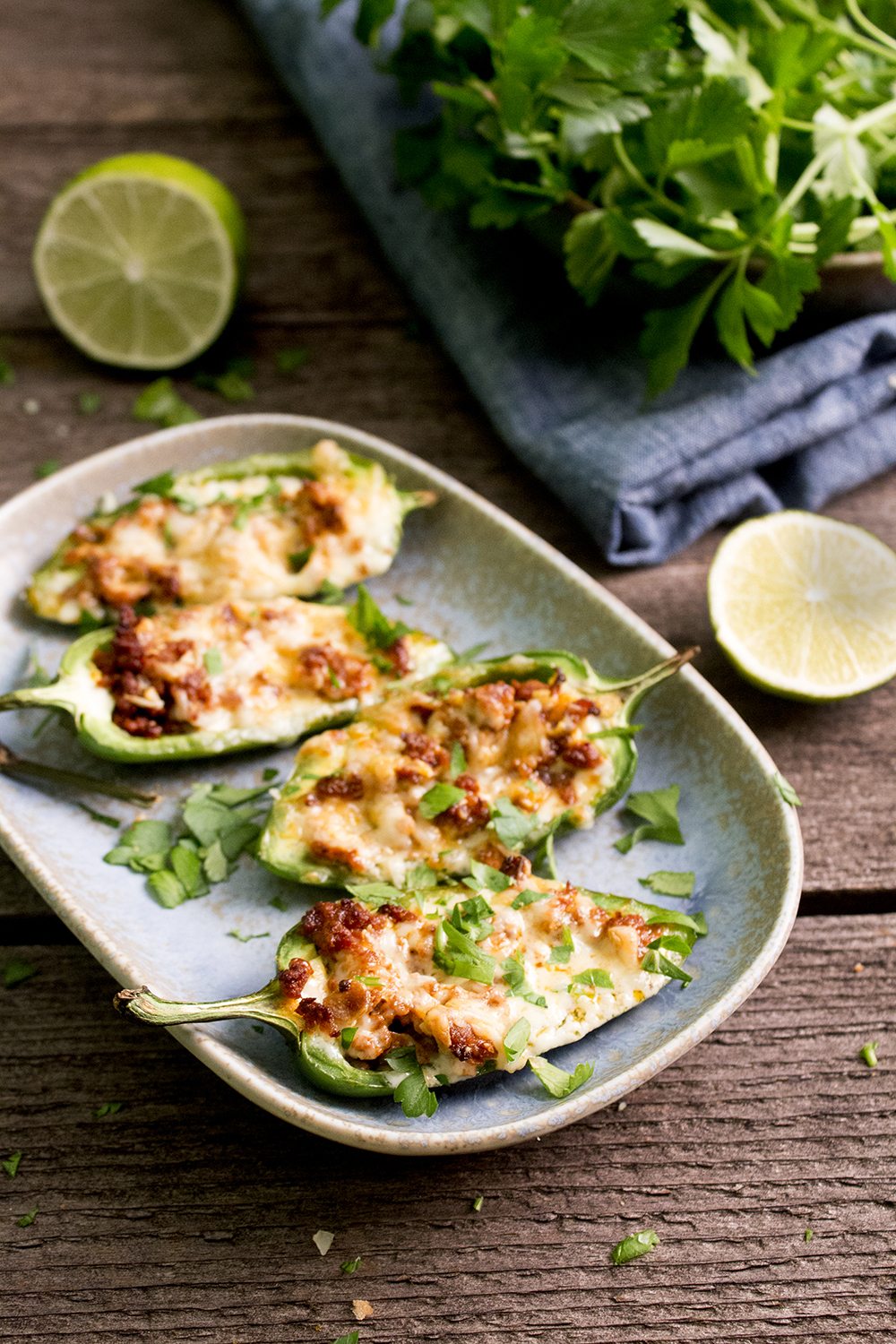 I need to talk a little bit about where I'm originally from, the Midwest. Being from that area of the country, there will always be a special place in my heart for Tex-Mex. It's something you just can't find as well on the West Coast.
And while we have our own amazing food culture and especially in Portland, a standard for everyday eating that is unrivaled in the country, in my opinion, there are times that I miss being able to walk into a Tex-Mex restaurant and get basic queso dip, jalapeño poppers and similar foods. No, they are not Mexican food, they are a cuisine all their own that resulted from the blending of several cultures.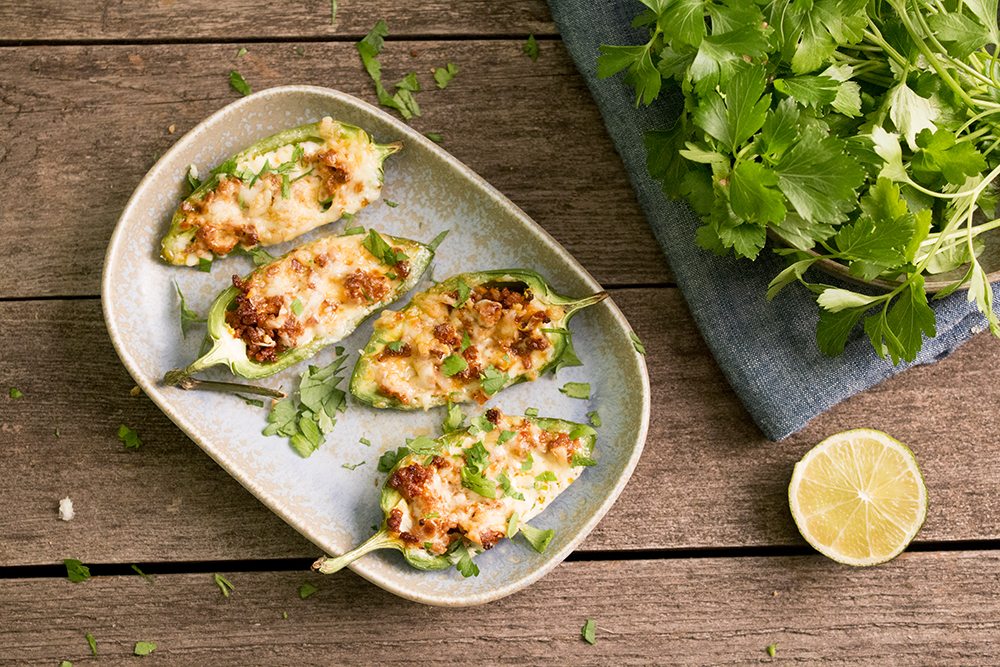 These jalapeño poppers are an ode to that cuisine! They have my own twist on them – chorizo and mascarpone are not really the casual Tex Mex version. But they are pretty dang good this way, and they are a low carb and gluten free option that will please a crowd, if you'd like to make in larger quantities. We devoured these in mere minutes.
There's just something about this low key, cheesy, spicy Tex-Mex food that pairs well with a cheapo beer and a feeling of relaxation and comfort.
A word to the wise, though – they are spicy!! If you don't like spicy food, you can sub in ground beef or pulled chicken in the filling. To make them vegetarian, use black beans instead of meat. And if you don't have/want mascarpone, simply use cream cheese instead. They are endlessly customizable!
Print
Mascarpone and Chorizo Jalapeño Poppers
4

jalapeños

1/4

lb. chorizo

3

–

4

Tbsp. mascarpone (or cream cheese)

1/4 cup

shredded sharp cheddar cheese
Chopped cilantro
Lime wedges
Instructions
Preheat the oven to 400 degrees Fahrenheit.
Slice the jalapeños in half and remove the seeds. Place on a baking sheet, cavity facing up.
Brown the chorizo in a skillet, removing as soon as browned as to not overcook. Drain, then spoon into jalapeños.
Use a spoon to press mascarpone into jalapeño halves with chorizo, smoothing the top and avoiding filling the peppers too fully. Top with shredded cheddar. Try to make sure the peppers are facing up and are balanced, so the melting cheese does not run out during the baking process.
Bake for about 10 minutes, then turn on the broiler for 2-3 minutes, or until the cheese on top bubbles and browns. Top with chopped cilantro and serve with lime wedges for squeezing.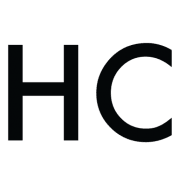 Rebekah Hubbard
I'm the writer and photographer at PDXfoodlove.com. I love living in Portland, Oregon and the lifestyle in the beautiful Pacific Northwest.