A classic iced tea elevated by a medley of fruits and garnishes.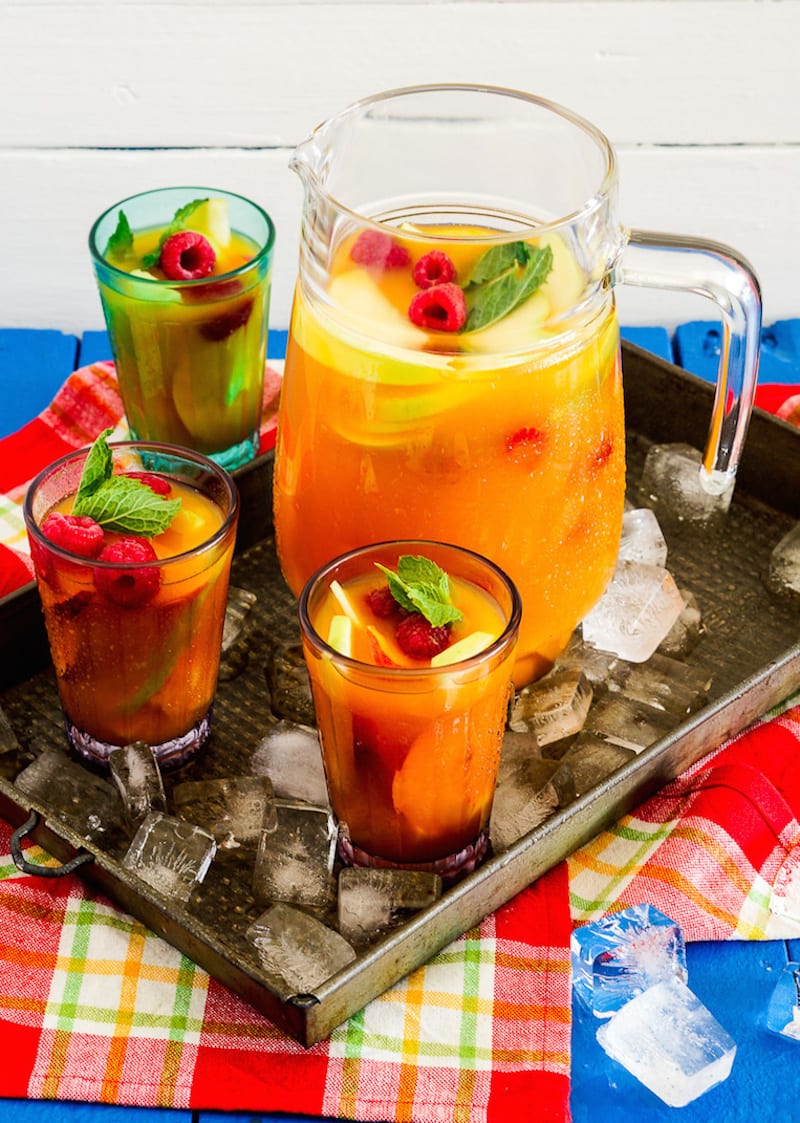 It does take some time to chill the tea it might be a good idea to do that the night before. I have not added any sugar to the mix as I do think the fruit adds enough sweetness.
For me the key is to serve it in short glasses so you can easily pick out a sweet, juicy piece of fruit after each sip.
For some fizz add a glass of soda water or to make it even more festive, top each glass with a bit of bubbly.

Mango and Rooibos Iced Tea
A classic iced tea elevated by a medley of fruits and garnishes.
Ingredients
1250ml boiling water
4 rooibos tea bags
1 cup apple juice
2 fresh mangoes
1 apple
2 peaches
a few torn sprigs of mint
fresh raspberries and mint leaves for garnish
ice cubes
Instructions
Make the tea by steeping the teabags in the boiling water for about 15 minutes for a good strong tea. Remove the teabags and place the tea in the fridge for at least 4 hours to chill.
Peel one mango and chop into chunks. Liquidize with a quarter cup of tea to a smooth pulp. Add to the chilled tea and whisk to mix well.
Peel the other mango and cut into small cubes. Slice the apple and peaches into thin slices. Add to the tea and mango mixture with a few torn sprigs of mint.
Place the tea back into the fridge and let it chill for another 2 hours for the flavours to blend.
When ready to serve give it a good mix, and pour into shortish glasses with a few cubes of ice. Garnish with a few raspberries and mint.