How to Make Moravian Kolaches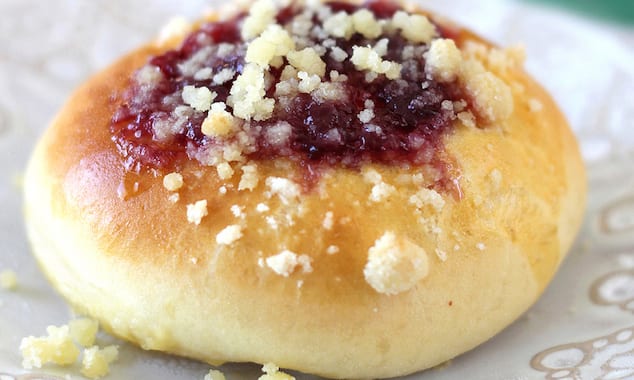 Learn how to make the soft, pillowy kolache pastries make of flaky bread with a custard filling, a plum jam glaze and a crunchy streusel topping.
By Susan Knaap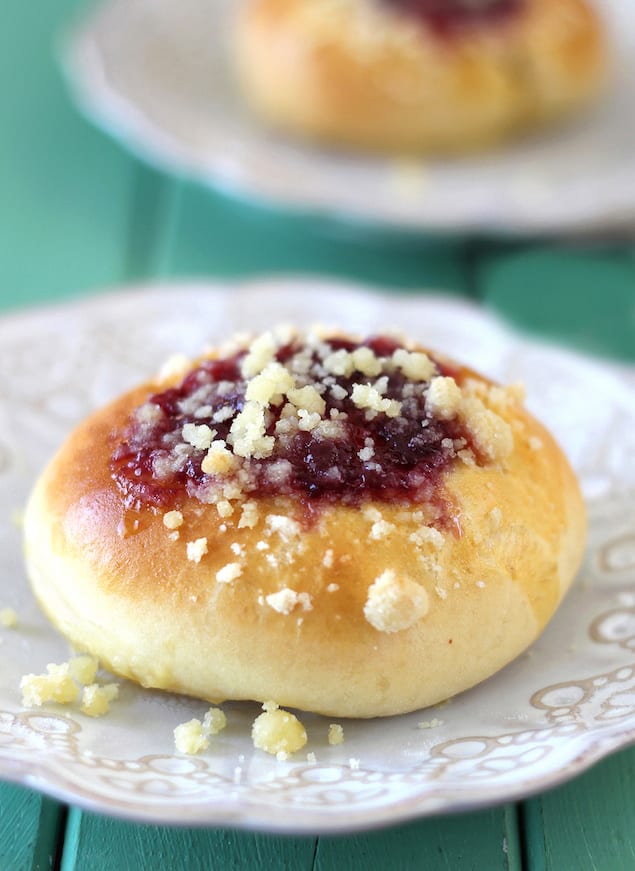 I hope my photos convey just how glorious these bread treats are – soft, flaky bread with a moist custard-like filling, a plum jam glaze and crunchy streusel topping. Salivating yet?
Now before you go thinking it was all smooth sailing, I have to confess that a few of my little kolaches did suffer some filling leakage – not sure why – I suspect I didn't seal the dough well enough. It probably wasn't helped by the fact that I couldn't source any quark so used mascarpone instead, which apparently has a thinner consistency. But despite this little glitch, the result was still spectacularly delicious and every single one was eaten while still warm (and not just by me!).

I hope you don't let the long list of ingredients or directions put you off – yes, there are several components to the recipe, but it actually doesn't take long to make at all. While many kolaches recipes require several proofs, this one proves only once. And if you halve the recipe, as I did, it's quicker still. And, anyway, I defy you to sink your teeth into that soft pillow of bread, custard, jam and streusel and say it's not worth every moment's work!
See Also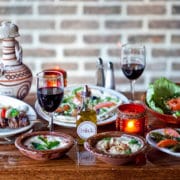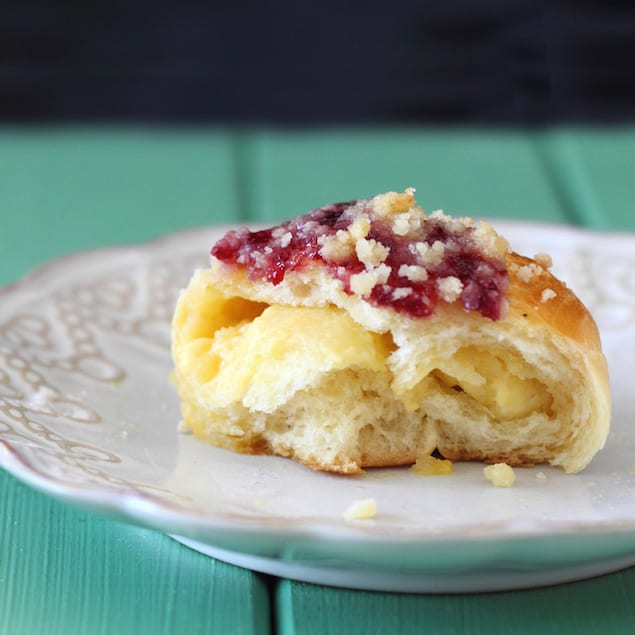 How to Make Moravian Kolaches
Learn how to make the soft, pillowy kolache pastries make of flaky bread with a custard filling, a plum jam glaze and a crunchy streusel topping.
Ingredients
For dough
30g fresh yeast or 2 packets (4 teaspoons) (15 g) active dry yeast
1 tsp granulated sugar
4 Tbsp (1/4 cup milk), warm
3-2/3 cup (500 g) all-purpose (plain) flour
¾ cup (100 g) confectioner's (icing) sugar
1 cup (250 ml) milk, warm
⅓ cup (75 g) butter, melted
2 small egg yolks
Pinch of salt
For quark filling
3 cups (750 g) quark (I used mascarpone as a substitute)
1 small egg yolk
Confectioner's (icing) sugar to taste (I used about 5-6 Tbsp)
For plum filling
⅔ cup (200 g) plum jam
Rum or hot water to soften jam if too thick
For streusel topping
¼ cup (50 g) butter, chilled and diced
⅓ cup (50 g) plain flour
¼ cup (50 g) caster (or granulated) sugar
For assembly
Instructions
For the quark filling: Mix all the quark filling ingredients and place in the fridge until needed.
For the plum filling: If your plum jam is overly thick, mix it with a little rum or water to soften it. Set aside until needed.
For the streusel topping: In a saucepan melt the butter, add flour and sugar and mix with fork until crumbly. If the mixture is too wet, add a little flour. Set aside.
To activate the yeast: In a bowl mix together yeast and 1 teaspoon sugar. Add 4 tablespoons warm milk, mix well and sprinkle with 1 tablespoon flour. Cover with plastic wrap and let rest for 10–15 minutes.
To make the dough: In your electric mixer bowl (or a large bowl) mix flour, sugar, milk, butter, egg yolks and salt. Add the activated yeast. Knead with dough hook (or with wooden spoon) on low speed for about 10 minutes. Cover with plastic wrap and let rise for about one hour to double its volume.
When the dough has risen turn it onto a lightly floured surface and roll it with rolling pin to a thickness of about ¼ inch (6mm). Cut dough into circles with 10cm (4 inch) cookie cutter or a glass (if you want small kolaches) or divide the dough into 10 equal pieces (if you want large kolaches). Reroll the scraps and cut out the last remaining circles. Press down gently on each piece with your hands to spread the dough and fill with quark filling (for the small sized kolaches, I used about 1 tablespoon of filling each). Pulling up the sides of the dough, wrap each kolach into a 'purse' shape.
Preheat oven to 170°C (340°F). Line 2–3 baking sheets with parchment paper. Put each kolach onto a prepared baking sheet with seam side down. Gently make an indentation in the middle of each kolach with your thumb. Brush the top of the kolach with egg wash and fill the indented holes with a dollop of plum filling. Sprinkle it with streusel topping. Bake for about 20-25 minutes until golden brown.
Notes
The quark filling, plum filling and streusel topping can all be prepared in advance, or while your dough is proofing.
Kolaches are best the first and second day but you can store them in an airtight container in a fridge up to 5 days.
Susan Knaap
I'm Susan - food lover from the best little country in the world - New Zealand. I'm an 'accidental' cook who fell into it, hook, line and sinker when I turned the big 5-0. Not exactly sure why it happened; perhaps some previously defunct piece of DNA came good. Anyhow, I'm making up for lost time and spending countless hours in the kitchen cooking up a storm. Desserts are my Archilles heel, followed closely by good old-fashioned baking - it's good for the soul; not so much for the waistline!