These tiny puff pastries are light and delicate. Each one is stuffed with homemade apple pie cream and topped generously with caramel sauce.
By Jen Lynn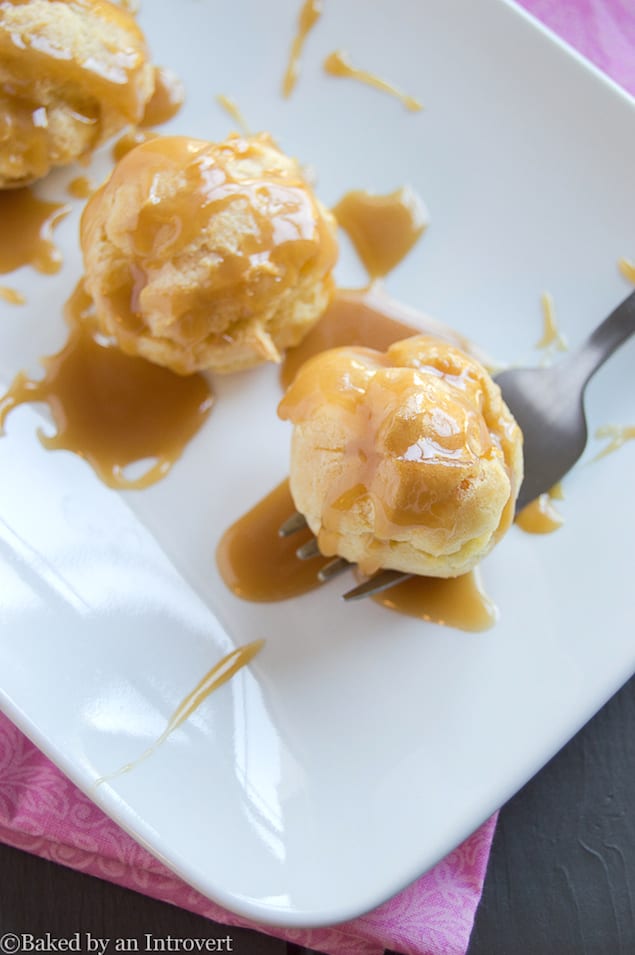 That's about the only thing I look forward to in the fall. Apples, apples, and more apples. I put them in everything. So naturally when I decided to learn to make cream puff pastry, I had to make them apple something or other.
The cream puff paste is a traditional recipe. Made with water, butter, four, a little salt and 4 eggs. All of the eggs are what makes these pastries puff up. The batter is quite easy. It will take a little arm power but I promise you can do this.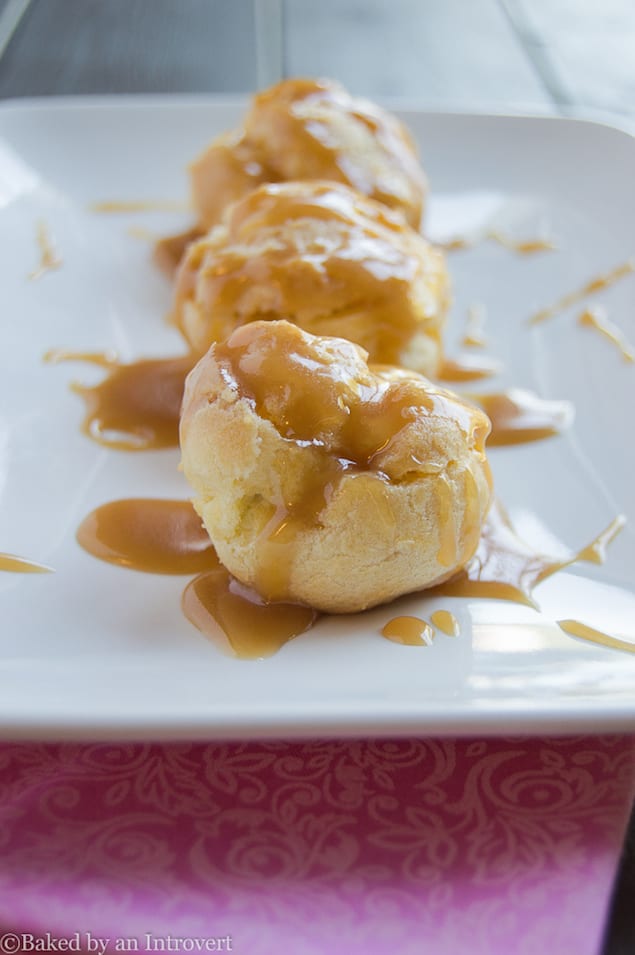 After baking, let your cute little pastries cool in a draft free area. To fill these babies, cut the tops off and remove the soft dough from the inside. This will create a little bowl to house the delicious apple cream filling.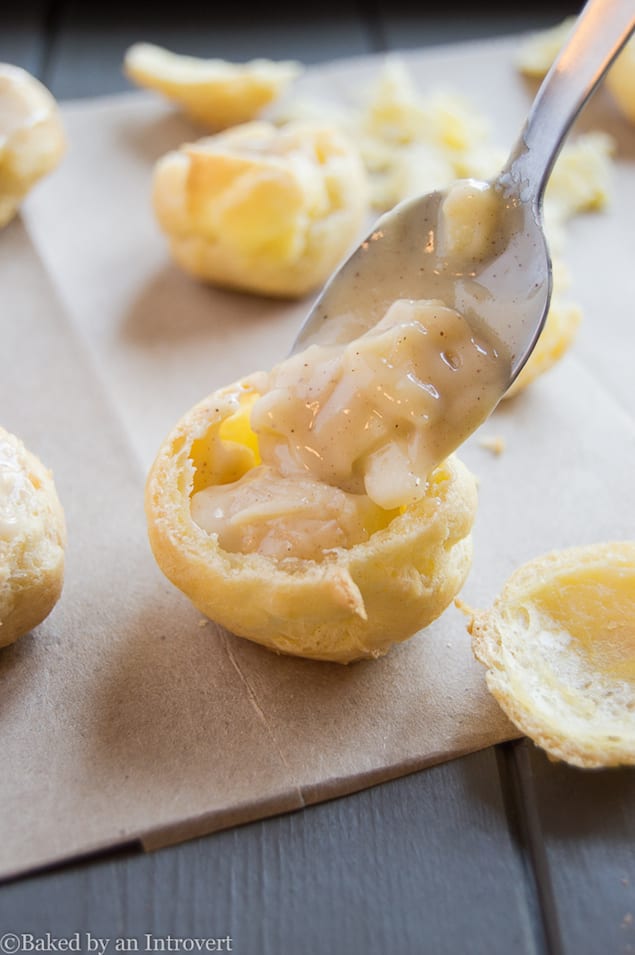 The filling is a pudding base made with 2 medium peeled and chopped apples. I used jazz apples. These apples are a cross between sweet and tart. You can use any variety you like though. The filling is the best part. It has all of the flavors of an apple pie. Yet it is cool, soft, and creamy. You will want to finish it off with a spoon.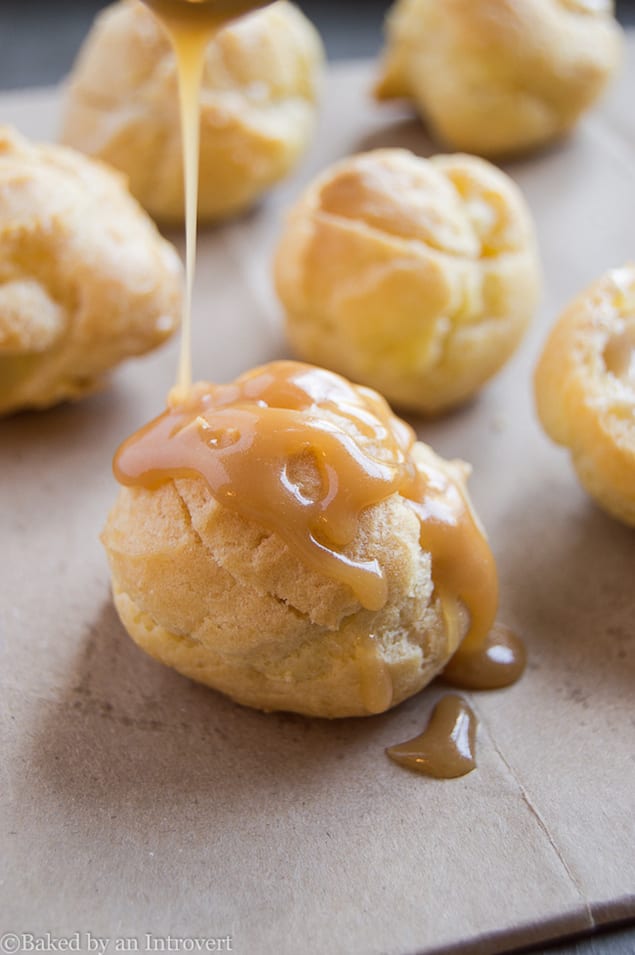 You will fall in love with this light, airy puff pastry filled with apple pie flavored cream. I can't wait to experiment more with the cream puff pastries!

Apple Pie-Filled Profiteroles
These tiny puff pastries are light and delicate. Each one is stuffed with homemade apple pie cream and topped generously with caramel sauce.
Recipe Type:
Baking, Dessert
Ingredients
For the Filling
2 cups tart apple, peeled, cored, and diced small
1 Tbs lemon juice
¾ cup granulated sugar
⅓ cup all-purpose flour
½ tsp ground cinnamon
⅛ tsp ground nutmeg
1½ cup milk
4 eggs yolks
1 tsp vanilla extract
For the pastry:
1 cup water
½ cup unsalted butter
1 cup all-purpose flour
½ tsp salt
3 large eggs
Topping:
1 cup packed light brown sugar
6 Tbs butter
⅓ cup evaporated milk
1 tsp vanilla
1 tsp salt
Instructions
Make the filling: Toss the diced apples in lemon juice. Set aside. Combine the sugar, flour, cinnamon, nutmeg, and milk in a medium sauce pan. Whisk until smooth. Add apples and cook over medium heat until the mixture thickens and begins to boil, stirring constantly. Remove from heat. Beat the egg yolks until thick and pale. Gradually add ¼ of the hot apple mixture to the yolk, stir vigorously after each addition. Add the tempered egg yolks to the remaining hot mixture, stirring constantly. Bring the mixture back to a boil over medium heat, and cook for 3 minutes. Stir constantly. Remove from heat. Stir in the vanilla extract. Cover with plastic wrap and refrigerate.
To make the puff pastry: Preheat oven to 400F degrees. In a large pot, combine the water and butter. Bring to a boil over medium heat. Add the flour and salt. Stir vigorously until the mixture no longer sticks to the sides of the pan and forms a ball. Remove from heat and let cool for 5 minutes. Add the eggs, one at a time, stirring thoroughly with a wooden spoon after each addition. After the final egg, beat mixture until smooth. The mixture will be a thick paste. Use a small cookie scoop to drop the batter onto a parchment paper lined baking sheet. Bake for 25 minutes or until puffed and golden. Allow to cool away from drafts.
Cut the tops off of the pastries, remove the dough soft dough inside, and spoon the filling into the cavity. Replace the tops.
Make the topping: Melt butter in a small sauce pan over medium heat. Add brown sugar, stir well with a silicone spatula. Bring mixture to a boil over medium heat. Stir in evaporated milk and let the mixture boil for 2 minutes. Remove from heat and stir in vanilla. Drizzle caramel over the profiteroles.
Notes
The puff pastry shells can be made a day ahead. Store them in an airtight container. Don't fill them until they are ready to be served or they will become soggy.
Jen Lynn
Jen Lynn is the self-taught baker, food blogger, freelance food writer and photographer behind bakedbyanintrovert.com where she shares her passion for transforming classic recipes into something more creative.