Ready to discover the tacos cousin? Learn how to make huarache.
There may never be a time when tacos are overrated, but for the days when you want to be adventurous and step outside the obsessed taco world, there is another Mexican specialty out there. Introducing the Mexican Huarache; an authentic dish of the native taco country.  The Huarache is an oval corn masa cake with similar flavors and features of the taco. "In Mexico City, the Huaraches can be made with blue corn topped with black or pinto beans, mexican crema, queso fresco and the protein of your choice such as carnitas, mexican chorizo, steak, chicken and even calabacitas or nopales for a vegetarian option" says  Executive Chef, Adrian Ramirez of  cafe and taqueria, La Esquina NYC.
Making New York eaters lust for his lamb tortas and guacmole dishes at La Esquina NYC, Chef Ramirez does something special and shares his secret Huarache recipe with us. Cheers to everyone getting a real taste of Mexico City.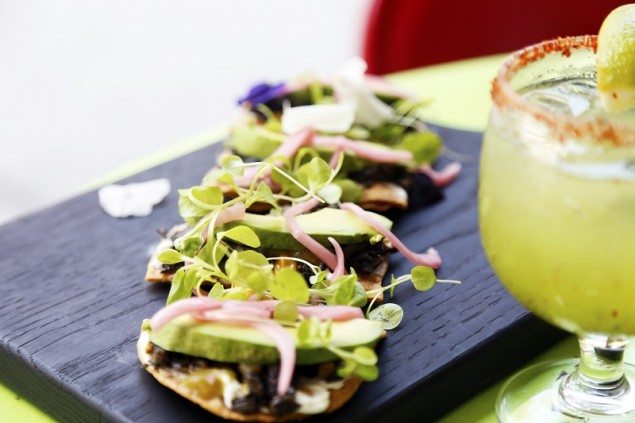 Print
Author:

La Esquina

Cuisine:

Mexican
Masa dough (maseca)
Goat cheese
Salsa verde
Huitlacoche (Sautée with fresh yellow corn)
Shaved red onions
Avocado (slices)
Instructions
To make the masa:
Cup maseca
½ Cup water
tbl spoon EVOO
tea spoon kosher salt
place the ingredients into a mixing bowl, Using your hands knead the dough for a minute or two. The dough is ready when it's smooth, but no longer sticky, and easy forms a ball in your hand. The dough should feel like Play-Doh.
To make the salsa verde
grams tomatillo.
grams jalapeno pepper
grams garlic
grams white onion
grams kosher salt
grams cilantro
cups of water
grams EVOO
Instructions
Place the water into a medium pot sauce (high heat) along with, tomatillos, garlic, onions, jalapeno pepper.
At the first boiling bubbles remove the pot from the heat (discharge the water) and place all ingredients into a blender, add the cilantro and salt. (blend it well)
Return ingredients to pot on the stove, add EVOO (medium heat) for about 2 minutes, refried the salsa for about 7 minutes (low heat)
To make the Hurache. (it means a shape of a sandal)
Make masa dough long rolls (60 grams), Open the tortilla press and
put a plastic on the bottom and place the dough on it, put the other plastic on top of the dough then press down (should be thin "long tortilla, huarache')
Place the huarache on top of the griddle (comal) in a medium heat, let it cook it for about 3 minutes, once they come to a golden brown flip them and cook it for 3 more minutes (should be crispy)
Build the huarache
Place the huarache on a plate, topped with goat cheese, hutlacoche, salsa verde, avocado, an dred onions.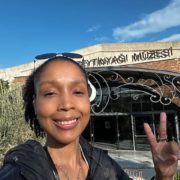 Alyssa Holder
Alyssa Holder is a writer specializing in food and travel topics since 2015.