You will fall in love with this filling and warm-you-to-the-core red lentil stew. It provides dietary fiber, plant-based protein, and nutrients to keep you strong all season long. This one-pot dinner makes great leftovers too. Make once and enjoy all week long.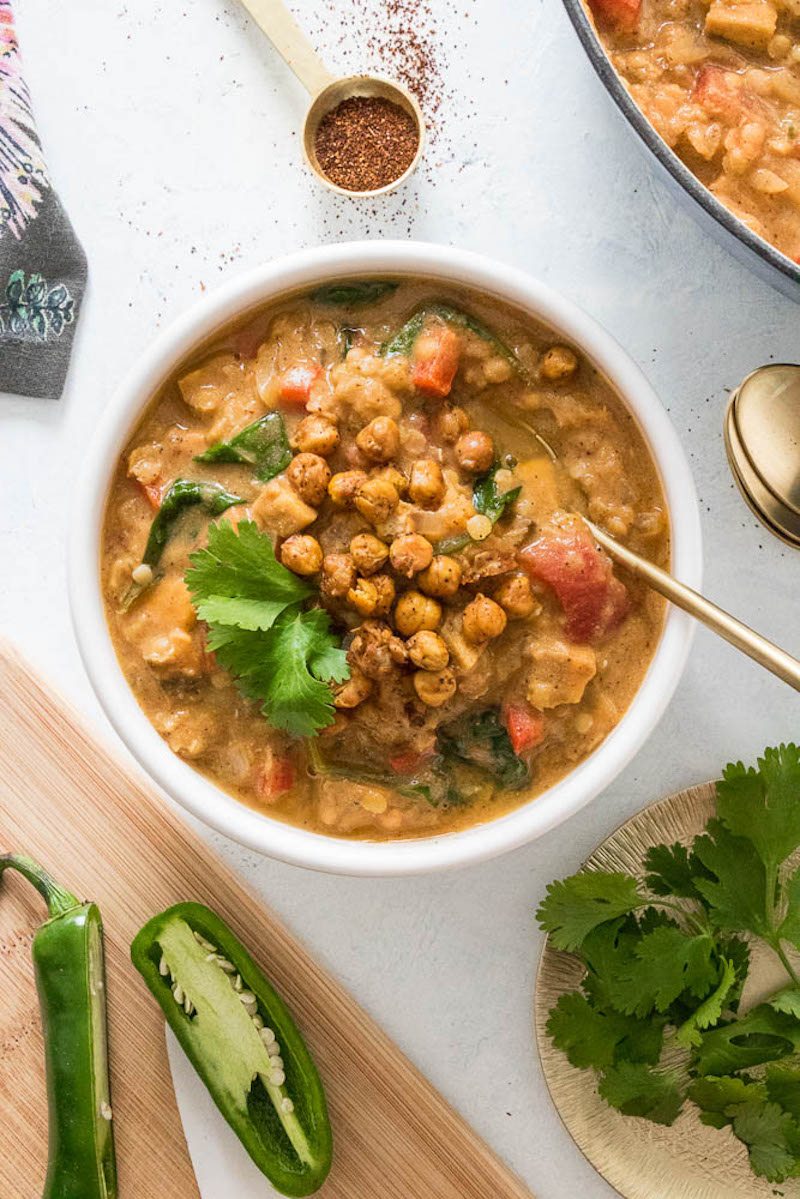 It is getting to be that time of year when you want to cozy up to a bowl of hearty stew and maybe even sweat a little. I'm starting to crave a spicy stew with all the flavors. When I make a stew I don't mess around. I'm not a fan of stews that leave you wanting more. And let me just tell you, one bowl of this plant-based stew and you will be satisfied.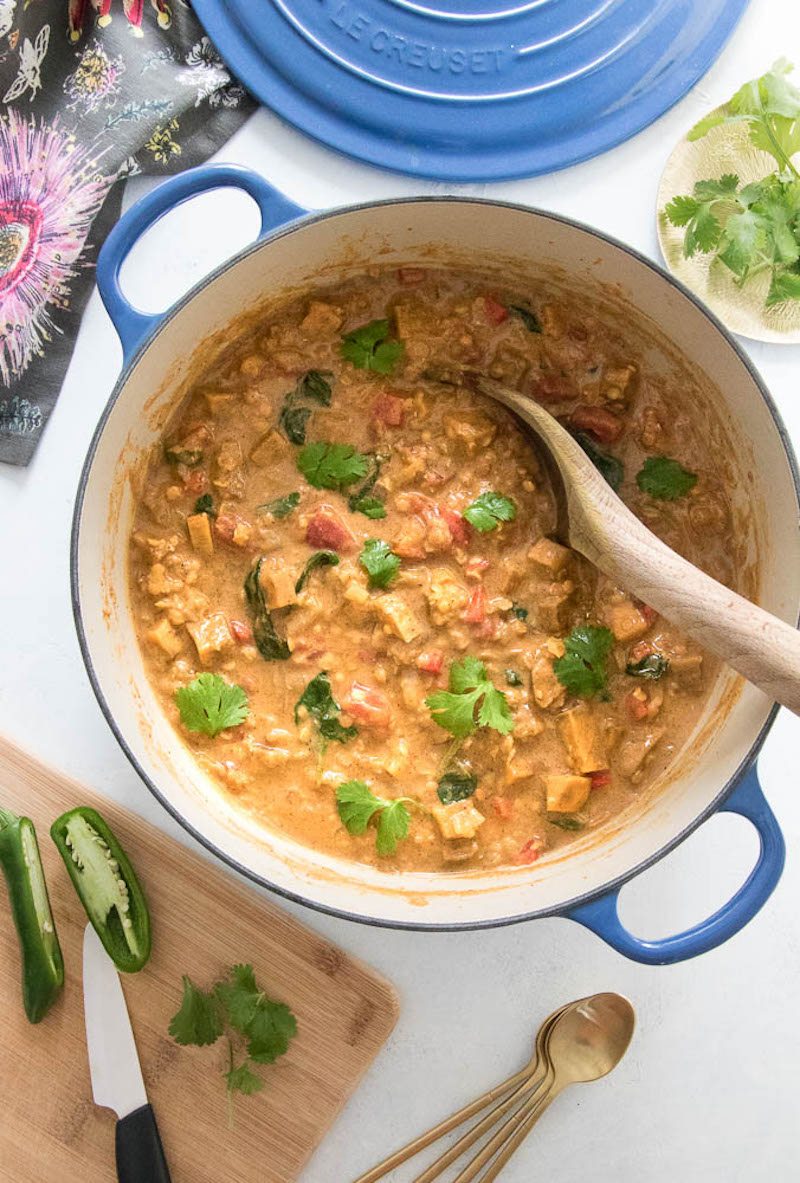 It is loaded with veggies including red bell pepper, sweet potato, tomatoes and spinach (or kale). And it is full of plant-based protein from the red lentils, sunflower seed butter and crispy chickpea croutons. The sunflower seed butter might sound a bit odd in this recipe but its creamy texture and slightly nutty flavor pairs well with the spices in this recipe (chili powder and cayenne pepper). You can definitely scale back on the spiciness if you don't want as much heat. You could omit the jalapeno pepper or cayenne pepper and it would still be just as tasty (it just won't have as much of a kick).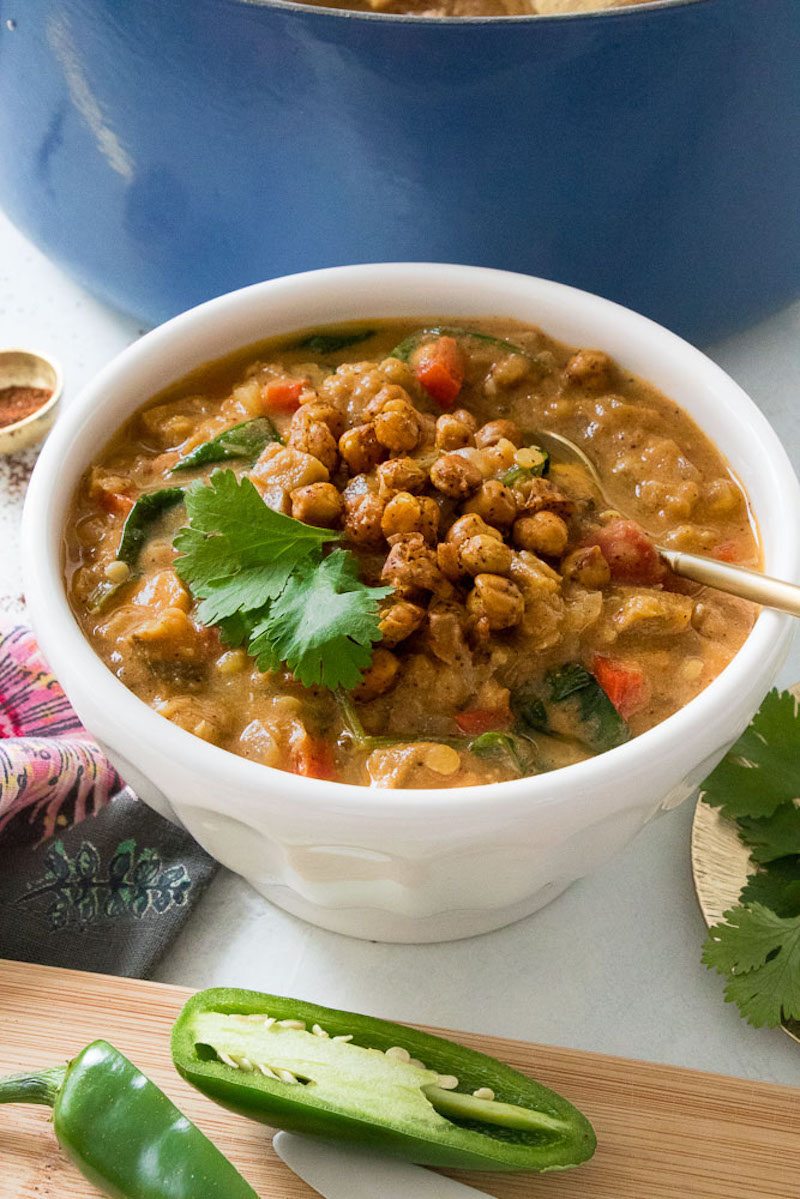 The beautiful thing about this recipe is it only requires that you chop up four things: the onion, red bell pepper, jalapeno (if using) and the sweet potato. Everything else you just throw in the pot and let stew.
The chickpea croutons are entirely optional in this recipe. This recipe works great with or without them. They just add another element of texture and add to the spicy flavor too. Plus, they add more plant-based protein.
As always, this recipe is vegan, gluten-free, soy-free and peanut-free. It is also completely nut-free.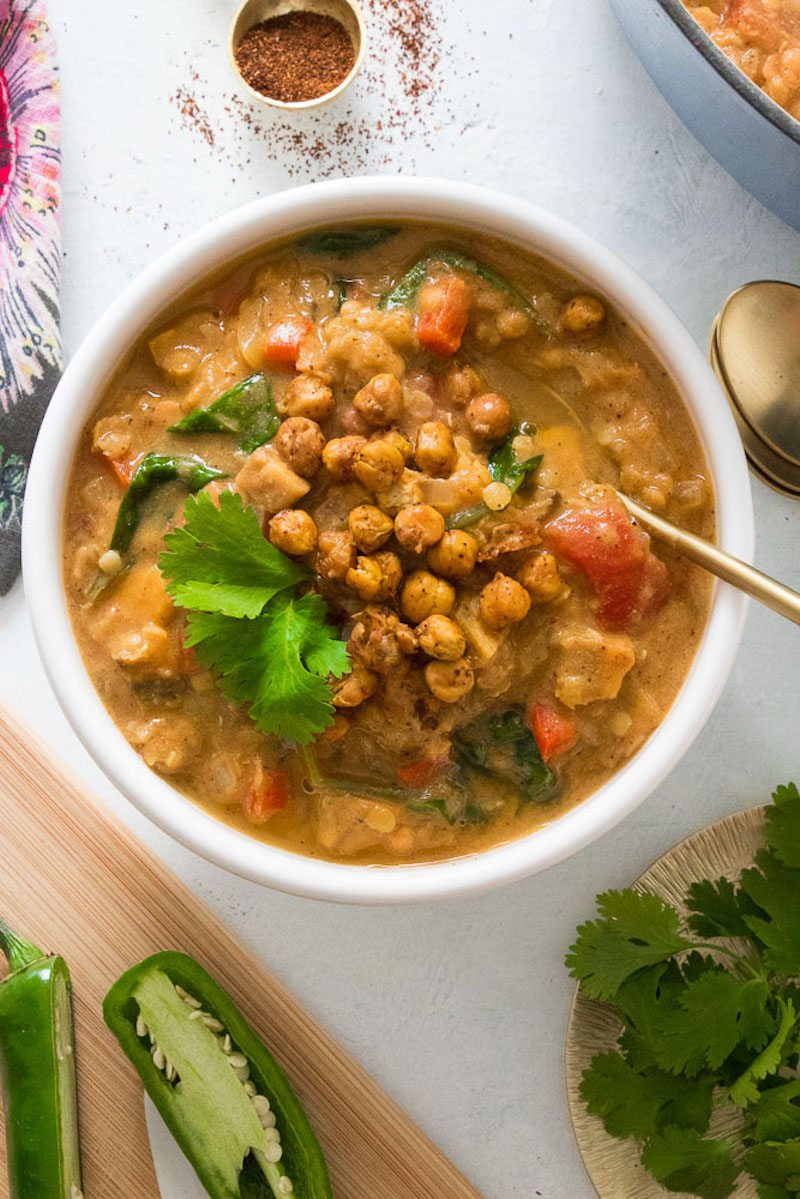 Spicy Red Lentil Veggie Stew Topped with Crispy Chickpea Croutons
Ingredients
For the crispy chickpea croutons (optional in this recipe)
1 15-ounce can chickpeas, drained, rinsed and thoroughly dried (using a paper towel or tea towel)
1 teaspoon extra-virgin olive oil
½ teaspoon fine-grain sea salt
⅛ teaspoon cayenne pepper
?/8 teaspoon chili powder
For the stew
2 teaspoons extra-virgin olive oil or avocado oil
1 medium white onion, diced
½ teaspoon fine-grain sea salt
½ teaspoon ground black pepper
4 cloves garlic, minced
1 red bell pepper, diced
1 jalapeno, seeded and diced (optional)
1 medium sweet potato, chopped into ½-inch pieces
1 16-ounce can diced tomatoes, with their juices (no salt added variety)
4 cups low-sodium vegetable broth
1 cup red lentils
⅓ cup sunflower seed butter
1½ teaspoons chili powder
¼ teaspoon cayenne pepper
2 handfuls baby spinach or destemmed torn kale leaves
For serving
Fresh cilantro and crispy chickpea croutons
Instructions
If using the crispy chickpea croutons, start by preheating your oven to 400 degrees. Line a large rimmed baking sheet with parchment paper. Place the dried chickpeas on the prepared baking sheet and drizzle with oil and sprinkle with the seasonings. Roll them around until fully and evenly coated. Roast the chickpeas for 20 minutes and then shake the pan gently to roll the chickpeas around. Roast for 10 to 15 minutes more until golden and lightly charred. Allow to cool on the pan while preparing the stew.
To prepare the stew, in a large saucepan, heat oil over medium heat. Add the onion, salt and pepper and saute for about 5 minutes or until the onion is translucent.
Add the garlic, bell pepper, jalapeno (if using), sweet potato and tomatoes with their juices. Raise the heat to medium-high and simmer for 5 minutes more.
Add the vegetable broth, red lentils, sunflower seed butter, chili powder and cayenne pepper (if using).
Cover the pot with a lid and reduce the heat to medium-low. Simmer for 15 minutes or until the sweet potato is fork-tender.
Stir in the spinach and cook until the spinach is slightly wilted. Season with additional salt and pepper to taste.
Ladle the stew into bowls and garnish with cilantro and crispy chickpea croutons (if desired).