What is Valentine's Day without a fancy dessert made for sharing? Courtesy of Executive Pastry Chef and passionate bee keeper at Gracie's, Melissa Denmark shares her Baked Honey Meringue filled with Chocolate Sabayon Mousse recipe with us.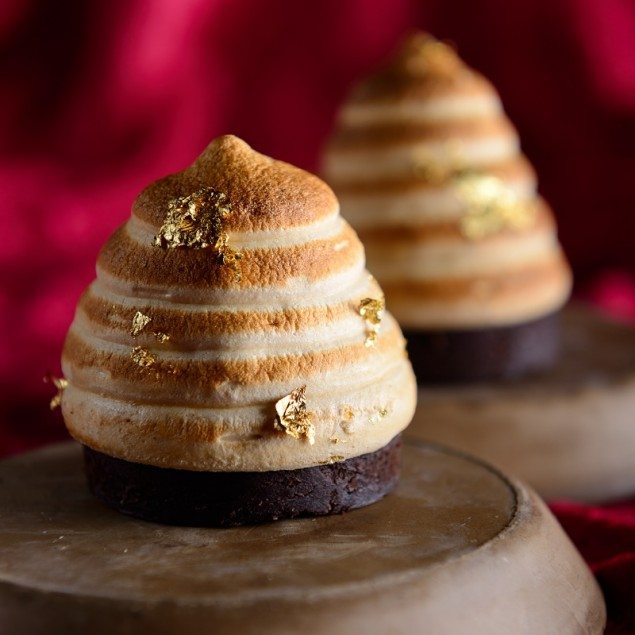 Bursting with caramelized honey flavor the toasted meringue is filled with dark silky chocolate mousse and is harmonized with a robust sherry.  A dessert designed for sharing, remember Valentine's day celebrates love not war. So challenge yourself to evenly indulge in the meringue, as you take your fork or spoon to crack through the crispy shell with silky chocolate mousse oozing and happily melting onto your tongue.
Print
Crispy Meringue with Silky Chocolate Mousse
Author:

Gracie's

Yield:

6

1

x
Category:

Dessert

Cuisine:

American
Baked Honey Meringue
4

egg whites

½ cup

granulated sugar

½ cup

honey (robust and local)

1 tablespoon

water

½ teaspoon

salt
Chocolate Sabayon Mousse
¾ cup

70% dark Chocolate (chopped)

¼ cup

Milk Chocolate (chopped)

1 ¾ cups

heavy cream

4

egg yolks

2 tablespoons

sherry wine

¼ teaspoon

salt

¼ cup

honey
Instructions
Baked Honey Meringue
Preheat oven to 200 degrees Fahrenheit.
Heat sugar, honey, water, and salt in a small pot and bring to a boil.
Meanwhile, whip the egg whites on medium speed until frothy.
Once the honey mixture comes to a boil, very slowly stream into the whipping egg whites. Be careful not to pour into the center of the whip or it will spray onto the sides of the bowl instead of in the egg mixture.
Turn up to full speed once all ingredients are combined. Whip for several minutes until stiff peaks form.
Place in a piping bag fitted with a small round piping tip.
On a silpat lined sheet pan, pipe meringue into a beehive or "Mr. Swirly" shape. Each meringue should be about 2 ½" in diameter and space about an inch apart.
Dry out in the oven for about 3 hours.
Optional: Torch lightly with a brulee torch or broiler to get a toasted appearance before drying out in the oven.
Chocolate Sabayon Mousse
Microwave the chocolate together in 30 second intervals until melted. Set aside.
Whip the heavy cream to soft peaks, place in the refrigerator until needed.
Bring a small pot of water to a boil.
In a medium size bowl, whisk together egg yolks, sherry, salt, and honey.
Place bowl over the pot of water, careful that the water does not touch the bottom of the bowl. Using the steam as a heat source, warm the egg yolk mixture while whisking constantly for about 5 minutes. Mixture should become very frothy and thicken to "ribbon stage." If you allow some of the egg mixture to flow off the whisk into the bowl, and a ribbon of the mixture stays visible for several seconds before disappearing, you are there.
Add the melted chocolate to the sabayon mixture. Fold with a rubber spatula until mixture is almost completely combined.
Add the whipped heavy cream in three stages. The first stage, mix well until everything is smooth. The next two stages, fold carefully and gently.
Place mixture into a piping bag and allow to set up in the refrigerator for 1 hour. This can be prepared up to two days ahead!
Assembly
Take the cooled, dried meringues and using a paring knife to cut a 1" circle in the bottom of each one.
Using a small spoon or knife (a grapefruit spoon works great for this) and create a cavity about 2" tall, 1" in diameter.
Pipe the chocolate mousse into the meringue cavity to fill.
Use a small offset spatula, or butter knife to remove the excess mousse and smooth out the bottom.
Serve immediately!
While developing a love for this sweet treat is uncontrollable there are other flavors at Gracie's others may appreciate more in the month of February. These include blood orange, grapefruit, kumquat, and bergamot. At Gracie's, the entire team serves to constantly inspire, and educate our palates through their delicious and seasonal recipes.
For more information visit Gracie's or dine at the restaurant located in Providence Rhode Island.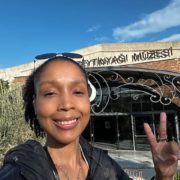 Alyssa Holder
Alyssa Holder is a writer specializing in food and travel topics since 2015.