Sponsored Post – A diverse wine region in the heart of France, discover wines from the Loire Valley.
These Rosemary Goat Cheese Gougères are the perfect party bite, especially when paired with a high-quality Loire Valley wine.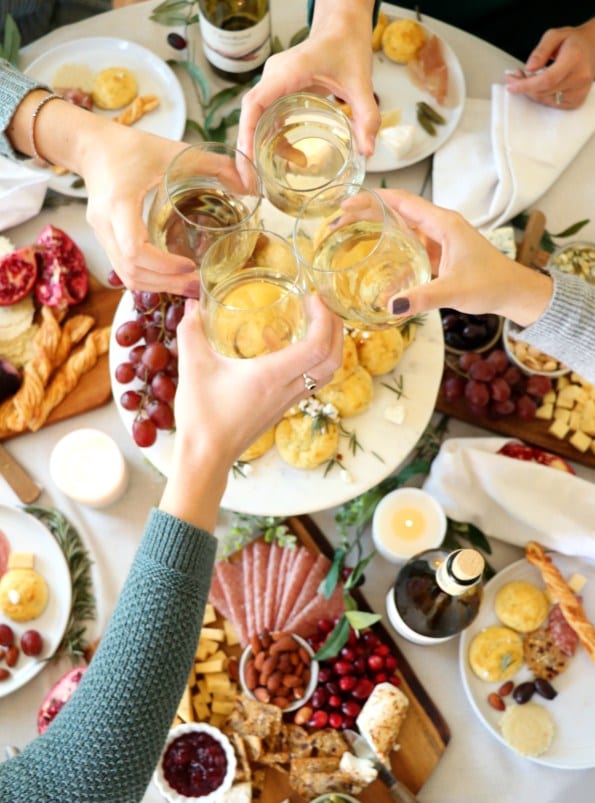 The Loire Valley is France's most diverse wine region, producing exemplary wines in every style.
Popularity of Loire Valley wines with sommeliers and wine writers has been growing steadily for the last ten years because for all their variety, Loire Valley wines share important characteristics that make them perfect for contemporary taste.
When hosting a winter get together I try to go for a simple wine and cheese party. Nothing is more fun than getting together with your gals and cozying up to a cheese board with a bottle, or two of wine.
I'm a total French palate when it comes to wines I love, they're always so approachable and easily paired with food. Loire Valley produces delicious, fun, fruity, and cost friendly wines. The Loire Valley has a long history of wine making that dates all the way back to the 1st century. Because of the region and the Loire River running right through many vineyards, it has a beautiful effect on the vines making for fresh mineral driven wine.
So naturally I had to host a holiday wine and cheese party to celebrate this delicious wine.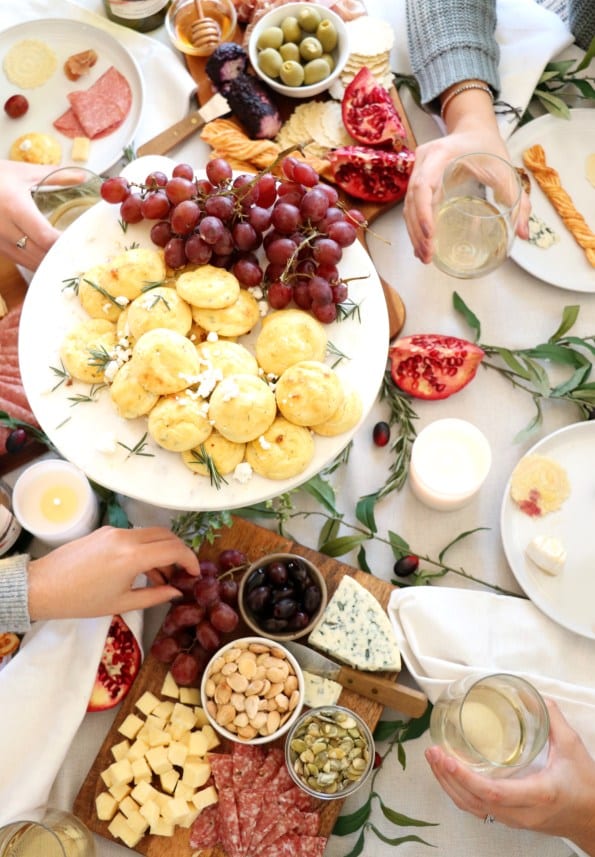 Sarl Pierre-Olivier Bonhomme Touraine Sauvignon Blanc was the perfect pairing to my Rosemary Goat Cheese Gougères, the tangy goat cheese paired beautifully with this rounded, mineral and honey tasting Sauvignon Blanc.
A gougère is a baked savory pâte à choux pastry made of an egg dough mixed with cheese. Think of it like an elegant cheese puff. They are mainly used in France specifically in winery cellars for a palate cleansing pairing. Hence, why I knew they'd be perfect for my winter wine and cheese party.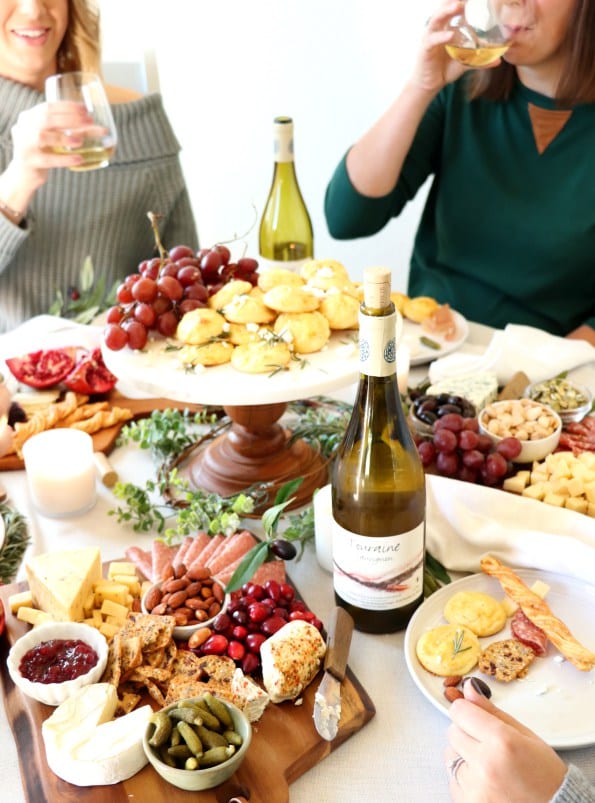 When hosting a wine and cheese party always keep it simple. Don't try to do too many things to pair with the wine. Trust me, this will keep you sane and allow you to relax and enjoy the company rather than worrying about how many dishes you have to make.
A cheese and meat board will always suffice. It's actually my go to for many parties I host. Gougères are the added bonus for the party, they are the focal point. Easy to make and they are so impressive to guests. Add in some variety of nuts, honey, fruit like grapes, apples, pears or figs, olives like castelvetrano or kalamata, assorted crackers and jam, and you look like a pro.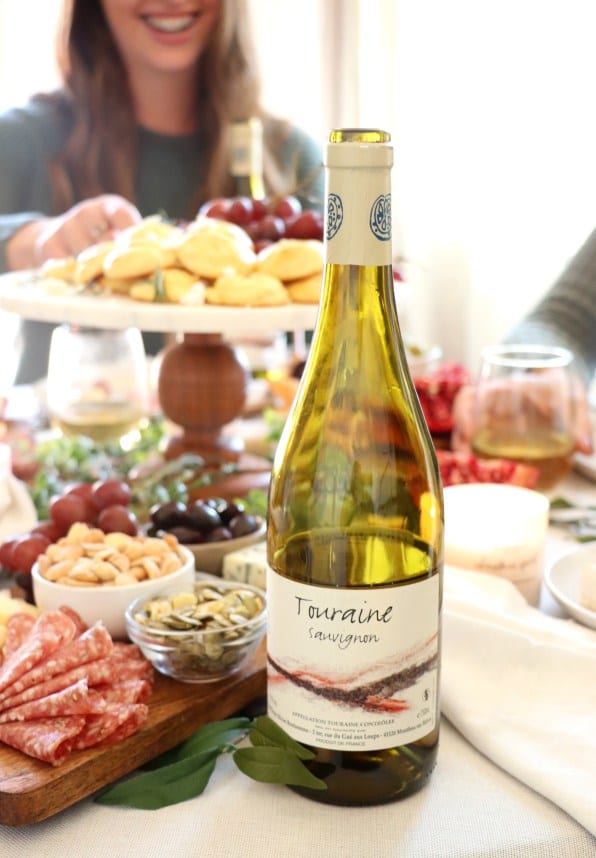 Select a maximum of 6 different types of cheeses. I go with these stand bys and mix up the different flavors; Cheddar, Brie, Blue Cheese, Gouda, Goat Cheese, and Mozzarella. You can buy smoked gouda or marinated mozzarella, I've even been known to throw a blueberry goat cheese in there. The crowd pleaser will always be brie so I tend to buy a couple different types like triple cream or cambozola. Slice and arrange your cheese on your boards ahead of time and always be sure to take out your cheese from the fridge a minimum of 30 minutes before guests arrive so it has a chance to warm to room temperature.
For the charcuterie side of the cheese and meat board always buy a sliced variety. Buying pre-sliced or asking the meat counter to slice it ahead of time for you will save you lots of time and prep work. Dry-cured salami, prosciutto, and soppressata are always my go to.
Keep the wine simple, go for something fresh and crisp like a Sauvignon Blanc from Loire Valley. This is going to keep your palate alive rather than bog it down with heavy tannins. Because Loire Valley doesn't focus on oak barrels, it makes for a fresher, lighter and crisper style of wine.
Now on to the good stuff, Gougères, these are so easy to make and it takes little to no effort to prepare the dough and pop these in the oven and serve as an elegant appetizer. The first time I made gougères was in culinary school, they're typically made with gruyere cheese, but I like substituting a variety of different kinds of cheeses for this recipe. The rosemary and goat cheese combo was absolutely delicious and festive for around holiday time.
Just don't forget to pair with a yummy wine from the Loire Valley. Ask your local wine shop for help selecting a wine from this region.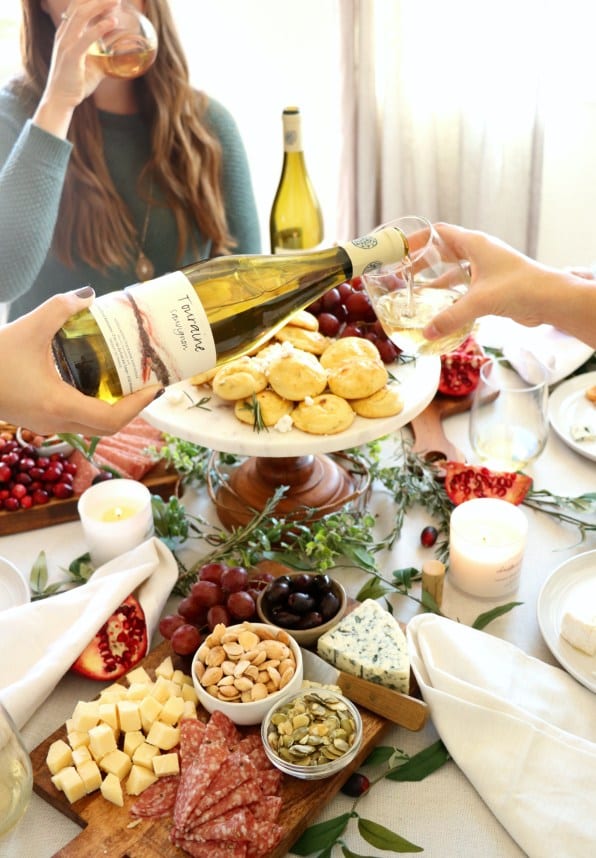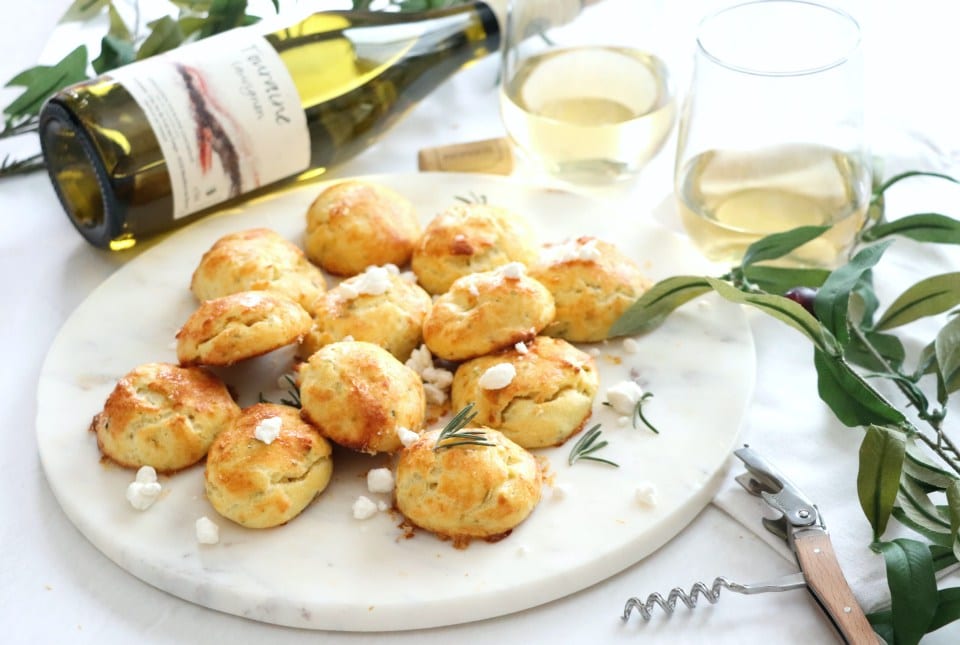 Print

Loire Valley Wines and Rosemary Goat Cheese Gougères
---
Author:

Victoria Townsend

Total Time:

30 minutes

Yield:

2

dozen Gougères

1

x
---
Instructions
Preheat your oven to 400 degrees F. Line two baking sheets with silpats or parchment paper.
In a medium saucepan, combine the butter, milk and kosher salt and bring to a boil. Remove the pan from the heat and add the flour. Whisk for a few minutes, then return the pan to the heat and continue whisking to dry the paste out slightly. Remove the pan from the heat again, switch to a wooden spoon, and begin adding the eggs one at a time to fully incorporate into the dough before adding the next one. Your arm is going to get a workout here. Stir in the goat cheese and chopped rosemary.
You can either use a piping bag or drop tablespoonful of the dough onto the baking sheets.
Use the whisked egg to brush the tops of each gougère. Sprinkle each top with a little grated Parmesan cheese.
Place the baking sheets evenly spaced apart in the middle of your oven. Bake for 15 minutes, halfway through rotating each pan. Bake until gougères are golden brown and puffed. Serve immediately warm or at room temperature. Enjoy!
Prep Time:

15 minutes

Cook Time:

15 minutes

Category:

Appetizer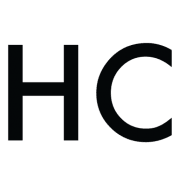 victoriatownsend
On my blog, Dash of Savory, I share my passion for cooking restaurant-quality meals at home from my kitchen in Montana. I'm obsessed with beautiful, soul warming, semi-healthy, and back-to-the-basics fresh flavors. Always with a glass of wine in hand and my Frenchie Monte near by. Follow my recipes to create beautiful meals at home whether it be a meal for two or a dinner party with friends. My life motto; Cook with passion, savor good food, and love great company.