Do your hummus up! These quick and easy Loaded Hummus Bowls with Greek Chicken is packed with protein and colorful veggies. It makes for a meal full of flavor and nutritious ingredients.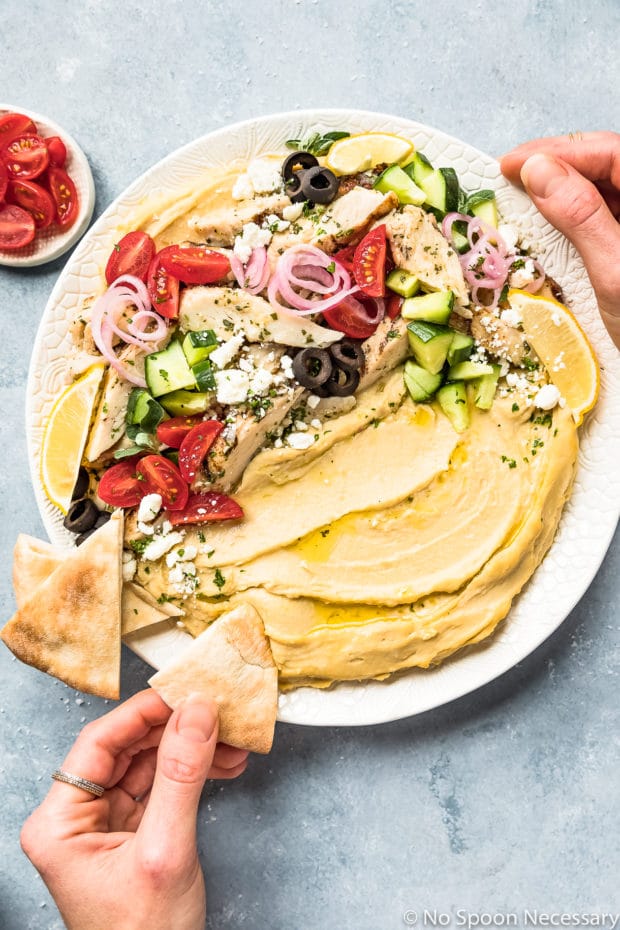 Creamy, smooth hummus topped with tender, chopped chicken tossed in a tangy, herbaceous, slightly honey sweet Greek vinaigrette and topped with crisp cucumbers, juicy tomatoes, salty feta, refreshing pickled red onions, rich kalamata olives and plenty of fresh herbs.
Healthy, light and refreshing, yet substantial and packed full of texture and flavor, this hummus bowl is locked and loaded with all the things delicious!
And, this Greek Chicken Loaded Hummus is absolutely perfect for any occasion from weekly meal preps to hearty lunches and light dinners!
Basically, this chicken topped hummus is my new favorite easy, go-to meal and never leaves me disappointed or hangry!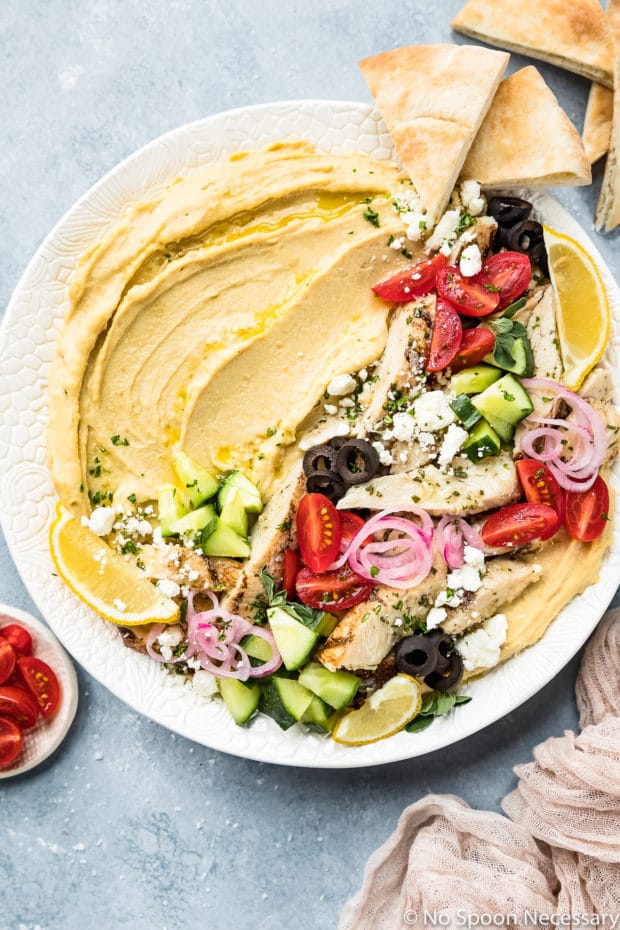 What is Greek style chicken?
Greek chicken, or Greek style chicken is simply chicken that has been infused, marinated or dressed with Mediterranean flavors and seasonings. Common ingredients to flavor chicken in the style of Greece are high quality olive oil, lemon, garlic and fresh oregano.
How to season Greek chicken?
Greek seasoning blends can vary greatly, but typical spices used to season Greek chicken are salt, garlic (fresh or powder), basil, oregano and plenty of fresh lemon.
What goes with Greek chicken?
There are tons of delicious side options to serve with Greek chicken! This easy Greek chicken recipe is served over creamy hummus and topped with fresh cherry tomatoes, crumbled or cubed feta, sliced cucumbers, pickled red onions, sliced olives and fluffy pita pocket wedges.
Looking for Greek inspired side dishes to serve with this quick Greek Chicken Loaded Hummus bowl? Any of the below would be a delicious pairing:
Crispy Greek Potato Wedges (recipe here)
Light Greek Orzo Soup
Mediterranean Couscous salad
Greek Side Salad
Lemony Rice
Roasted Eggplant
Provencal style Artichokes
Stuffed Red Peppers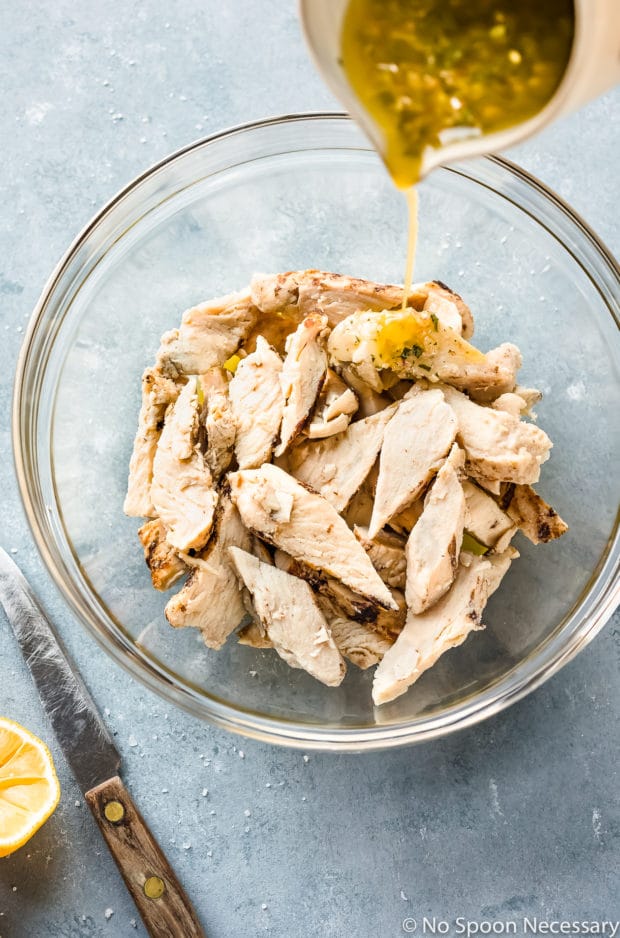 How to make Greek Chicken Loaded Hummus Bowl (notes, tips & tricks):
You can definitely cook your own chicken for this hummus bowl (grill, bake, broil, poach, whatever!), or you can keep things super easy! I used skinless, boneless rotisserie chicken breasts which makes these bowls perfect for lunches on the go or super fast family dinners! You will be tossing the cooked chicken with a homemade Greek
Vinaigrette which adds a ton of flavor, so taking a short cut here won't hurt anything!
You can either make your own hummus or use store-bought hummus here. I've made these bowls both ways and honestly, as long as you get a good quality pre-made hummus, you won't notice a difference.
I garnished my Greek Chicken Loaded Hummus Bowls with pickled onions. They are super easy to make, only require 4 ingredients (plus water) and are perfect to have on hand in the fridge! I have included how to make your own pickled onions in the notes section of the recipe below.
These hummus bowls are totally customize-able! I highly encourage you to load them up with the things you love!
Oh, and if you aren't feeling chicken, try making these easy Greek bowls with crispy roasted chickpeas, canned tuna, seared salmon or even grilled steak!
Click here for the Greek Chicken recipe.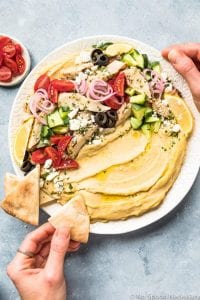 Loaded Hummus Bowls with Greek Chicken
Cheyanne Holzworth
Ingredients
For the Greek Chicken:
Click the link above for the recipe.
For Hummus Bowls:
2

Cups

Hummus see recipe notes

8

ounces

Feta – cubed or crumbled

1

Persian Cucumber – thinly sliced

1

cup

Cherry Tomatoes – halved

½

Cup

Kalamata Olives – pitted and halved or sliced

Pita Pockets – cut into wedges

Pickled Red Onions

see recipe notes
Optional for Garnish: Lemon Wedges, Chopped Parsley, Chopped Oregano, Tzatziki, Shredded Lettuce
Instructions
Make the easy Greek Chicken:
Click the link above for the recipe.
Assemble the hummus bowls:
Spread the hummus in an even layer in bowls or on a serving platter. Top with the vinaigrette coated chicken. Scatter feta, cucumbers, tomatoes, olives and pickled onions on top. Drizzle with remaining vinaigrette. Serve with pita chips and optional garnishes. Enjoy!
Notes
Chicken: You can absolutely cook your own chicken for this hummus bowl (grill, bake, broil or poach). To keep things super easy I used skinless, boneless rotisserie chicken breasts. You are tossing the cooked chicken with a Greek Vinaigrette which adds a ton of flavor, so taking a short cut here won't hurt anything!
Hummus: You can either make your own hummus or store-bought here. Whatever you like best.
Pickled Onions: These are super easy to make and perfect to have on hand in the fridge! To make your own- combine ½ cup apple cider vinegar, 1 ½ tablespoons granulated sugar and 1 ½ teaspoons kosher salt with 1 cup of warm water. Whisk until everything is dissolved. Thinly slice 1 red onion and add it to the pickle brine. Let the onions hang out on the counter for an hour at room temperature. Drain before using! Alternatively, the pickled onions can be kept in an airtight container in the refrigerator for up to 2 weeks.
Recipe serves 4-6 people. Nutrition information based on 4 servings.
Cheyanne Holzworth
Hi there! My name is Cheyanne. I am an avid foodie, culinary school graduate, recipe developer and newbie blogger. I find peace and joy being in the kitchen and am obsessed with feeding anyone who has an appetite. I am also a lover of food porn. I picked up a camera one day and fell in love with food photography. Then I got a wack-a-me-me idea to start a food blog and the rest is history. No Spoon Necessary is a place where I share my passion for food and photography with all who care to join me. I also rant, ramble on and share my life a little. In a world filled with so many talented food bloggers, I am simply trying to carve my space in www dot com land, take you all with me on the crazy ride and cook 'n eat some delicious food along the way! So, strap on that apron and work some culinary magic with me. Cheers!