A rainbow on a plate! Load up on colorful veggies and produce with this delicious beet hummus dip and crudités.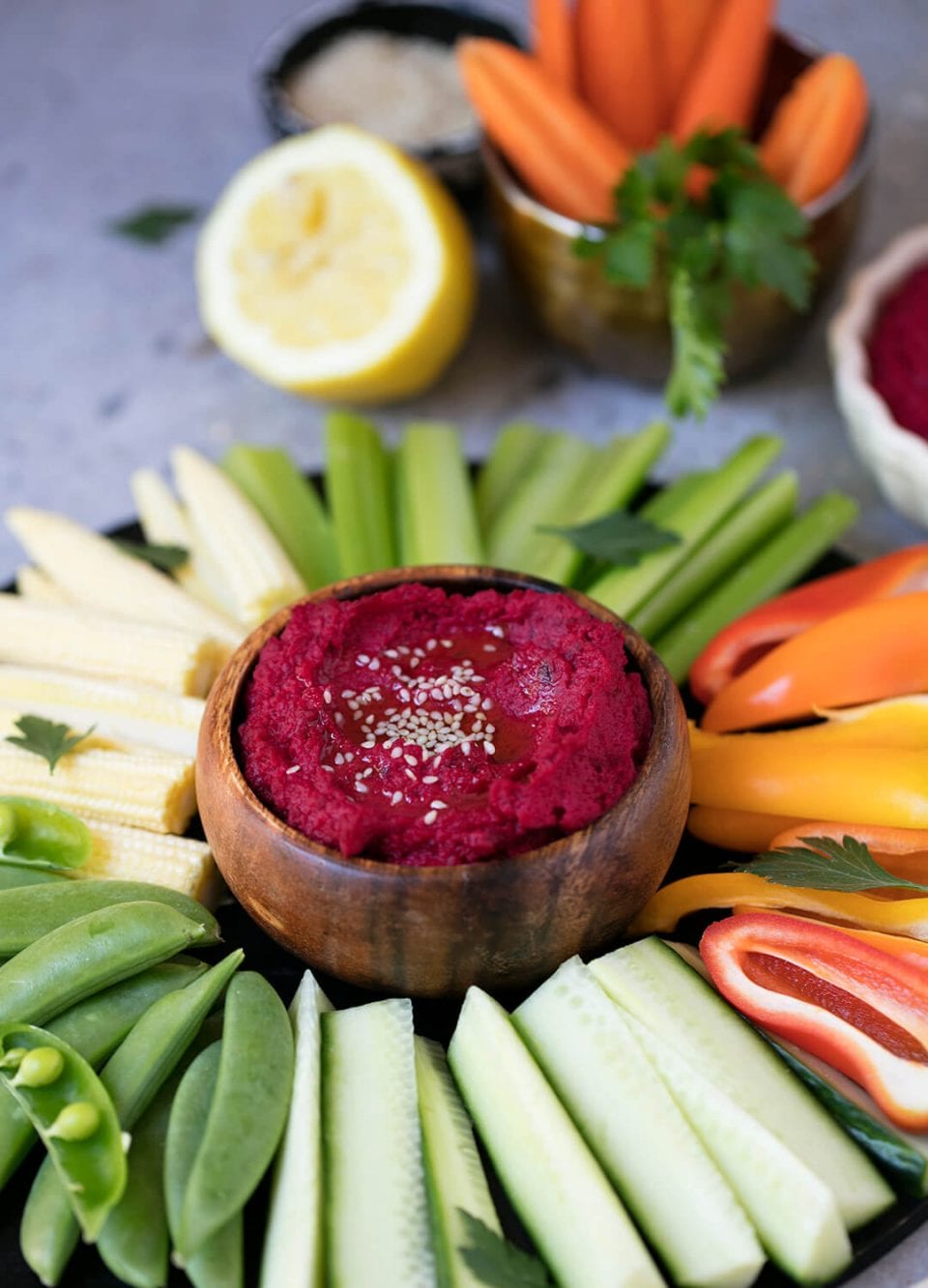 I love beetroot and the many delicious ways to use it. Like in this Vegan Beetroot, Pumpkin and Walnut Bread or this Beetroot Smoothie Bowl. Here in South Africa we grew up with our grans that used to preserve bottles full of pickled beets during the harvest season. It was almost ALWAYS present in some form on our Sunday table. Not only does it deliver a sweet, earthy flavour; beets are also low in calories, full of nutrients and fibre.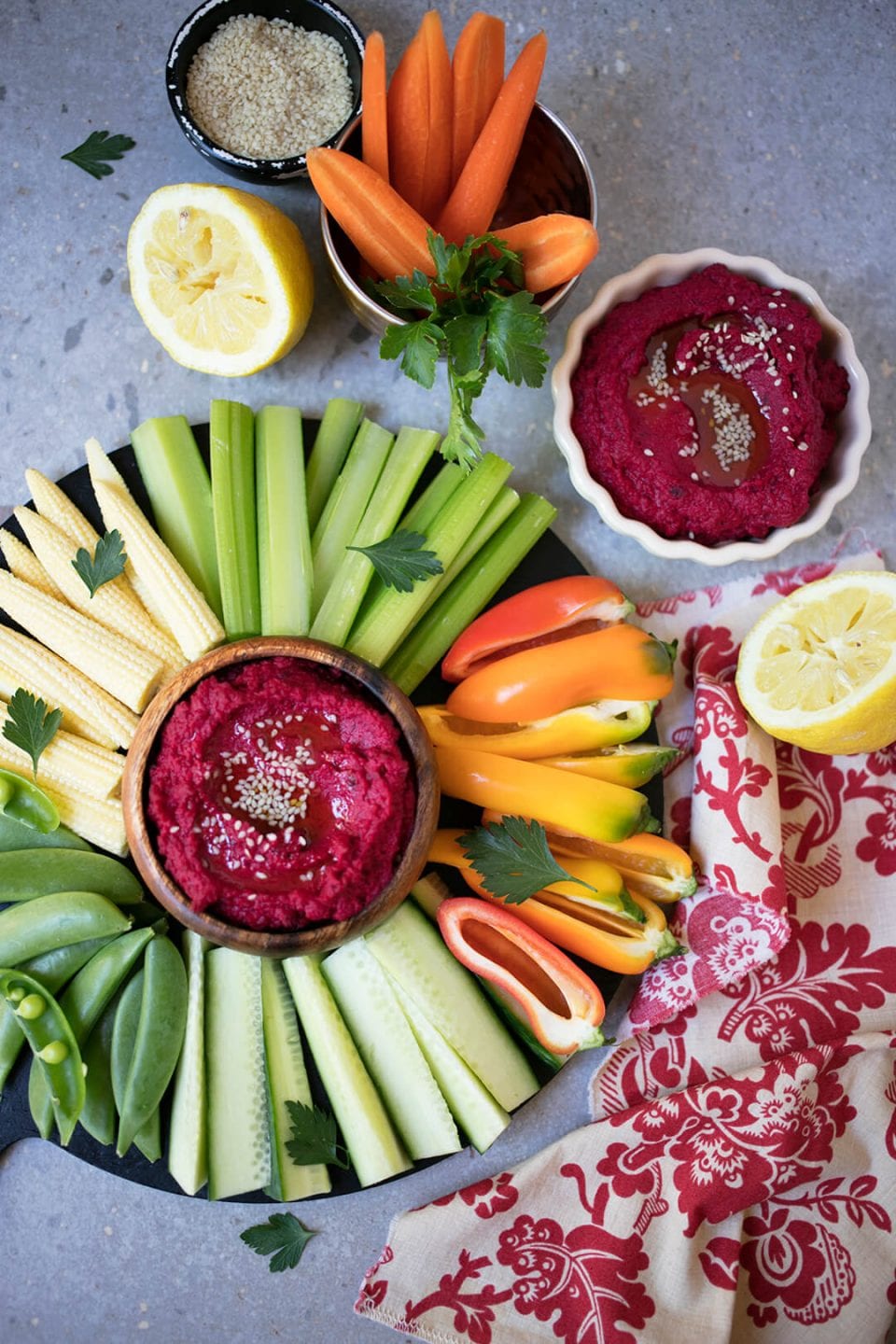 This beetroot hummus is really flavoursome and is great as a condiment with your daily roasted veggies or sandwiches. I just simply love it with good old fresh veggie sticks and I included carrots, cucumber,sweet peppers, baby corn, celery and sugar snap peas on my crudité plate. The perfect way to get the family snacking.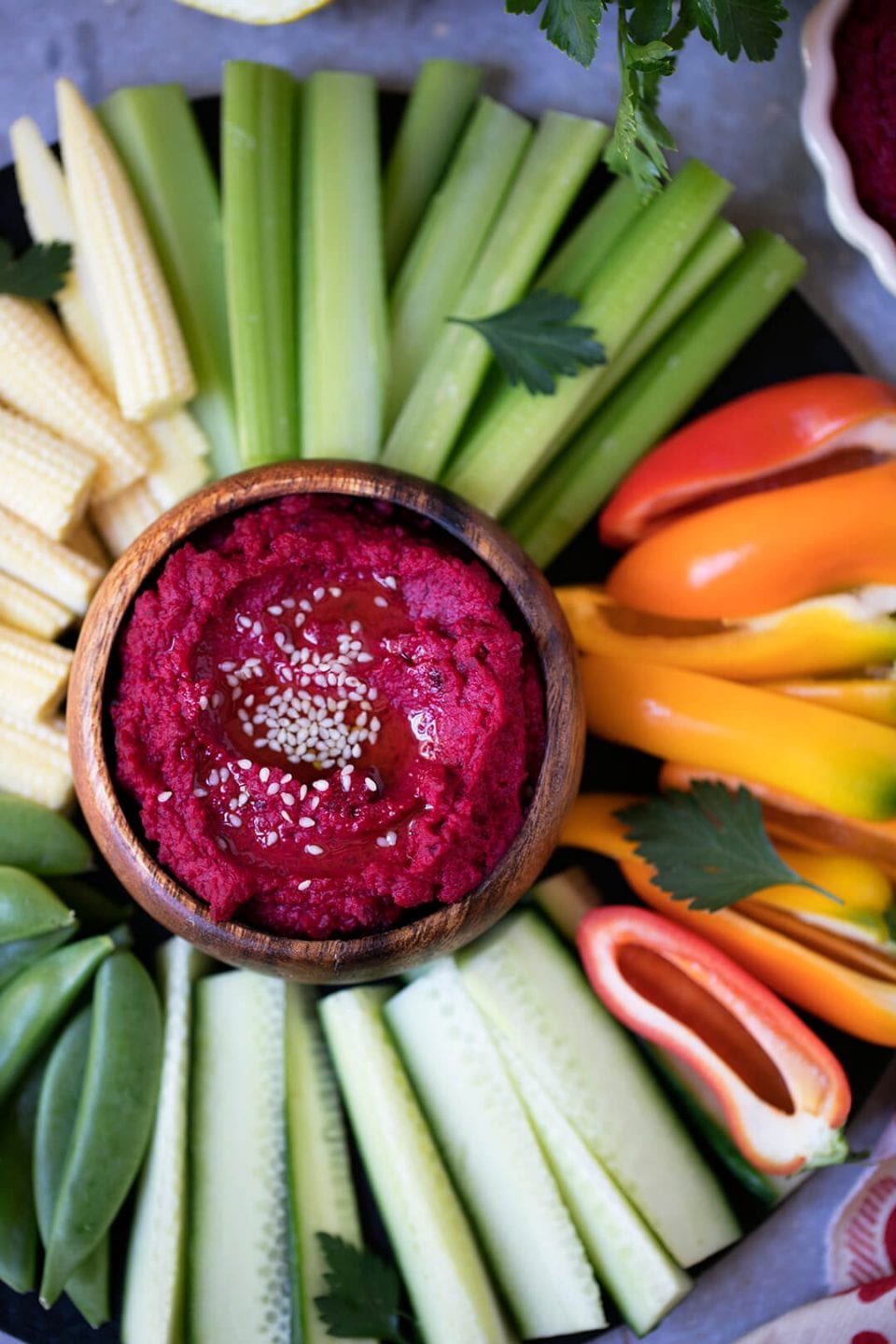 Dips and spreads…I have them all! Check out these easy recipes for snacking to the max!
Homemade Tomato and Vegetable Sauce
Mushroom Paté and Roasted Tomato Snack Stack
Zucchini and Spinach Tzatziki
Zesty Summer Salsa
Easy Chunky Guacamole
Snoek Pâté with Spicy Stewed Apricots

Beet Hummus Dip
Ingredients
Beetroot Hummus
3 large beets peeled and roughly chopped
10 ml olive oil
salt and black pepper to season
1 tin chickpeas in brine
2 teaspoons crushed garlic
2 teaspoons tahini
juice from one lemon
5 ml ground coriander
5-7 tablespoons sesame oil
Crudités
2 large carrots thinly sliced
4 sweet peppers sliced
100 gr baby corn sliced lenghtwise
100 gr sugar snap peas
2 stalks celery sliced
cucumber sliced in sticks
Instructions
For the Beetroot Hummus: Place the roughly chopped beets in an ovensafe dish and roast for 40 minutes at 180 degrees Celsius. Remove from oven and leave to cool.
Place the roasted beets, chickpeas (drained), garlic, lemon juice, tahini, spices and oil in a power blender and pulse until smooth.
Season to taste and garnish with sesame seeds.
Arrange all your fresh veggie sticks around the hummus and enjoy.