Bowen Close went just a little crazy on a batch of lime cornmeal cookies.
By Bowen Close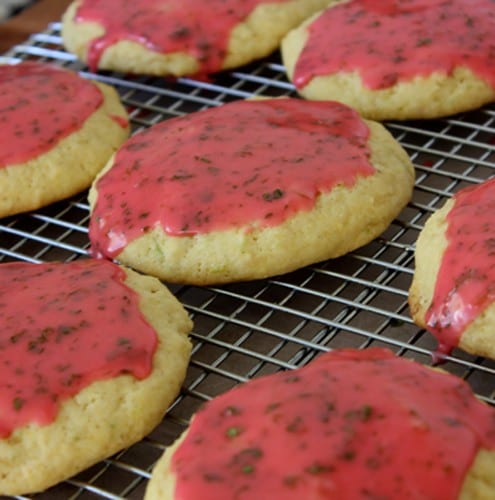 I went a little crazy with these cookies… They could have had a lovely, classy, creamy white glaze, flecked with lime zest. But then I noticed the juice leftover from some frozen raspberries I had thawed, and a fresh bunch of mint in my refrigerator.  And from there was born a flashy, hot pink raspberry mojito glaze.
The basic version of this cookie is all you really need to know, but you can have as much fun with the glaze as you like. A buttery, delicately sweet cookie, slightly zesty from a healthy dose of lime zest. Soft and cakey, but with a distinct and slightly crunchy texture from some added cornmeal. Like a far higher-quality, far tastier version of those cakey supermarket cookies, all dressed up for a fancy tea party.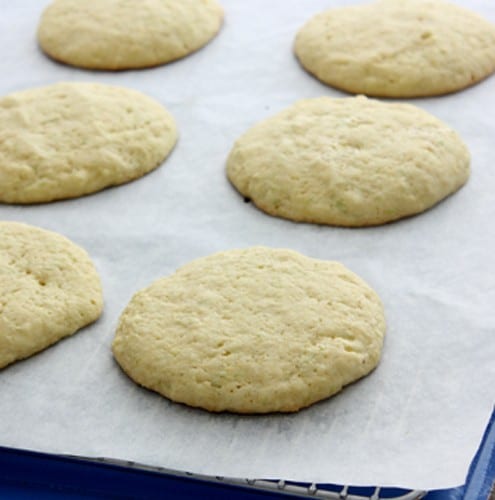 See Also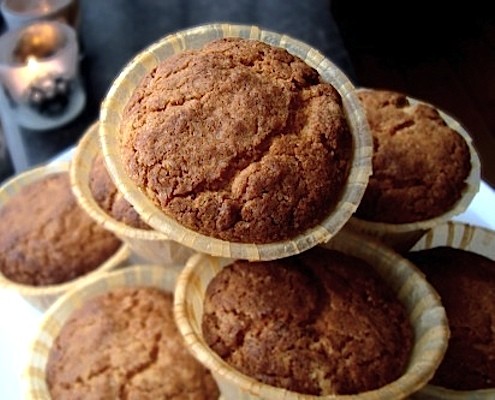 And if you want to play around with the glaze like I did, there are plenty of things you can do. Lemon and rosemary? Blackberry and basil? Lemon and ginger? Grapefruit? Orange? The opportunities are endless. Think about flavor combinations you love (cocktails can make for great inspiration) and go from there!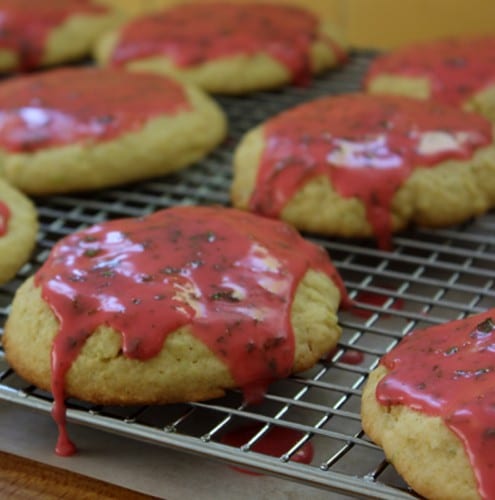 Recipe adapted from Joanne Chang of Flour Bakery.

Lime cornmeal cookies with raspberry mojito glaze
A buttery, cakey, cornmeal packed cookie with a zingy glaze, perfect for the most casual or the most formal of occasions.
Author:
Bowen Close (Bowen Appétit)
Serves:
Approx. 14 larger-size cookies
Ingredients
2 cups flour
½ cup yellow cornmeal
2 tsp. baking powder
½ tsp. salt
1 cup (2 sticks) butter, room temperature
¾ cup sugar
2 Tbsp. grated or minced lime zest (about 3-4 limes)
2 eggs
1 tsp. vanilla
Lime glaze
1 cup powdered sugar
2 Tbsp. lime juice (or other liquid, such as lemon juice, berry juice, or liquor)
Approx. 2 tsp. water or other liquid, added to desired consistency
1½ tsp. grated or minced lime zest (about 1 lime), or other citrus
Instructions
Preheat oven to 350F. If desired, line two or three baking sheets with parchment or silicone liners.
Whisk together the flour, cornmeal, baking powder, and salt in a medium bowl.
Using a stand mixer, handheld mixer, or wooden spoon, cream together the butter and sugar on until light and fluffy. This should take about 5 minutes in a stand mixer on medium speed or a handheld mixer on high, or about 10 minutes if using a wooden spoon.
Add lime zest and beat on medium for another minute to release lime flavor.
Add eggs one at a time, beating on medium until thoroughly combined after each. Add vanilla and continue to beat for another minute. Scrape down bowl and paddle to make sure everything is thoroughly incorporated.
Slowly add flour mixture to butter-sugar mixture, reducing speed to low if using a stand or handheld mixer. Mix only just until flour is completely incorporated, finishing with a spoon if desired.
Drop dough onto baking sheets. I made large cookies (about ¼ cup each) and smaller cookies (about 2 Tbsp. each), and both turned out well and baked for approximately the same amount of time. Larger cookies should be about 2 inches apart, and smaller about 1 inch apart. Slightly flatten each ball of dough with wet fingers or a wet palm of your hand.
Bake for about 20-25 minutes, only until cookies are pale brown around the edges, pale in the center, and just firm to the touch. Rotate pans halfway through the baking time. Be careful not to overbake cookies - tops should not brown at all.
Let the cookies cool on the baking sheets on a wire rack for 15 to 20 minutes, then transfer to the rack to cool to room temperature before glazing.
To make the glaze, whisk together until smooth all the ingredients but the water, which you can use to make a glaze with a texture that will spread easily over the cookies. Don't make it so loose that it runs over the cookie quickly - you want it to harden a bit as it sits.
Use a spoon or spatula to spread each cookie with a thin layer of glaze. Let it sit at least 10 minutes before serving or storing. Cookies will keep well in a closed container for at least 3 days, and up to a week in an airtight container.
Bowen Close
Bowen Close believes that food should make people happy and healthy, and loves bringing together people with creative, delicious food made from the heart. She loves making farm-inspired, flavorful dishes with sustainable ingredients - whether that's a big plate of roasted veggies, a towering chocolate layer cake, or a cocktail utilizing backyard ingredients - and collects recipes and other food-related stories on her website, Bowen Appétit. She is a chef, cooking instructor, and food writer living in Southern California with her husband and fully stocked pantry.