From Martyna Angell's new cookbook, The Wholesome Cook, comes this sensible roast chicken with big flavor.
By Martyna Angell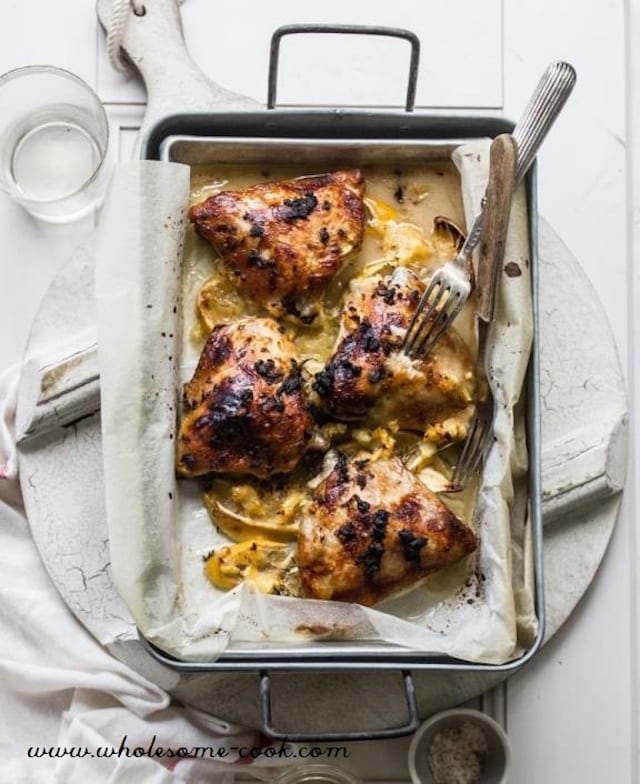 Yes, The Wholesome Cook book is not all about desserts. There's a huge section on additive-free basics, guides to eating the best food for your body and avoiding those nasty processed foods you know you shouldn't have anyway. The focus in the breakfasts, soups, salads, mains and even the dessert sections is on eating real food – even The New York Times agrees there's a seismic shift in the way people eat and that's SO good to see.
This scrummy Hawaiian-inspired Lemon Pineapple and Herb Roasted Chook Legs recipe (page 232) is no different – made with real ingredients, no added sugar or gluten and no nasties added. It's paleo without trying, too.
See Also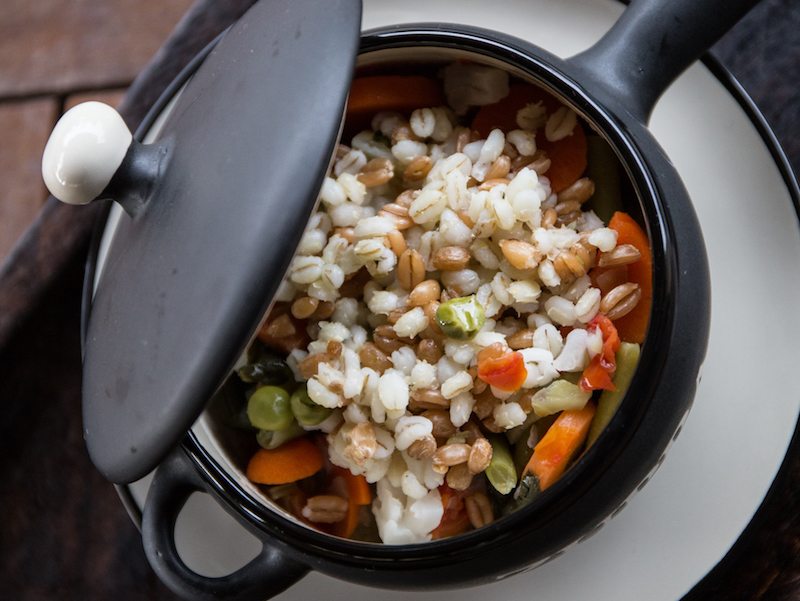 Crispy skin on a chicken is one of the best comfort foods in the world. However roasting a whole chicken to perfection can be a challenge, often resulting in overcooked thighs, burnt wings and limp skin. Since thighs are the same size, they will cook in a more uniform way and remain wonderfully succulent while the skin crisps up. And kids love it!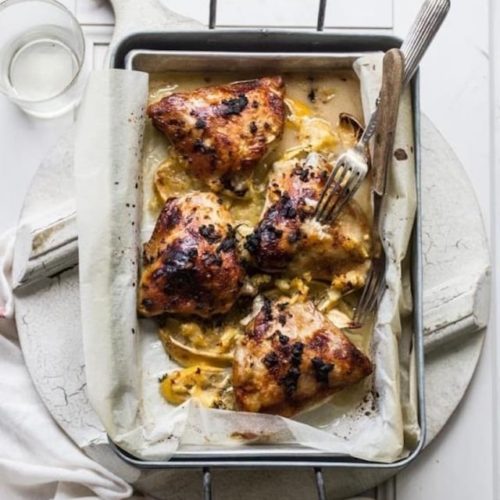 Lemon and Pineapple Herbed Chicken
Martyna Angell
From Martyna Angell's new cookbook, The Wholesome Cook, comes this sensible roast chicken with big flavor.
Ingredients
For the Roasted Chook Legs:
2

chicken thighs with skin on.

3

tablespoons

lemon juice.

1

tablespoon

macadamia or olive oil.

½

cup

fresh pineapple chunks

crushed into a pulp.

1

lemon

sliced 1 bunch of thyme
To serve:
3

cups

mixed salad greens.

3

tablespoons

herbed apple cider vinaigrette.
Instructions
Pat dry chicken with paper towels and cut in half to make 4 pieces. In a large ceramic bowl, combine lemon juice, oil and pineapple. Add chicken, toss to coat and marinate, covered, in the fridge for 1–2 hours. Preheat oven to 180°C (160°C fan-forced, 350°F, gas mark 4).

Line a large roasting tin with baking paper. Arrange lemon slices and thyme on the bottom. Place chicken, skin side up, on top and drizzle with marinade. Bake for 50 minutes. Turn the oven setting to grill and cook for a further 5–8 minutes to crisp up the skin.

Serve chicken with a large helping of dressed mixed salad greens.
Martyna Angell
Martyna is a Polish-born Australian recipe developer and food blogger. Her creativity and passion for good food shines through in many of the delicious and easy to prepare meals which she cooks, styles and photographs for her blog, Wholesome Cook. Fresh cream-filled eclairs are her only weakness.