Lemon Dutch Baby with Fresh Berries and Mascarpone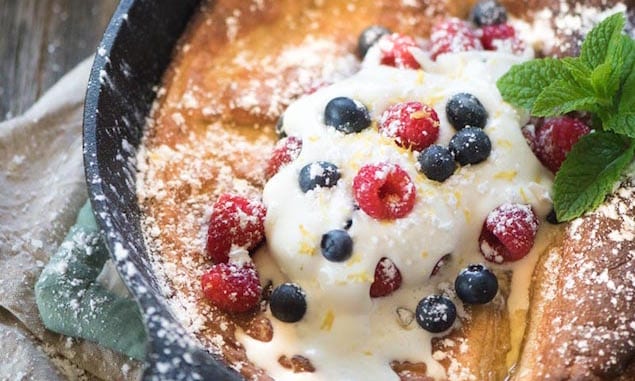 Step up your breakfast game with this tart, filling dutch baby pancake complete with sweet vanilla mascarpone and fresh summer berries.
By Christine Skari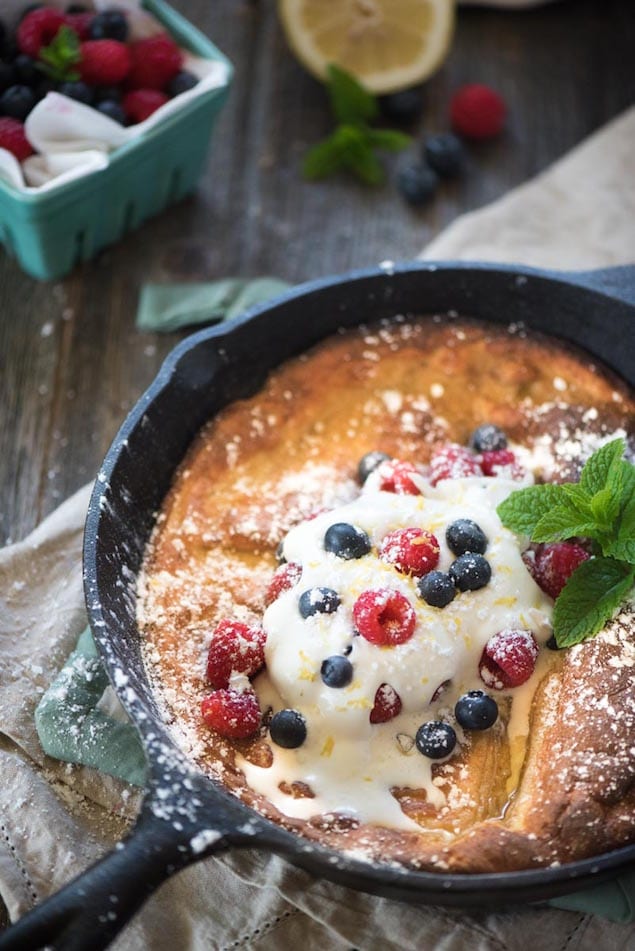 What does one do when they have a new skillet? They make a Lemon Dutch Baby with Fresh Berries and Mascarpone, obviously.
So this recipe isn't just a pretty face and fancy pants name. It's the perfect brunch treat and you'll want to eat it out of the skillet, slobber all over your fork, pass out on the ground and wake up and eat some more. I'm being a little dramatic, but YOU GUYS.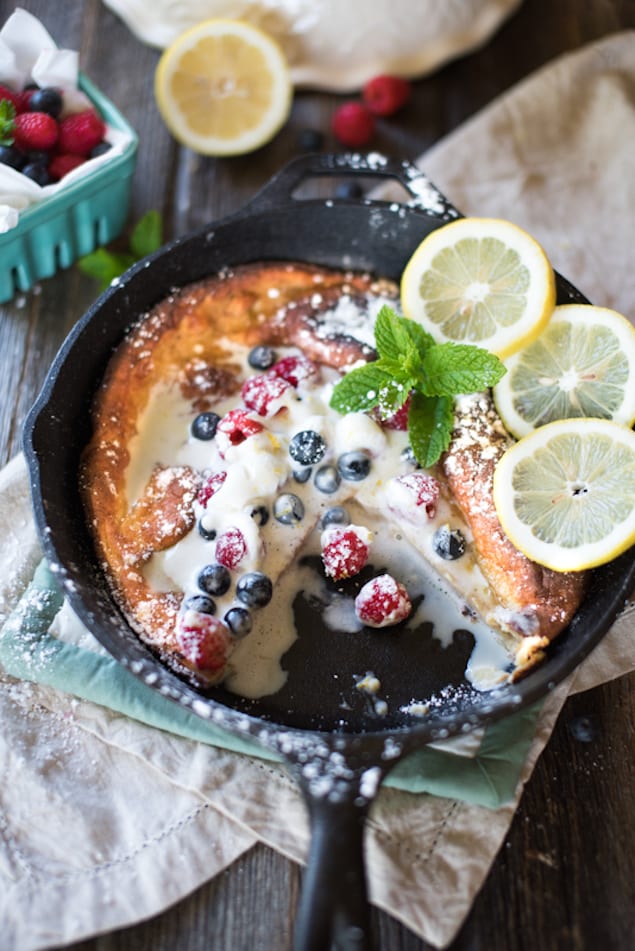 This dutch baby bakes away and then comes hot out of the oven and BOOM, you smother it with some vanilla mascarpone and garnish with fresh berries and lemon slices. The consistency of the dutch baby itself is a little denser than the normal American pancake and bubbles up in your skillet so you get a different shape each time. It's perfectly sweet and the mascarpone cream soaks in and permeates in each bite. Couple that bite with a blueberry and raspberry and you have a winning breakfast.
First off, be careful when handling the skillet. Since it goes in the oven prior to be being filled with dough to heat up, it's going to be crazy hot. I tried to take it out with a tea towel and slightly burned my fingers after holding it for a few seconds. Make sure you use heavy-duty oven mitts! Secondly, beware of over lemon-ing it. When I first made this, I ended up going a bit too crazy with the lemon flavor and, with the tart raspberries, it was a bit much (though it was still happily eaten). I brought down all that lemon flavor to cut off some of that sourness, so beware of overdoing it!
Next you have to use your skillet to make an easy skillet berry cobbler. And you can totally eat this for breakfast too, no one will tell!

Lemon Dutch Baby with Fresh Berries and Mascarpone
Step up your breakfast game with this tart, filling dutch baby pancake complete with sweet vanilla mascarpone and fresh summer berries.
Recipe Type:
Breakfast, Brunch
Ingredients
Vanilla Mascarpone
¼ cup heavy cream
¼ cup mascarpone cheese
1 tsp vanilla extract
2½ tbsp sugar
Dutch Baby:
3 eggs
⅔ cup nonfat milk
½ tsp vanilla extract
1 tbsp lemon juice
¼ cup + 1 tbsp sugar
⅔ cup flour
pinch cinnamon
pinch salt
2 tbsp butter
1 cup berries
optional: powdered sugar and for dusting
Instructions
First, make the vanilla mascarpone by combining the heavy cream, mascarpone, vanilla extract, and sugar in a stand mixer. Set aside.
Preheat oven to 450.
Put the skillet in the oven and let heat up while you mix together the dutch babies.
In a medium-size bowl, mix together the eggs, milk, vanilla, lemon juice, and sugar. Stir in the flour, cinnamon, and salt.
Remove the skillet from the oven and melt the 2 tbsp of butter evenly. Add in the batter and bake for around 20 minutes or until golden-brown. If the top begins to burn, place foil over the top for the remainder of the baking time.
Serve topped with the vanilla mascarpone whipped cream, berries, and lemon slices to garnish.