Fluffy fried donuts are the perfect vessel to hold a tart lemon curd filling and a sweet vanilla poppyseed glaze.
By Jessica Potts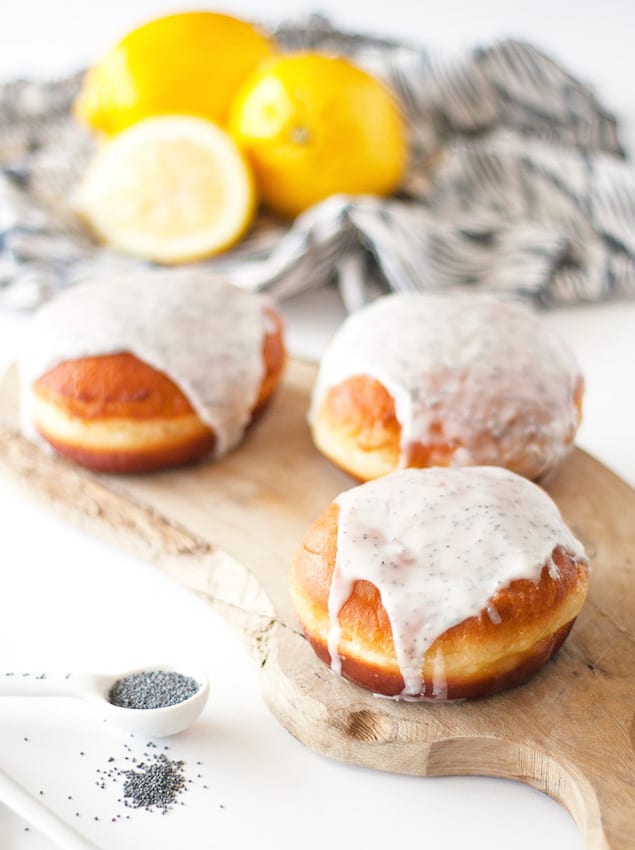 My dream is to one day have a little house with a great big back yard that has tons of fruit trees, one of those being a lemon tree full of bright yellow fruit.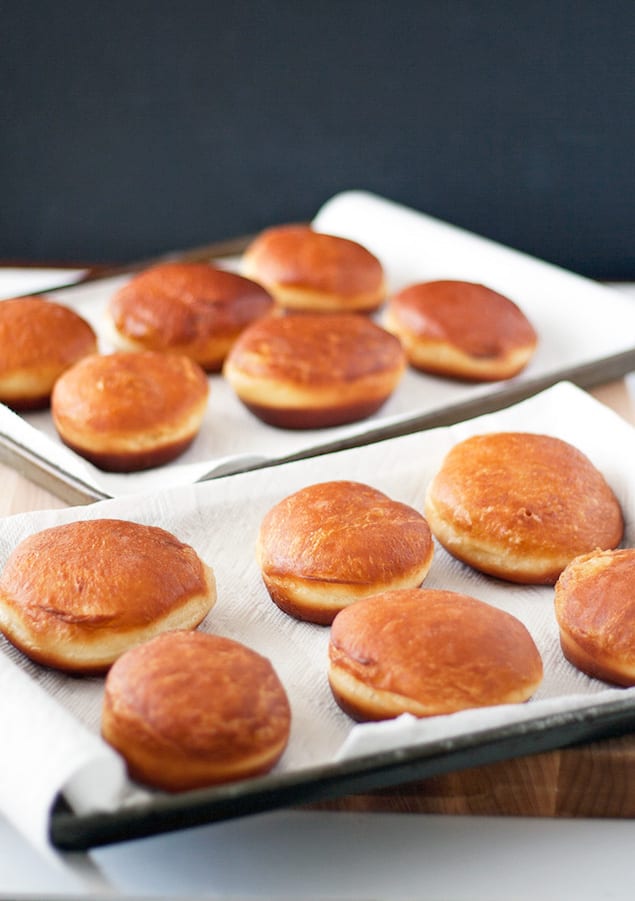 So after months thinking of all the delicious lemon dishes and treats I would create with a lemon tree, I brainstormed up these lemon poppy seed donuts. Unfortunately these were made with store bought lemons, but one day they'll be from the huge lemon tree in my backyard.
Are strawberries or maybe pecans on your mind more than lemons? Check out these other great donut recipes for flavor inspiration.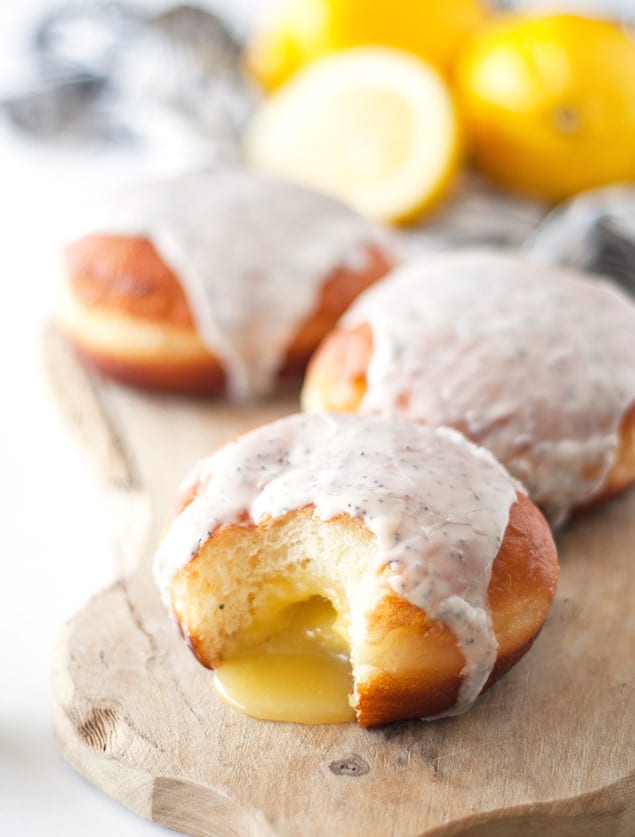 Lemon Curd Filled Donuts with Poppyseed Glaze
Fluffy fried donuts are the perfect vessel to hold a tart lemon curd filling and a sweet vanilla poppyseed glaze.
Ingredients
donuts
1 package (2¼ teaspoons) active dry yeast
⅔ cups milk, at room temperature
3½ cups unbleached all-purpose flour
⅓ cup sugar
2 teaspoons kosher salt
3 eggs
7 tablespoons butter, at room temperature, cut into 6 to 8 pieces
canola oil, for frying
lemon curd
zest of one lemon
1¼ cup sugar
½ cup (1 stick) unsalted butter, at room temperature
4 large eggs
1l2 cup fresh lemon juice
pinch of kosher salt
poppy seed frosting
1¼ cup confectioners' sugar
2 tablespoons fresh lemon juice
2 teaspoons poppy seeds
Instructions
donuts
In a stand mixer fitted with the dough hook, combine the yeast and milk. Stir together briefly, then let sit for about 1 minute to dissolve the yeast.
Add the flour, ? cup of the sugar, the salt, and the eggs and mix on low speed for about 1 minute, or until the dough comes together. Then, still on low speed, mix for another 2 to 3 minutes to develop the dough further.
Next, begin to add the butter, a few pieces at a time, and continue to mix for 5 to 6 minutes, or until the butter is fully incorporated and the dough is soft and cohesive.
Remove the dough from the bowl, wrap tightly in plastic wrap, and refrigerate for at least 6 hours or up to 15 hours.
Lightly flour two baking sheets. On a well-floured surface, roll out the dough into a 12-inch by 9-inch rectangle about ½" inch thick. Using a 3½" to 4" round biscuit cutter, cut 12 donuts. You may need to re-roll out the dough to get 12.
Arrange them on the prepare baking sheets and cover with plastic wrap.
Place in a warm spot to proof for 2 to 3 hours, or until they are about doubled in height.
When ready to fry, line a tray or baking sheet with paper towels.
Pour the oil to a depth of about 3 inches into a large, heavy bottom saucepan. Heat over medium-high heat until it reaches 350 degrees on a fry thermometer.
Working in batches, place the donuts in the hot oil, being careful not to crowd them. Fry them for 90 seconds to 2 minutes on each side, or until golden brown.
Gently flip and fry them for another 90 seconds to 2 minutes. Using a slotted spoon, transfer the donuts to the prepared tray and let cool completely until you can stuff with the curd.
lemon curd
Using a carrot peeler, remove the zest of one lemon in large pieces.
In a large bowl over a pot of boil water, combine lemon zest, sugar, butter, eggs, lemon juice and salt. Whisk together over the heat until the lemon curd will thicken and coats the back of a spoon. This will take 15-20 minutes.
Once thicken, discard lemon zest and strain through a fine mesh sieve.
Refrigerate until cool.
poppy seed frosting
In a small bowl, combine the frosting ingredients and whisk till smooth.
to assemble
Once the donuts and lemon curd are completely cool, poke a small hole in the side of each donut and create a little space in the middle of the donut for the curd.
Transfer the curd to a piping bag and pipe each donut with lemon curd until full.
Set donuts on top of a wire rack and spoon poppy seed frosting over top.
Let set just enough for frosting to harden and then serve. These are best served immediately after frosting.
Jessica Potts
The amateur cook, baker and photographer responsible for everything you'll find at A Happy Food Dance. I live in Los Angeles, by the beach, with my boyfriend and our quirky little dog. I am crazy, head over heels, in love with food; making it, sharing it and eating it. I consider myself a professional cupcake eater, will put avocado on anything and nothing taste better than a good margarita.