Korean Pulled Pork Sandwiches with Cucumber Kimchi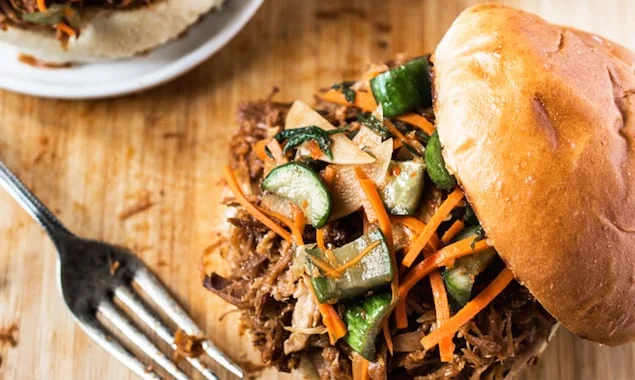 Cooked low and slow in a mixture of brown sugar, hoisin, and gochujang, this flavorful Korean pork can be used in sandwiches along with a tangy cucumber kimchi.
By Kathleen Kiebler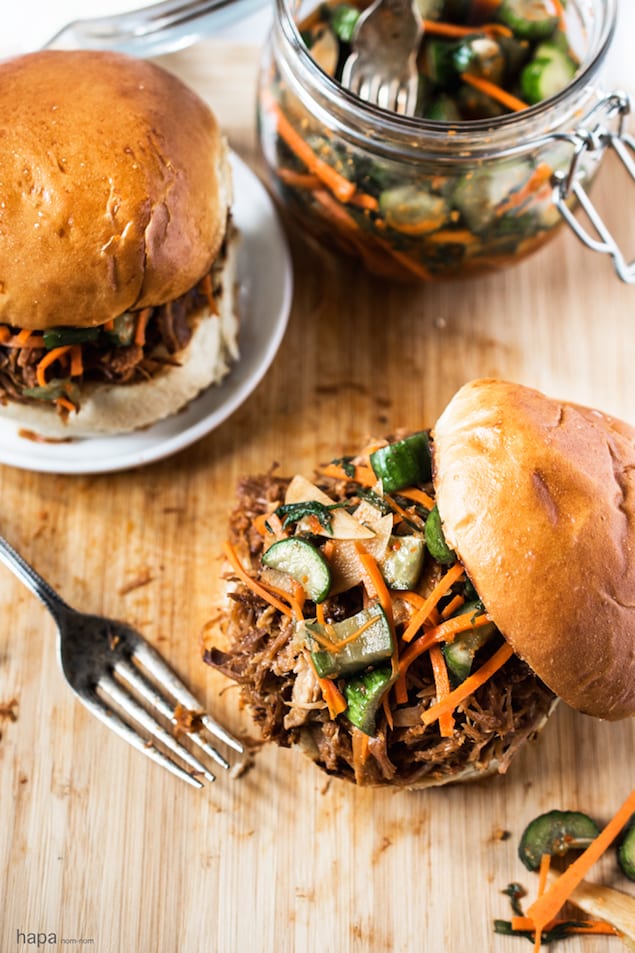 The vinegary, garlicy, spicy kimchi pairs perfectly with the savory pulled pork. Forget slaw, you need kimchi on your pulled pork sandwiches!
These Korean Pulled Pork Sandwiches with Cucumber Kimchi are guaranteed to be a hit! The pork is slathered in a spicy and sweet mixture of gochujang, hoisin sauce, and brown sugar; then cooked slow and low for 8 hours. The result is fall off the bone pork that you could literally shred between two fingers. That succulent pork is then tossed in a totally addictive gochujang BBQ sauce.
The beauty about this dish, is you can make it for parties or barbecues, as it will feed 8 – 10 people. However, if you're just making it for a small family meal, pulled pork freezes very well.
Find the cucumber kimchi recipe here.

Korean Pulled Pork Sandwiches with Cucumber Kimchi
Cooked low and slow in a mixture of brown sugar, hoisin, and gochujang, this flavorful Korean pork can be used in sandwiches along with a tangy cucumber kimchi.
Ingredients
¼ cup gochujang
¼ cup hoisin sauce
¼ cup brown sugar
5 pound bone-in pork shoulder (pork butt), trimmed of excess fat
½ cup chicken stock
Quick Cucumber Kimchi (see the link above!)
6 - 8 hamberger buns
Gochujang BBQ Sauce
2 tablespoon olive oil
8 garlic cloves, minced
½ cup gochujang
⅔ cup low sodium soy sauce
⅔ cup rice vinegar
⅔ cup brown sugar
1⅓ cup ketchup
¼ cup fresh lime juice
¼ cup Worcestershire sauce
2 tablespoons honey
2 teaspoons onion powder
Instructions
In a small bowl, combine the gochujang, hoisin, and brown sugar. Place the pork into the slow cooker and rub the gochujang paste all over. Pour the chicken stock into the slow cooker, cover, and cook on low for 8 hours.
To make the Gochujang BBQ Sauce - in a large sauce pan over medium heat, heat the oil and sauté the garlic just until fragrant, approximately 30 seconds.
Add the remaining ingredients. Turn the heat down to low and stir occasionally for 20 minutes or until sauce has thickened. Do not let the sauce boil.
When the pork is done cooking, remove from the slow cooker and place in a large bowl. Take two forks and shred. Pour half of the BBQ sauce over top and toss to combine.
Pile the pulled pork on top of the bottom bun, top with the Cucumber Kimchi, and place the top bun on top. Serve with extra BBQ sauce on the side. Enjoy!
Kathleen Kiebler
Hi there, I'm Kathleen. I am a Hapa (a person of mixed ethnic heritage) who grew up in a family that loves to cook and loves to eat! My food is a reflection of me and I am a reflection of my food. My mixed background has given me multiple perspectives throughout my life. Those perspectives have left me open to not just exploring the beauty of my own cultural backgrounds, but others as well – and at the heart and soul of them, is food. Hapa Nom Nom creates a culinary environment where foods from multiple cultures are integrated into recipes that can be shared and enjoyed by everyone.