The classic Tiramisu gets a seasonal makeover. Lemon Blueberry Tiramisu is a creative twist on the traditional Italian dessert. Time to welcome Summer.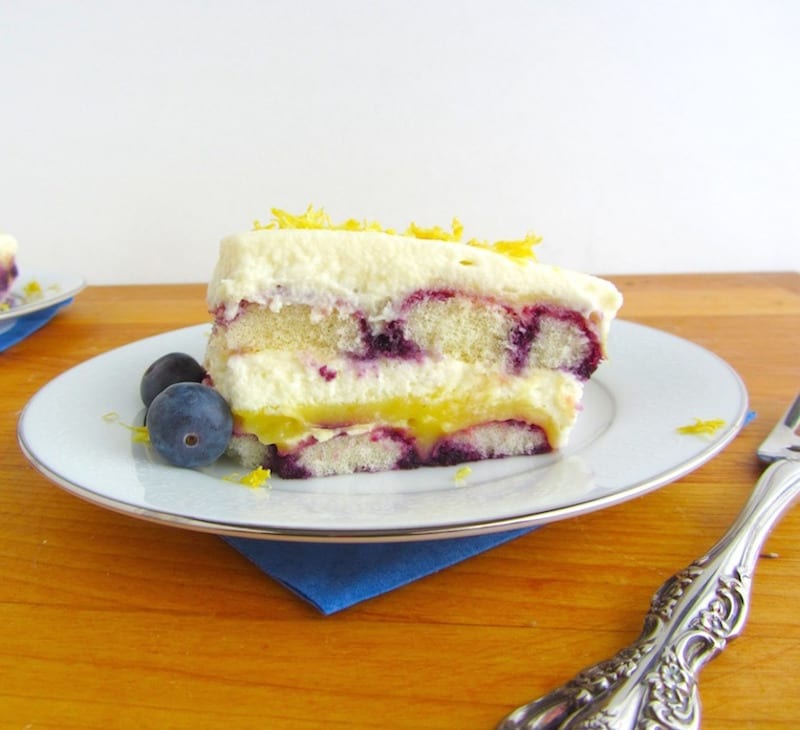 Tiramisu. The word alone makes me salivate with excitement!
I've always been a huge fan of desserts that consist of layers. Whether it's a chocolate trifle, the rich, yet painstakingly involved, Baklava, or those sweet 7-layer bars. However, there's something about Tiramisu that just makes it irresistible.
Is it the creamy mascarpone filling?
Is it the light and pillowy ladyfingers?
Or is it just the sweet melding of flavors and textures that come together in perfect harmony?
Whatever it is, it's AMAZING! So I decided to create a spin on the Italian classic by incorporating my favorite summertime duo into those wonderful layers.
See Also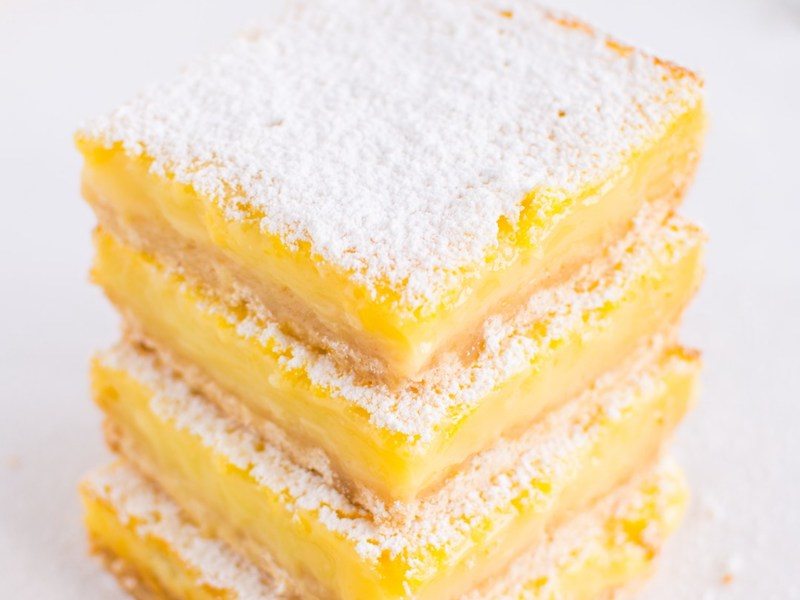 Not to toot my own horn or anything, but man was this a good idea! First, you have those wonderful light-as-air ladyfingers soaked with a homemade blueberry syrup. Then you have that beautifully tart, yet smooth layer of lemon curd. And finally, there's the sweet, yet not overly sweet, and creamy texture of the white chocolate mascarpone filling.
You don't even have to be a fan of Tiramisu to love this recipe. It may have a lot of the elements of Tiramisu, but there's definitely a difference in flavors. Instead of coffee and chocolate, you have lemon and blueberry!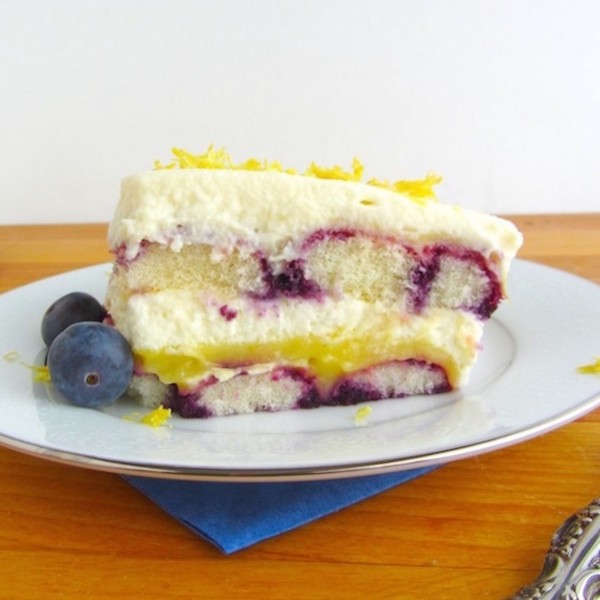 Jillian Hatsumi
Ingredients
For the Lemon Curd
7

large egg yolks

2

large eggs

1

cup

+ 2 tablespoons

225g sugar

2/3

cup

fresh lemon juice

1/4

cup

lemon zest

plus a little extra for garnish

1/8

teaspoon

salt

4

tablespoons

56g unsalted butter — cut in 1/2 inch pieces

3

tablespoons

heavy cream
For the Blueberry Syrup
2 1/2

cups

9 ounces blueberries, washed

1/2

cup

4 ounces water

1/2

cup

100g sugar

2

tablespoons

lemon juice
For the Mascarpone Filling
2

8 oz packages mascarpone cheese

1

cup

6 ounces white chocolate*

1

cup

8 ounces heavy cream
Instructions
Lemon Curd
In a medium saucepan, whisk the egg yolks, whole eggs and sugar together until just combined. Whisk in the lemon juice, zest and salt.

Add the butter and cook over medium-low heat, stirring constantly, until the curd thickens to a thin sauce-like consistency, about 5 minutes.

Immediately strain the curd through a fine-mesh strainer into a medium-size bowl and stir in the cream. Cover with plastic wrap and place in the refrigerator to cool completely.
Blueberry Syrup
Place blueberries and water in a medium saucepan over medium-high heat. Using a potato masher or a fork (I didn't have a potato masher), crush the berries. Bring the berries to a boil, then lower temperature to medium-low and simmer for about 10 minutes.

Remove pan from heat and pour berries into a fine-mesh strainer set over a glass measuring cup. Using the back of a ladle or spoon, press on the berry solids to squeeze out as much juice as possible. Discard solids.

Return blueberry juices to the pan, then add lemon juice and sugar. Bring to a boil and simmer for about 5 minutes until mixture thickens slightly. Remove from heat and chill in refrigerator to cool completely.
Mascarpone Filling
Microwave white chocolate in a microwave-safe bowl until smooth. Set aside. Whip heavy cream in a stand mixer or with a hand mixer until soft peaks form. Set aside.

Cream mascarpone cheese in a stand mixer for about one minute. Add melted chocolate and mix until combined. Fold ¼ of the whipped cream into the mixture. Add the remaining whipped cream and fold–try not to overmix!
Assemble
Place one layer of ladyfingers on the bottom of a 9x13-inch rectangular dish.

Using a spoon or pastry brush, drizzle the blueberry syrup over the ladyfingers until every ladyfinger is covered in the syrup. Note: If you're using the traditional crispier ladyfingers, I would advise dipping each one into the syrup, then placing it in the dish.

Spread half of the lemon curd on top of the blueberry syrup-soaked ladyfingers. Then follow with half of the mascarpone filling.

Repeat the sequence one more time with remaining ingredients, and garnish with a sprinkle of fresh lemon zest. Place in the refrigerator for at least 4 hours or overnight before serving. Enjoy!
Notes
* If using white chocolate chips, you may need to add about 1/2 teaspoon of vegetable oil to the chips when microwaving since white chocolate chips don't melt as easily as dark or milk chocolate chips.
Note: If you end up with leftover blueberry syrup like I did, don't throw it out! Pour that sweet stuff on pancakes, waffles, cheesecake, ice cream, or mix it into a drink!
Jillian Hatsumi
I'm Jillian, the writer, baker, chef, recipe creator, and amateur (very amateur) photographer of A baJillian Recipes. Though I'm not a classically trained chef, I like to think I know my way around a kitchen pretty well. Aside from baking, cooking, and EATING, I also enjoy acting, couponing (I LOVE saving money!!), running, working out, photography, and playing with my little fluffernutter, Olivia. She's a dog, if you're wondering...