This Lemon, Artichoke and Goat Cheese Stuffed Chicken is definitely worth a try.
By Amber Massey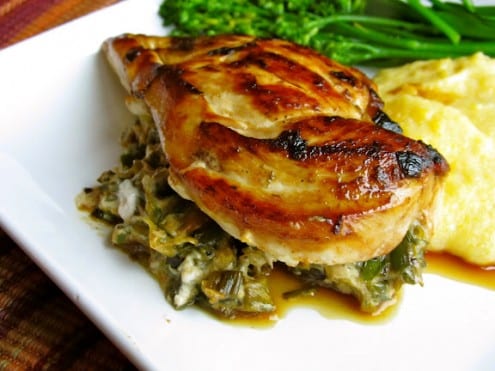 Stuffed chicken.  How many ways can you do it? Well – You can 
pound and roll it..
stuff it with veggies..
seasonal herbs..
whole grains.. think: couscous, quinoa, rice..
any cheese you please..
more meat..   think: ham, Italian sausage, chorizo, bacon..
I've even eaten chicken stuffed chicken– quite delicious.  
This version of stuffed chicken is worth a try for you and your family- trust me. 
First, I sauteed leeks and shallots in a bit of EVOO.  After they were golden and slightly crispy (I like mine with some caramelization) I stirred them with the bold flavors of goat cheese and artichokes. 
Yep.  YUM.  and that is just the filling.  I think I would have been equally as happy if you just handed me a spoon and said 'dinner.' 
See Also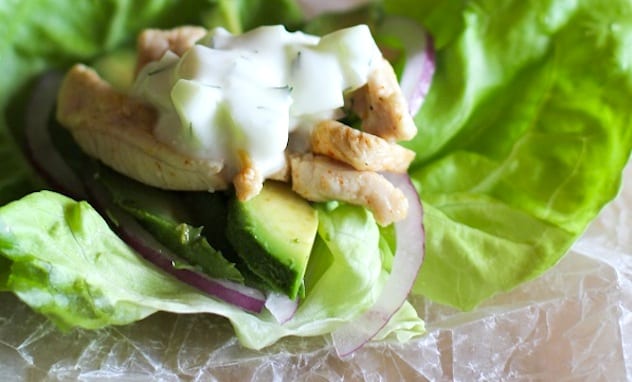 I made a nifty little pocket in the thickest part of my chicken breast.  I had a couple of fat chicken breasts, so my pocket was a cinch to cut. I stuffed my chicken ahead of time- earlier in the day, and let it rest in the refrigerator until I got home in time for dinner.  I let it stand at room temp for about 15 minutes before cooking.  The cold chicken would have browned too quickly in the cooking spray coated pan.  We dont want to over cook to outside and undercook the inside, do we?  That would be a negative. 
Flip after 6-7 minutes, leaving a golden sear to your chicken breast. My only thought at this moment was 'Hurry up, fatty chickie.'
Beautiful plate of lean protein.  Paired with polenta and broccolini. Ever had broccolini before?  You should branch out. It is kind of a cross between asparagus and broccoli. 
Kinda.
Lemon, Artichoke, & Goat Cheese Stuffed Chicken
Recipe Type:
Main Entree, Poultry
Ingredients
1½ teaspoons olive oil
1⅓ cups thinly sliced leeks (about 2 leeks- white and light green parts, only)
¼ cup minced shallots (about 3)
¾ teaspoon salt, divided
¼ teaspoon freshly ground black pepper
2 ounces herbed goat cheese
6 medium artichoke hearts (canned), rinsed and rough chopped
1 tablespoon chopped fresh flat-leaf parsley
1½ teaspoons chopped fresh thyme
2 teaspoons fresh lemon zest
4 (6-ounce) skinless, boneless chicken breast halves
Cooking spray
½ cup dry white wine
1 cup fat-free, less-sodium chicken broth
2 tablespoons fresh lemon juice
Instructions
Heat oil in a large skillet over medium heat. Add leeks, shallots, ¼ teaspoon salt, and pepper to pan; cook 12 minutes, stirring frequently. Cover, reduce heat, and cook 8 minutes, stirring occasionally. Uncover and cook 5 minutes or until golden, stirring occasionally. Cool slightly. Combine leek-shallot mixture, ¼ teaspoon salt, cheese, artichokes, parsley, thyme, and zest in a small bowl, stirring with a fork.
Cut a horizontal slit through thickest portion of each chicken breast half to form a pocket; stuff 2 tablespoons cheese mixture into each pocket. Sprinkle chicken evenly with remaining ¼ teaspoon salt.
Return pan to medium-high heat. Coat pan with cooking spray. Add chicken to pan; sauté 6-7 minutes; turn chicken over. Cover, reduce heat, and cook 10 minutes or until chicken is done.
Remove chicken from pan; let stand 10 minutes. Add wine to pan; bring to a boil, scraping pan to loosen browned bits. Cook until reduced by half (about 2 minutes). Add lemon juice and broth, cook until reduced to ¼ cup (about 9 minutes). Serve with chicken.
Nutrition Information
Serve Size:
1 chicken breast and 2 teaspoons sauce
Calories:
234
Fat:
7.8 g
Carbs:
7.2 g
Fiber:
1.2 g
Protein:
33 g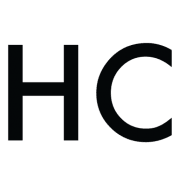 Amber Massey
Amber Massey is a southern-raised, food-loving, registered dietitian focusing on the culinary world of dietetics. Personal chef, author of her blog, Chocolate Broccoli, and accidental lover of food photography, Amber takes pride in healthy recipe development as well as culinary and nutrition instruction through personal and public cooking classes, public speaking, and media outlets. Amber can be seen in print for her nutrition expertise, as well as multiple magazine publications for her culinary creations, including Taste of Home, Healthy Cooking, Simple and Delicious, and Country Women's Magazine.