Super easy with fresh lemony taste. You will love these Lemon and Poppy Seed Cookies.
By Maya Moscovich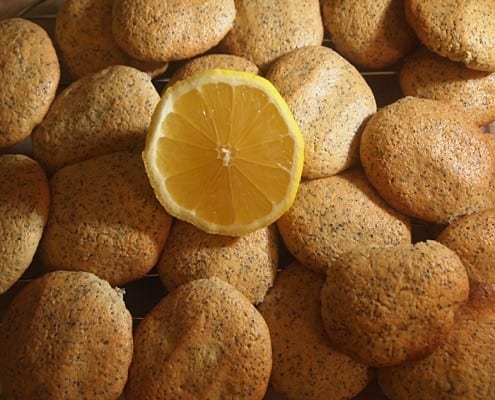 I'm sure most of you are familiar with the Starbucks famous lemon-poppy seed loaf. I love that cake! It's one of my favorites.
While organizing my spices I bumped into a bag of poppy seeds and so I decided I'll make the famous loaf. I looked through my recipes and couldn't find it, but I was still determined I am going to make something of these poppy seeds. I couldn't care less that it's 10pm on a weekday. My mind was set.
So I brainstormed for a couple of minutes and then I decided I'd come up with a recipe of my own. A new recipe that will taste similar to the famous loaf but will take much less time. And this is how these cookies were born.
They are really good, easy and fast to make and of course, have that yummy lemony flavor combined with the earthy poppy seeds. Oh, I like it so much when I satisfy both my craving for sweets and stubbornness.
Lemon and Poppy Seed Cookies
Super easy with fresh lemony taste. You will love these Lemon and Poppy Seed Cookies.
Ingredients
2¼ Cups all purpose flour
1 Teaspoon baking powder
1½ Cups brown sugar
5 Tablespoons poppy seeds
1 Cup unsalted butter
1 Teaspoon Vanilla extract
2 Eggs
2 Tablespoons freshly squeezed lemon juice
Lemon Zest -from ½ lemon
Instructions
Preheat oven to 180 degrees Celsius (350 degrees Fahrenheit)
Line a large baking tray with non-stick baking paper.
In a mixer bowl, mix the flour, baking powder, sugar and poppy seeds.
Melt the butter in a saucepan.
Add melted butter, vanilla extract, eggs, lemon juice and lemon zest into the flour mix and mix well until all ingredients are well combined.
Using a teaspoon, scoop 1 teaspoon at a time and place on the baking tray. Place the cookie dough scoops about 2.5 cm (1 Inch) apart from each other.
Gently press each cookie with your fingers until slightly flattened.
Place in preheated oven for 10-15 minutes until golden brown.
Let cookies cool before removing from tray and keep in sealed jar.
Notes
Yields about 40 cookies. Let cool completely before removing from baking tray.
Maya Moscovich
Being born and raised in Israel, Mayas nutrition always consisted of food that's spiced well, light on the stomach and includes a lot of vegetables, fruits and olive oil. Now residing in Halifax, Nova Scotia, she is on a quest to reconnect with the food traditions of her home country.