These Lavender and Lemon-Poppy Seed Cookies are the perfect spring dessert that you can enjoy with a zesty lemon icing.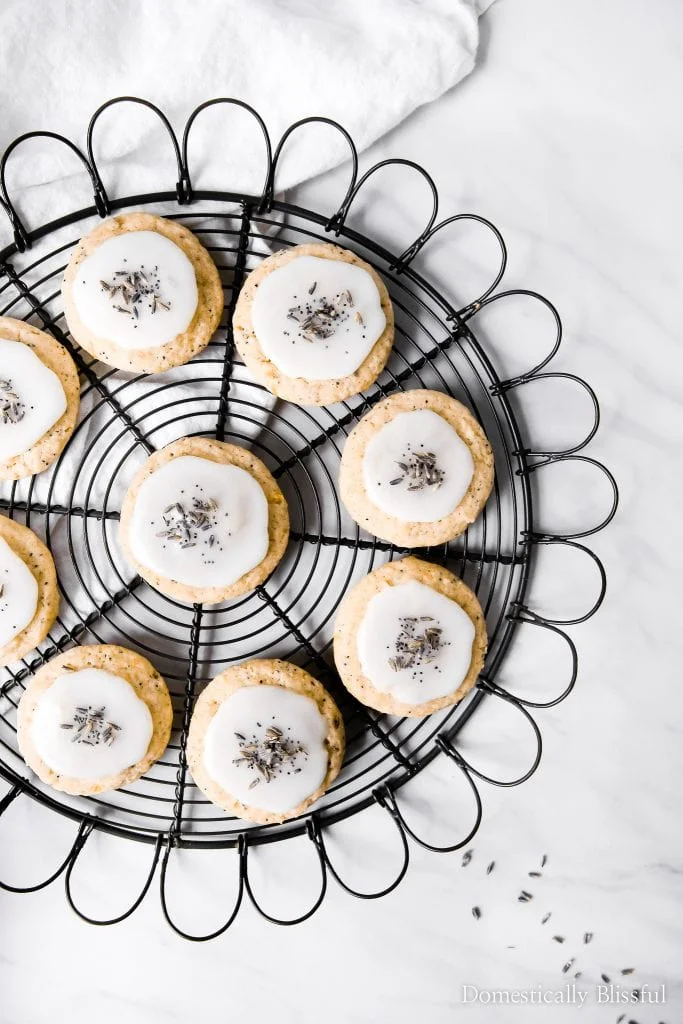 Sometimes recipes are perfect on the first attempt, other times recipes take a few tries to get just right.
These Lemon Lavender Poppy Seed Cookies took exactly 3 attempts to perfect.
The first time I made them they were way too salty, too dark, & spread to0 much.
What had gone wrong?
Even though I was using my go-to cookie recipe that I developed years ago and that I've tweaked in the past to create new cookie recipes like these Iced Raisin Bran Cookies for some reason something reacted in this recipe to cause the salt to intensify greatly.
And lemon was the culprit. So I cut back on the salt.
The darkness was because of the dark brown sugar that I normally use in cookies. So I swapped it for more white sugar.
And finally, the spreading.
Well, that was my fault.
I completely forget to adjust the flour to make up for the addition of lemon juice.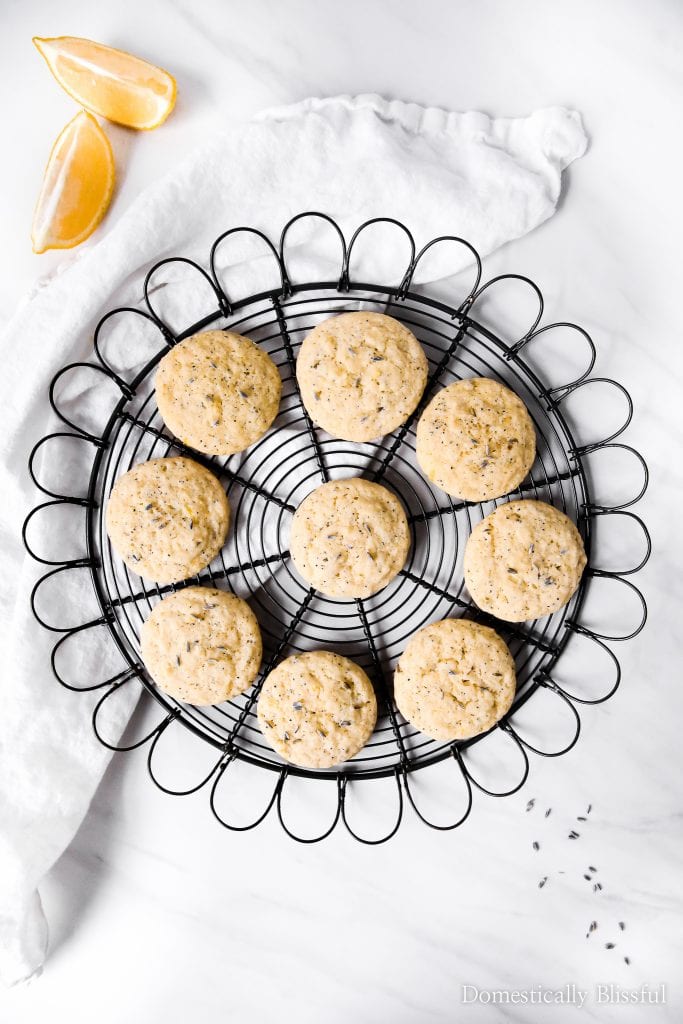 So I made the needed adjustments and tried them again.
And while they tasted absolutely delicious they were also very big.
I decided that these lemon cookies would be prettier for spring wedding showers and summer baby showers if I used a small cookie scoop to shape them rather than the big one that I normally use when baking thick cookies like these Sea Salt Caramel Double Dark Chocolate Cookies.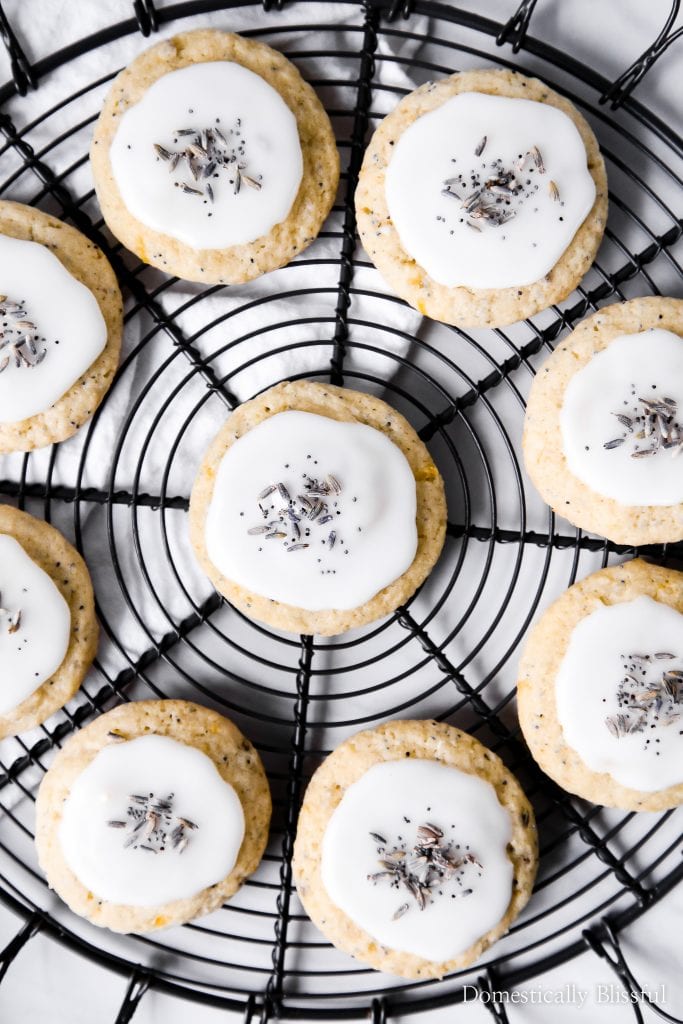 And by the third batch, they were picture perfect in addition to being perfectly tasty.
Then I ran into another problem, how to top them.
They are perfectly sweet as they are, but they look gorgeous with the icing.
So I decided to photograph them both ways & share the icing recipe so that you can decide for yourself which way you want to make them and serve them.
And in case you want a second opinion on these cookies, I shared these exact cookies with my husband's family and my 2-year-old niece loudly exclaimed to a crowded room "These cookies are so good!" while munching on her 2nd iced lemon cookie.
She completely made my day!
Click HERE for the icing recipe.
Print
Lavender and Lemon-Poppy Seed Cookies
Author:

Giustina Blissful

Category:

Cookies
2 3/4 Cups

All-Purpose Flour

3 Teaspoons

Cornstarch

1 Teaspoon

Baking Soda

1 Teaspoon

Baking Powder

1/2 Teaspoon

Salt

1 Tablespoon

Poppy Seeds

1 Tablespoon

Dried Lavender

1 ½ Cups

White Sugar

1 Tablespoon

Lemon Zest (heaping)

1 Cup

Salted Butter (room temperature)

2

Eggs (room temperature)

1

Egg Yolk (room temperature)

1 ½ Teaspoons

Vanilla Extract

2 Tablespoons

Lemon Juice
Icing
Click the link above for the recipe.
Toppings
Dried Lavender
Poppy Seeds
Instructions
First, preheat your oven to 350° Fahrenheit & line 2 baking sheets with parchment paper.
Sift the 2 & 3/4 cups all-purpose flour, 3 teaspoons cornstarch, 1 teaspoon baking soda, 1 teaspoon baking powder, & 1/2 teaspoon salt into a bowl. Also, stir in the 1 tablespoon poppy seeds & 1 tablespoon lavender.
In a small bowl, combine the 1 & 1/2 cups white sugar & 1 tablespoon lemon zest & rub them together with your fingers for about 30 seconds to infuse the sugar with lemon flavor.
In a separate large bowl use a hand mixer to blend the butter, slowly adding in the lemon zested white sugar to make a thick cream.
Next, add one egg at a time, including the yoke, blending until combined between each addition.
Then blend in the 1 & 1/2 teaspoons vanilla extract & 2 tablespoons lemon juice.
By hand, stir the dry ingredients into the wet ingredients just until combined, but don't over mix.
Use a cookie/ice cream scoop to measure the cookie dough for uniform cookies & bake for 8-10 minutes.
Your Lemon Lavender Poppy Seed Cookies are done when they become golden.
While the Lemon Lavender Poppyseed Cookies are baking whisk together 1 cup powdered sugar, 1 tablespoon lemon juice, & 1 tablespoon whole milk in a small bowl. Set to the side.
Let your Lemon Lavender Poppyseed Cookies cool then add a little bit of icing, lavender, & poppy seeds to each cookie. *(3)
Once the icing has hardened, enjoy!
Notes
Tag @domesticallyblissful on Instagram and hashtag it #domesticallyblissful
Giustina Blissful
Hello! My name is Giustina and I'm a 20 something who is married to my best friend and love of my life. I think everything tastes better when made with love and a splash of lemon. Although love, life, and marriage is never easy I believe that it is always an adventure worth traveling!