Elegant and savory, Sofitel SFO's signature lavender is used in this entrée to create a lush and delectable feast for the senses.
By Michelle M. Winner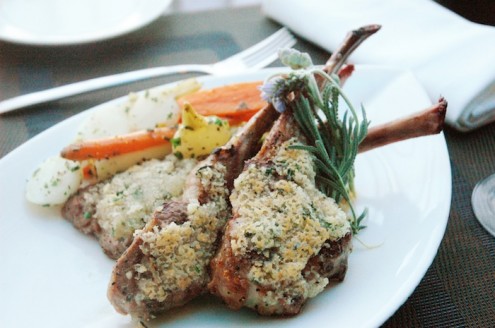 Lavender Crusted Lamb Chops
Elegant and savory, Sofitel SFO's signature lavender is used in this entrée to create a lush and delectable feast for the senses.
Author:
Chef Abad of Sofitel San Francisco Bay
Cuisine:
French- California Cuisine
Ingredients
Crusted Lamb
4 10 oz Sonoma Rambouillet rack of Lamb French cut
2 oz Herbes de Provence
1 oz fresh chopped lavender
4 oz bread crumbs
7 oz unsalted butter
A pinch of salt and pepper
1 garlic clove whole
1 spring of thyme and rosemary
Herb Quinoa
1 lb quinoa
½ bunch of flat leaf parsley, chopped
½ bunch of chives chopped
4 tablespoons of virgin olive oil
2 bay leaf
2 springs of thyme
1 lb toy box carrots cooked
1 lb organic parsnip
7 oz organic baby turnip
Truffle Rosemary Sauce
1 qt DEMI GLACE ( beef and red wine sauce base available at specialty store)
4 oz chopped carrots
8 oz chopped yellow onions
4 oz chopped celery
1 garlic clove
1 litter Sonoma red wine
2 bay leaf
2 black pepper corns
1 bunch of rosemary
3 table spoons of white truffle oil
sprigs fresh lavender for presentation
Instructions
Lamb:
Preheat an oven at 360 F
Rinse the rack of lamb and trim some of the excess fat. Rinse and pat dry
Heat a heavy bottom skillet with some olive oil, add thyme rosemary and garlic
Sear the rack at high temperature, eventually remove the garlic and herbs to avoid burning
Let them cool for a few minutes
In a separate bowl, mix the Herbes de Provence, lavender, butter, bread crumbs salt and pepper until a fondant texture
Place the paste on the loin at the rack.
Bake for approx. 15 minutes for a medium rare temperature.
Let them cool of for two minutes before cutting.
Quinoa
Bring water to boil with salt. Add thyme and bay leaves
Pour in quinoa and cook until tender. Drain.
In another pot, cook the carrots, parsnip and turnip in salted water until tender
In a hot skillet sauté the vegetables, add the quinoa, parsley, chives and season to taste.
Truffle Sauce
In a heavy bottom pot caramelize the onions, carrots, celery and garlic.
Pour in red wine, add rosemary and reduce by ⅔.
Add the demi-glace sauce and reduce by ½.
Pass through a sieve and add the white Truffle oil.
To plate:
Slice and divide the rack between four dinner plates. Serve with the quinoa on the plate or on the side. Drizzle Truffle Sauce on the meat and some on the plate. Top with sprig of fresh lavender and serve immediately.
Michelle M. Winner
Michelle was born with a fork in her hand. As a culinary travel writer and confirmed foodophile she delights in the world-wide discovery of new flavor profiles, spices, salts and herbs. Based in one of the world's foodie meccas; Portland, Oregon, not far from "Pinot Noir Heaven" Michelle shares culinary travel and chef's recipes. Her photography has appeared in Saveur Magazine and she has contributed culinary travel articles to Forbes online, WSJ online, Business Insider, Condé Nast Digital Media, Islands magazine and many others. A confirmed globetrotter, she still keeps her bags packed and fork in hand (well . . . except through airport security.)