Smokey Habanero Chili con Carne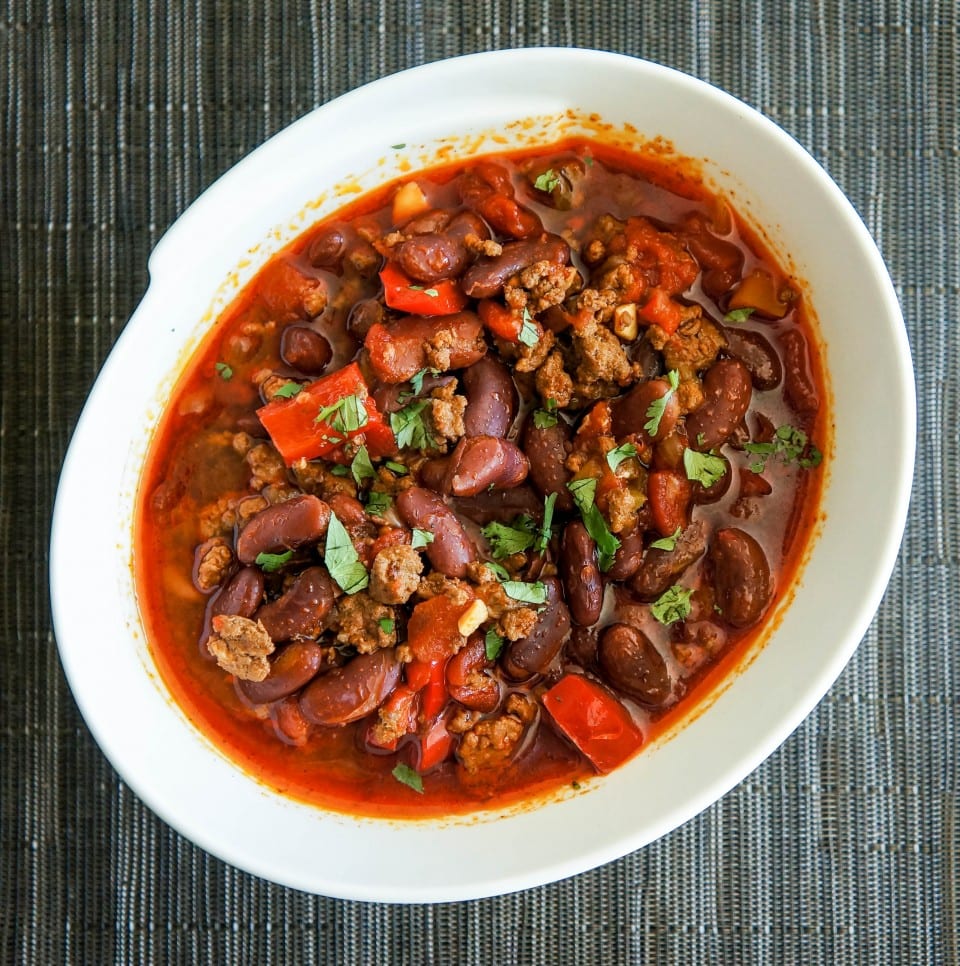 Juicy, moist ground beef, smokey paprika, ancho chile, cayenne and the star of the dish, fresh habanero pepper, come together to bring you Smokey Habanero Chili, a wholesome dish that combines all the flavors you crave in one pot.
By Carolyng Gomes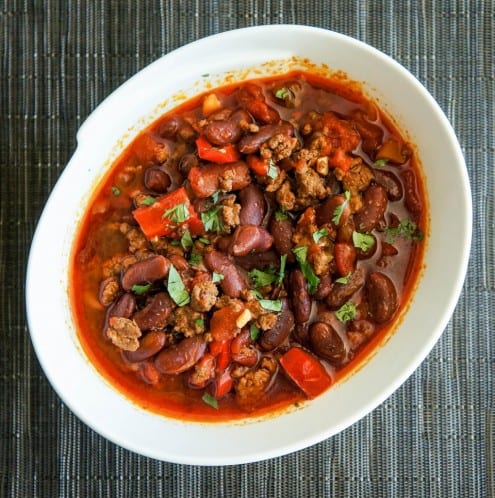 Yeah I know. Look at this dish. Absolutely drool worthy, even for me! The trick is to use only a little bit of habanero, no seeds, and make sure you balance it out with a lot of smokey paprika. And, as always, taste taste taste! That is the biggest tip I can give you about cooking. That and trust your instincts. The worse thing that happens is that it comes out terrible… and that's where taste taste taste comes in.
Smokey Habanero Chili
Juicy, moist ground beef, smokey paprika, ancho chile, cayenne and the star of the dish, fresh habanero pepper, come together to bring you Smokey Habanero Chili, a wholesome dish that combines all the flavors you crave in one pot.
Ingredients
1 lb ground beef
½ onion, diced
1 sweet red pepper, diced
2 tbsp olive oil
½ tsp red pepper flakes
2 cloves garlic, minced
½ habanero pepper, minced
½ tsp ground ancho chile
½ tsp ground chipotle
1 tbsp smoked Spanish paprika
1 cup water
½ cup apple cider
1½ cups cooked red kidney beans
salt and pepper to taste
Instructions
Turn crockpot on high.
Heat 1 tbsp olive oil in a sauté pan on medium-high heat. Add red pepper flakes, garlic, ground ancho, chipotle and smoked paprika. Cook until garlic has softened.
Add ground beef and cook until no longer pink. Transfer drained meat to crockpot.
In the same sauté pan add remaining tbsp of olive oil. Add onion and red pepper. Cook until onion is translucent and peppers have softened. Transfer vegetable mixture to crockpot.
Add apple cider and water. Stir to combine. Adjust salt and pepper to taste.
Cook on high for 4 hours.
Add red kidney beans and cook for an additional hour.
Serve warm.
Carolyng Gomes
Carolyng loves to eat, loves to cook and loves to eat more. To her a recipe is more a list of suggestions, saving time doesn't mean sacrificing on flavor and when in doubt, a splash or two (well, a nice pour) of wine never hurts. Welcome to her Cocina Latina, where South American and Latin fusion dishes are always on the menu.