Lamb Shank and Mango Chutney Pies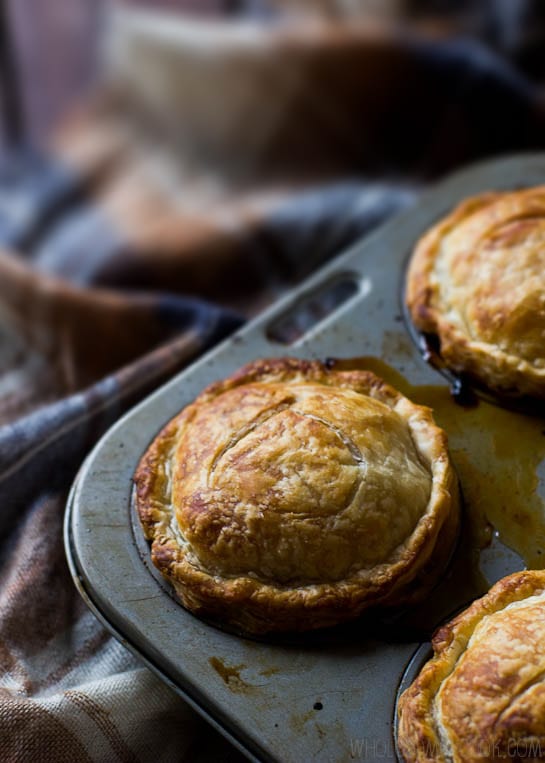 This recipe is fantastic for using up any type of leftover slow-cooked or pulled meat and the pies freeze well, so not much can go to waste.
By Martyna Candrick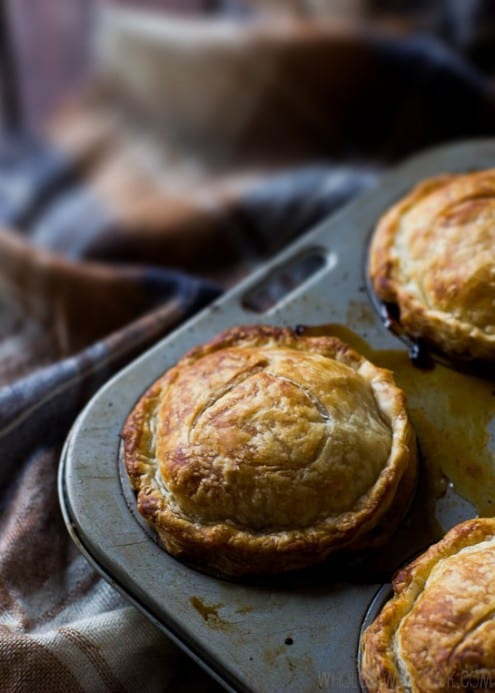 Personally, I find the combination of flaky pastry pies filled with slow-cooked lamb shanks and the aroma of exotic spices in the mango chutney, simply irresistible. This recipe is fantastic for using up any type of leftover slow-cooked or pulled meat and the pies freeze well, so not much can go to waste.
Lamb Shank and Mango Chutney Pies
This recipe is fantastic for using up any type of leftover slow-cooked or pulled meat and the pies freeze well, so not much can go to waste.
Ingredients
For the Lamb Shanks:
2 lamb shanks, trimmed
1 tsp paprika
1 tsp ground cumin
1 tsp pepper
1 tsp sea salt
1 tsp onion powder
1 tsp garlic powder
1 tbsp oil
4 bay leaves
1 tbsp cloves
2 cups red wine
For the Curried Mango Chutney:
2 firm mangoes, flesh only, chopped roughly
½ cup apple cider vinegar
½ cup coconut sugar
2 red onions, chopped finely
2 tbsp freshly grated ginger
2 tsp curry powder
½ tsp cinnamon
2 tsp cloves, ground
½ tsp salt
For the pies:
3 cups slow-cooked lamb shank meat
1 cup mango chutney
1 tsp cooking oil (I used peanut oil)
3 (26cm / 10in) sheets rolled puff pastry, cut into 4 even squares each
Instructions
To prepare the Lamb Shanks:
Wash lamb shanks under cold running water. Pat dry with paper towels. Mix together the spices: paprika, cumin, pepper, salt, onion powder and garlic powder. Rub spice mix into the shanks.
Heat oil in a heavy-based casserole or a stock pot large enough to hold the shanks lying flat. Add enough cold water to cover the shanks. Add bay leaves, cloves and 2 cups red wine. Cover and bring to a boil. Reduce heat to a gentle simmer and cook covered for 3 hours, or until the shanks are tender and the meat is falling off the bone. (In the meantime, prepare the chutney).
When the meat is ready, turn off the heat and allow the meat and brine to cool for a few hours, or overnight.before picking the meat off. Discard the bones, gristle and stock.
To prepare the Mango Chutney:
Place all ingredients in a medium-sized pan over medium heat. Bring to a boil then reduce to a slow simmer and cook, covered, for 30 minutes. Stir often and add a little water if the chutney becomes too thick, When ready, remove from heat and allow to cool before using.
To prepare the Lamb Shank and Mango Chutney Pies:
Preheat oven to 220C (200C fan-forced, 425F, gas mark 7).
In a large bowl, mix together the lamb shank meat and mango chutney.
Grease your pie tins inside and around the rim with oil.
Place 3 pastry squares into the pie tin holes and press gently into the cavity. Spoon enough lamb shank mixture into the pastry to come up to the edge of the tin. Cover with another pastry square and press firmly around the edges to seal. Trim pastry edges with a sharp knife. Repeat the process with the remaining pies.
Bake for 15-20 minutes or until the pies have turned golden brown and crisp. The lids may come loose during baking, but don't worry, they will add to the pies' rustic charm.
Martyna Angell
Martyna is a Polish-born Australian recipe developer and food blogger. Her creativity and passion for good food shines through in many of the delicious and easy to prepare meals which she cooks, styles and photographs for her blog, Wholesome Cook. Fresh cream-filled eclairs are her only weakness.