Lafleur is a two Michelin-starred restaurant set in the heart of a giant green palm garden in the centre of urban Frankfurt where Andreas Krolik cooks wonders, including a vegan tasting menu worth travelling for.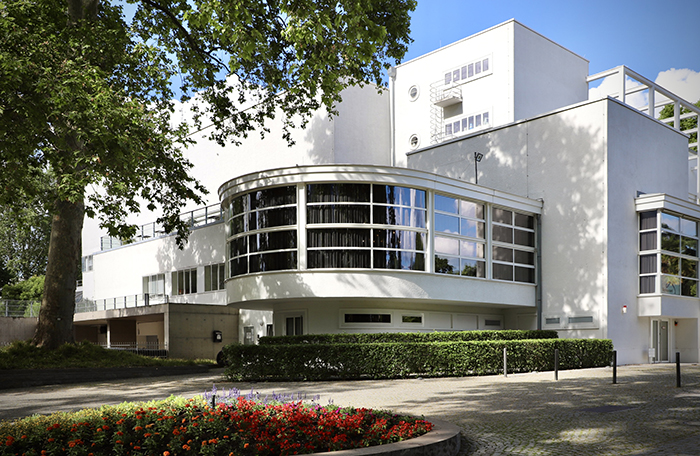 The majority of the world's most important cities have reputations for something. Paris is famous for its pastries and beauty, Barcelona for its amazing culinary scene and beaches, New York is simply the city that never sleeps. Frankfurt has a very serious business vibe and it might not be famous for its chefs and restaurants. 
Slowly but surely, Andreas Krolik is changing this with his restaurant Lafleur, where he focuses on creating memorable culinary experiences. Menus and dishes that sometimes might strike as simple or classic, but that come with an incredible depth of aromas and flavors and then get even more character and substance when combined with the outstanding wines selected by sommelier Alexandra Himmel, because yes, the name Lafleur comes from the famous Château Lafleur in Bordeaux, France, so they really take their wines seriously.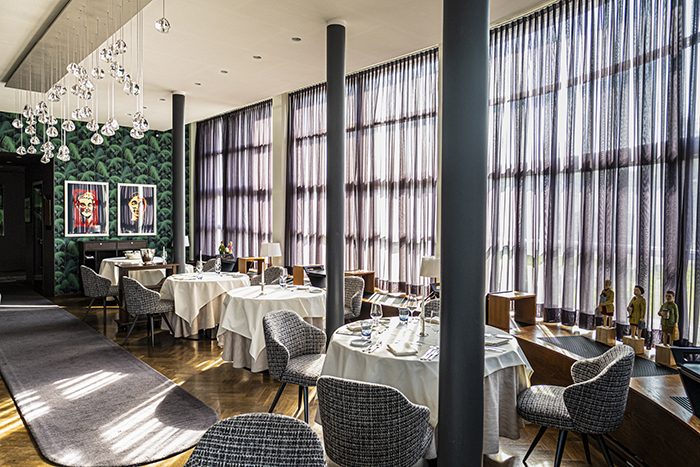 A humble beginning
When you get to try the dishes at Lafleur, especially the vegan ones, you get the real sense of respect that Andreas Krolik has for ingredients. This comes from his childhood and although he now is one of Germany's best chefs, his understanding for real flavors, humility and work ethic all come from growing up in a small town during the communist times of the DDR (former East Germany).
"We didn't have a lot of material things but what we did have was our own fruits, vegetables and animals. I remember it was a lot of work to maintain the garden and the animals, but it also allowed me to learn about seasonality. I didn't have time to do other things or for other hobbies. Now, with another perspective, I'm very happy that I grew up like that. It was helpful in many ways, not only in finding my taste and my voice but also it made it normal for me to work hard," says Andreas.
It was then, as a teenager, that he decided he wanted to try out working at a kitchen after his first choice of working in the forest became impossible due to the political and economic situation in the former East Germany. At 16 years old he got his first opportunity to do a test run for a day in a kitchen in the Black Forest during his winter holidays. The day became a week, the week became the whole holiday and so he found his calling to be a chef.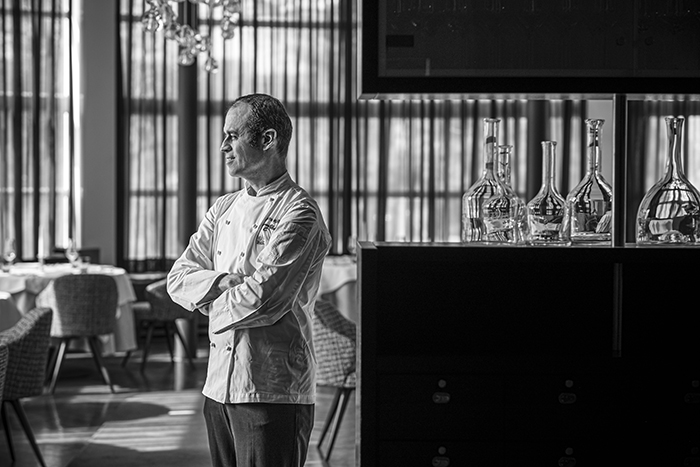 The path to becoming a cook
Then, in Germany, as in a lot of European countries, teenagers have to decide what they want to do when they grow up pretty early. Then they start mixing apprenticeships with classes to gain knowledge and real experience in their fields. For him those first experiences came from working at a very simple and unpretentious restaurant in the Black Forest.
"After that I started my apprenticeship at a very basic hotel with a basic kitchen. Regional cuisine from the Black Forest without any stars or accolades. At this point I had never heard of Michelin or any other guides. It was all very basic, but good because we did everything by ourselves. My head chef was also a butcher and grew up helping his family in a bakery so he taught me a great deal of things. On top the owner of the hotel was a hunter and he would bring game to the hotel for us to clean and cook. It was a great place to learn the basics and the fundamentals of a real kitchen" tells Krolik.
After a year break in the military, the young chef apprentice went back into different kitchens in Germany and Switzerland. Those were the necessary years to get the basic needed experience and groundbase to go into the next level. That opportunity came after meeting Robert Mangold, owner of different restaurants, including Lafleur. He convinced Andreas to move to Frankfurt to work at his first Michelin-starred restaurant, Tiger in the Tiger Palace Theater where the chef finally understood that his path was fine dining.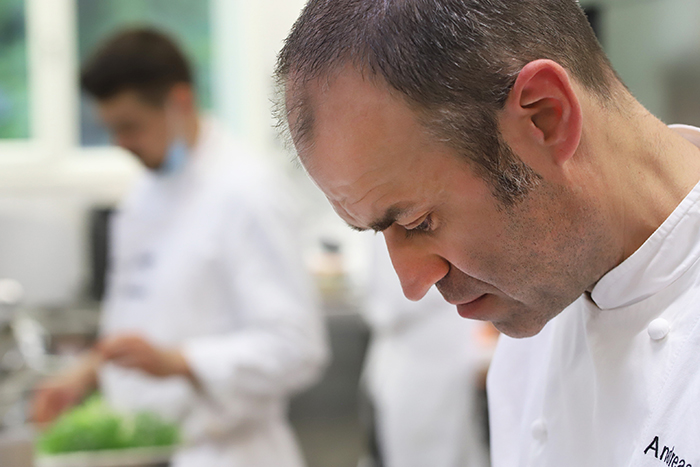 Lafleur, the green heart of Frankfurt
One of the easiest and obvious things to love about Lafleur is its location. Set right next to The Palmengarten, a 150 year old garden that covers more than 54 acres and houses some 13.000 plant species. It is the city's green heart, full of history, art, cultural activities and attractions, like the tropical Butterfly House. That unique setting right in the middle of Frankfurt's modern buildings and skyscrapers only gives more sense to the great vegan tasting menus that come out of their kitchen.
Since 2015, Krolik and his team have created a signature style that has gotten them two Michelin Stars and a 19/20 in Gault & Millau, an almost perfect rating. On top, Andreas Krolik was named "Chef of the Year" in Germany in 2017 – a country of currently no less than 327 Michelin stars. These and other awards are the result of the focus on the job they do in the kitchen and the dining room to achieve what the chef describes as a perfect symbiosis.
"We are sure that we've achieved a special symbiosis of great food and wine, the best possible seasonal produce and a local touch. We're also very proud to be pioneers in creating fine dining vegan menus since 2014, way before it was fashionable or trendy. Lafleur is a flavorful pearl in the green heart of Frankfurt, so vegetables par excellence make all the sense in the world to serve here" explains Andreas.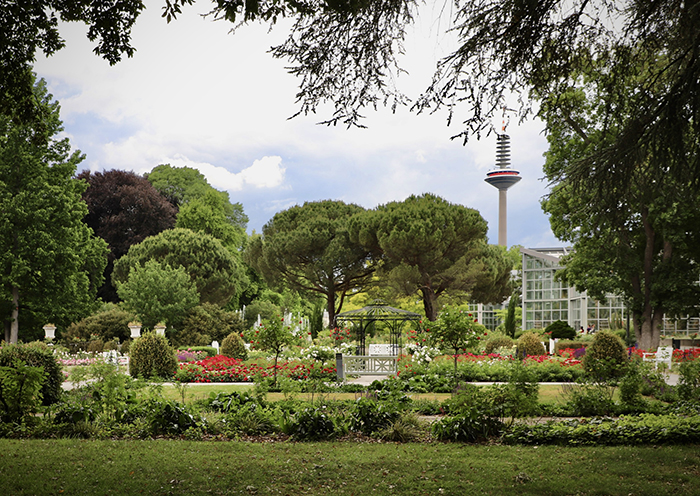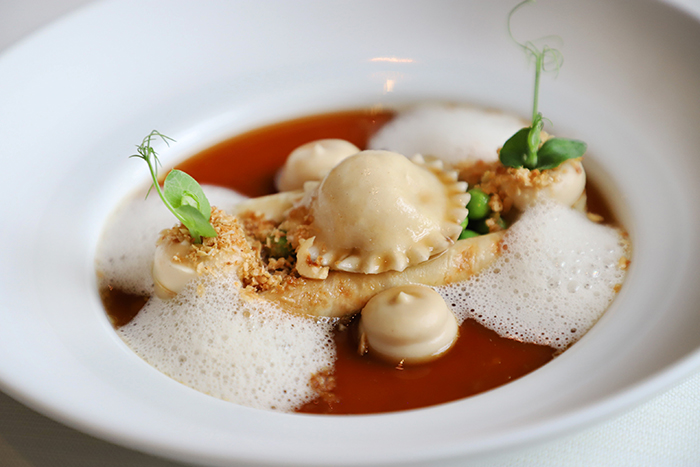 A vegan menu with a lot of flavor
Those years taking care of his family's gardens and animals taught young Andreas a lot about quality produce. He explains that to this day, every time he creates a new dish for Lafleur, he tries to recreate those childhood memories of fresh vegetables and fruits harvested at the best time of the season: "When you try vegetables and fruits in their perfect ripeness and temperature you forget about salt, pepper and oil. It was perfect as it was and this is something that was branded in my brain. I'm always looking for this pure taste that I learned during my childhood."
Another thing that stands out about this German restaurant is the fact that they've been serving a full vegan tasting menu since the beginning. Even when it wasn't a trendy or demanded thing to do, restaurant owner Robert Mangold asked chef Krolik if he thought he could do a vegan option. The challenge motivated the chef who after some research and creative time, jumped to the task. Today this option is requested by more than 30% of the guests of Lafleur.
The menu includes dishes like the white asparagus in chicory decoction, smoked paprika, spice macadamia crunch and black miso cream; the marinated daikon turnips with daikon turnip leaf pesto, radish marinade, cucumber, radish and yuzu peel. Or the celery, peas, hazelnut, brown celery jus and bergamot foam. One of my absolute favorites and the one that I found had more character and made me completely forget about not having any animal protein during the menu was the green asparagus from Pertuis, tarragon tomato jus, roasted artichokes, morels and mushroom cream, powerful, succulent and full of textures. How do they achieve this?
"Our sauces and broths are very deep. I think it's possible to taste the vegetable or fruit on its own but we also achieve so much character and complexity by presenting different preparations and textures of the same product in one dish. This is evident by the fact that a lot of the guests that come to Lafleur and get the vegan menu actually do eat fish and meat. But they don't miss it during their meal here," explains the chef.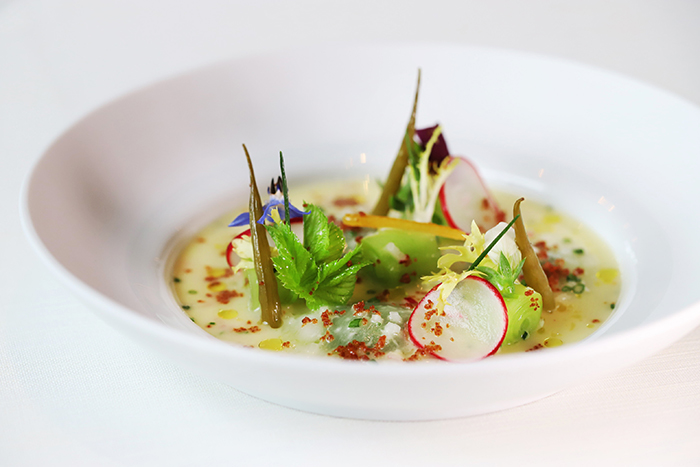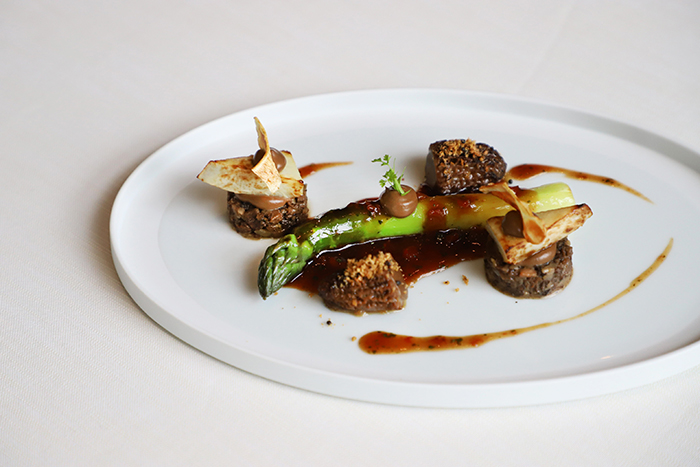 The classic menu and their wine
Yes, the vegan menu is something that stands out at Lafleur, but they also offer an impressive menu with seafood and meats that should not be left to a side. Andreas Krolik describes his flavors as intense, pure and creative, and that's exactly what you get with both these menus. 
The regular menú includes dishes like raw marinated king salmon, Rh"n caviar, watercress, iced yogurt and orange. Followed by the Norwegian lobster with tandoori kaffir lime leaf sauce, pumpkin, sweet potato, bell bell pepper chutney, pink grapefruit and macadamia rice crunch; or the dived scallop with kaffir lime crunch, fruity mussel curry nage, chicory chutney with bergamot, cauliflower cream and peas with mint. All well balanced and with deep and vibrant flavors, that as I mentioned before, are rounded up by the wines proposed by Alexandra Himmel.
"Lafleur is very much a wine restaurant and has a list of some 1200 numbers and many from some of the best producers in the world, including the old vintages. So from scratch I always think about my dishes as if they come paired with wine. We cook with many sauces, strong flavors, we look for a great balance and to add some acidity, and because of that our dishes become a great way to also display our wonderful wine cellar. So we see wines as a beloved partner in the kitchen. For us they have the same level of importance and one brings the other up. They compliment each other," closes Andreas.