A unique Romanian pastry often served at weddings is a fun-looking dessert to serve at dinner parties. The slightly sweetened yeast dough can be sprinkled with a walnut cinnamon-sugar topping.
By Swathi Iyer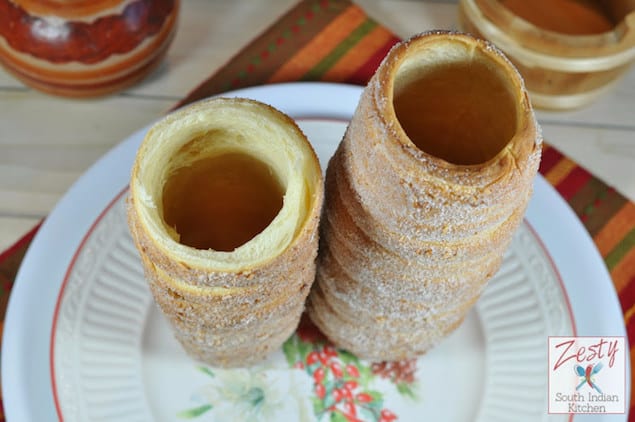 I saw an oven for the first time when I was in Sweden, my mom had never baked a single thing. I thus grew up in a house where baking was an unknown art. The first real thing I baked was banana bread with help of one of our family friends.
When I came across this Kürtoskalács aka chimney cake, a traditional wedding pastry made in Transylvania (Romania), I got hooked. Some of you may have memories associated with this pastry as it is one of the most traditional as well as important street foods in Eastern European countries. Traditionally it is made on a grill or brick oven; nowadays it is made in electric oven.
Another coiled treat is the famous Spanish coiled breakfast pastry Ensaimda, a pastry from Majorca, Spain. Even though the traditional recipe uses lard, I used butter here without a filling. First yeast dough is rolled out until extremely thin, butter is spread on one side and the dough is rolled into a rope and then shaped into a coil.
Both are brioche kind of yeast dough made it into a sweetened treat. Chimney cake or Kürtoskalács is famous street food as well as common pastry made in the backyard grill. Since I don't have grill in my hand, I used both baked and roasted version of chimney cake, both turned out be delicious. I used my only one rolling pin which I have it my hand to make chimney cake, if you want you can make wooden spit here is link to make it by yourself. I tried twice and both time it worked like a charm. So don't worry about putting your rolling pin in the oven.

Kürtöskalács Chimney Cake
A unique Romanian pastry is a fun dessert to serve at dinner parties. The slightly sweetened yeast dough is sprinkled with a walnut cinnamon-sugar topping.
Recipe Type:
Dessert, Baking
Ingredients
1¾ cups (8½ oz) (240 gm) all-purpose (plain) flour
2¼ teaspoons (1 packet) (7 gm) active dry yeast OR 2 teaspoons instant yeast OR 14 gm (½ oz) fresh yeast
2 tablespoons (1 oz)(30 gm) sugar
⅛ teaspoon (3/4 gm) salt
1 large egg, room temperature
3 tablespoons (1½ oz) (45 gm) melted butter
½ cup (120 ml) milk, lukewarm temperature
For brushing the rolling pin
melted butter
sugar
For the topping:
Approximately ½ cup (3½ oz) (100gm) sugar
For walnut sugar topping
About 1 cup (4 oz) (115 gm) ground walnuts, mixed with about ½ cup (3½ oz) (100 gm) sugar
2 teaspoons (10 ml) (1/4 oz) (6 gm) cinnamon
Instructions
If you are using active dry yeast, add ½ teaspoon sugar to lukewarm milk and set aside for 5-10 minutes until it proofs (becomes foamy).
You can use the other yeast types directly along with the flour.
In a large bowl combine, flour, sugar and salt. To this add egg, milk, melted butter, and yeast Stir the mixture until it comes together to form a dough, and then knead for about five minutes.
It will be sticky. Don't be tempted to add any flour. Grease your hand if needed.
Transfer to a well greased container
Allow the dough to rise for 60 minutes at room temperature until doubled in volume
Prepare the rolling pins by covering them with aluminum foil, do at least two or three layers, to protect the pins from burning in the oven.
Make sure to cover the rolling pins very well. Brush them with melted butter.
The risen dough after 60 minutes.
Punch down the dough and divide into 4 equal parts about 4 oz (115 gm) of each.
On a well floured surface spread one portion of the dough
Shape into ⅙ inch (4 mm) thick square-shaped sheet.
Using a pizza cutter cut the dough into a long ribbons of about ½ inch (13 mm) wide.
Wrap one end of the dough strip around the spit/rolling pin, tucking in the end so the dough doesn't unwind.
Keep the dough very thin (under ¼ inch (6 mm)) as you stretch and wind it on the rolling pun. Then roll the whole thing slightly on the counter top to flatten it/press it together.
Brush with melted butter
Roll in sugar
Place in roasting pan and bake in a preheated moderately hot oven 375°F/190C/gas mark 5 for 25 minutes.
If using roast function (375F/190C) in the oven it will take about 20 minutes.
If you are grilling (broiling) over the fire cooking time is about six minutes, until it starts to take on a dark golden color. Turn the rolling pin at once least once (or more) throughout baking time to ensure uniform cooking.
When cake is done roll it in sugar again
If you are using other toppings brush more butter, then roll the finished cake in the toppings of your choice.
Tap the mold on a table top to release the cake and set it up right to cool.
Swathi Iyer
Swathi ( Ambujom Saraswathy) loves to explore cuisines from all over the world, and write about the ones that she and her family enjoyed on her blog Zesty South Indian kitchen. She loves to gives an Indian touch to several of the world cuisine, and has weakness for freshly baked bread. She is also a mom to two wonderful young kids who gives a up or down vote to the food she creates.