We love the subtly-sweet, bubbly nature of kombucha. Besides just sipping cold or stirring into cocktails, kombucha is a great ingredient for a variety of recipes. Check out these kombucha recipes.
We love drinking kombucha, but with its probiotics and great flavors we've always thought that it can totally be used for more than just beverages. We touched base with Brew Dr. Kombucha to get some recipes ideas. Founded in Oregon, Brew Dr. Kombucha is not too sweet, but still packed with fizzy flavor and they use simple ingredients. We especially love the amount of time they spend putting out delicious, seasonal flavors.
Our current favorite flavor? Strawberry Basil.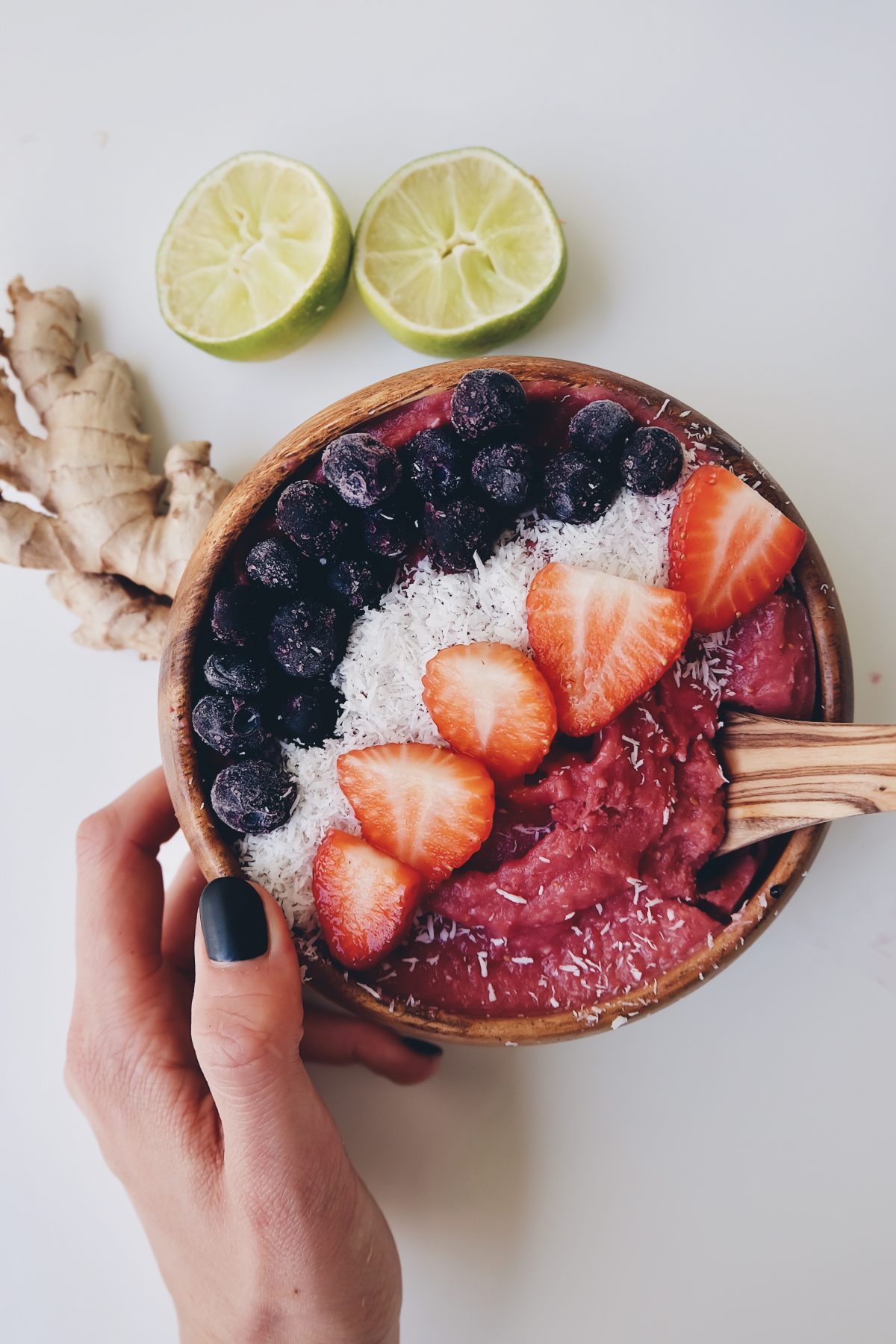 Image and recipe by @olive.eeeats
Kombucha for Breakfast: Clear Mind Smoothie Bowl
Spruce up your next smoothie bowl with kombucha.
2 1/4C mango
1 1/4C raspberries
2T ginger
1 lime juiced
1T unsweetened shredded coconut
3/4C almond milk
1/4C Brew Dr. Clear Mind kombucha
Blend ingredients until smooth. Add to a bowl and top with fruit, granola or coconut.
Kombucha for Lunch: Hearty Salad with Strawberry Basil Kombucha Salad Dressing
Serve this flavorful salad dressing with a hearty salad topped with beans or leftover chicken. Easy and flavorful!
Strawberry Basil Kombucha Salad dressing
2 parts oil
1 part Brew Dr Kombucha Strawberry Basil
add the following to taste:
salt and pepper
1 tsp honey
1 part raspberries (crushed) juice included 1 tsp A-1 sauce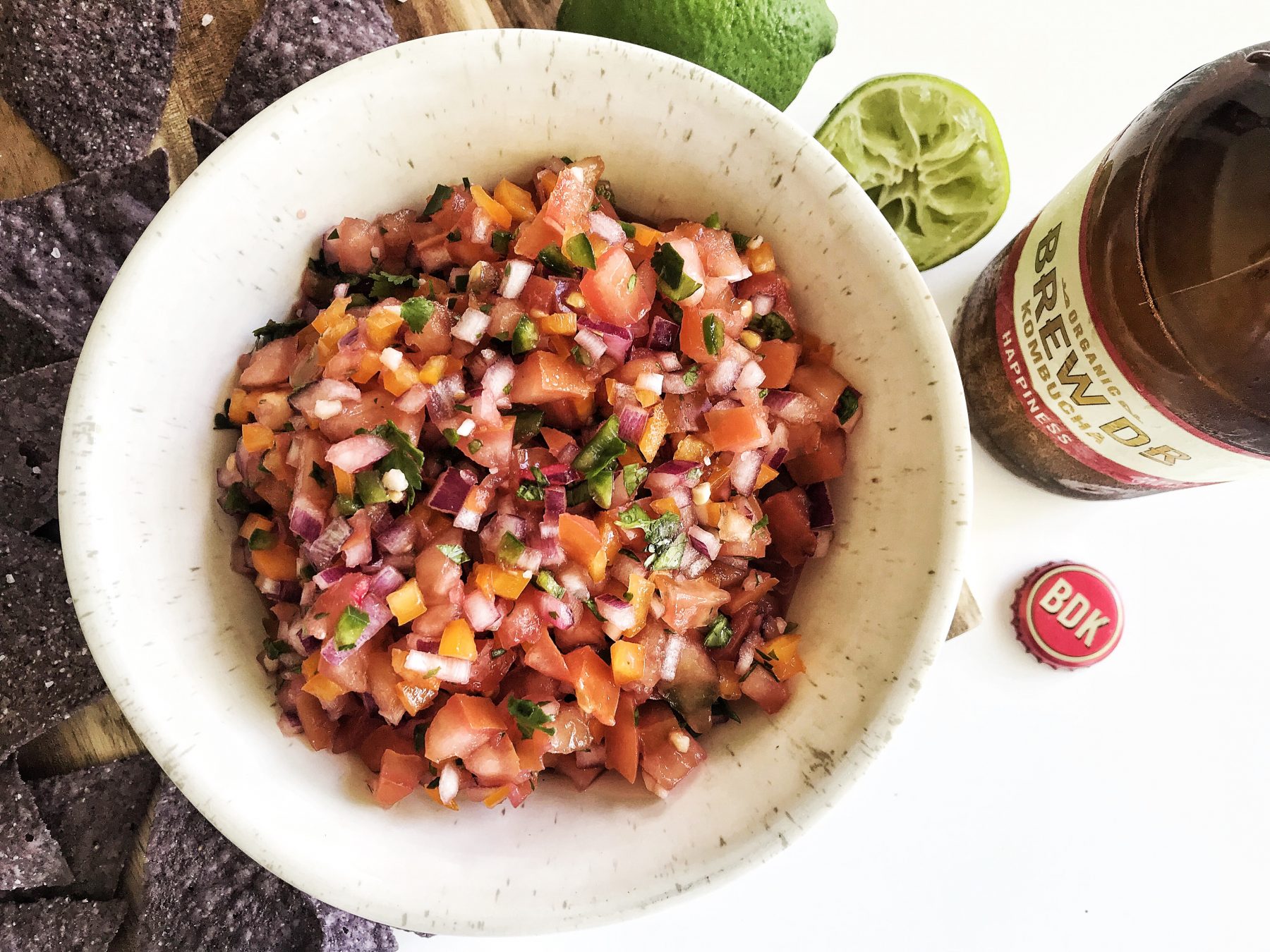 Recipe and image by @shutthefigup
Kombucha as a Snack: Kombucha Salsa
A little sweet, a little spicy and with just the right amount of acidity, this salsa is the perfect refreshing dip.
Kombucha Salsa
5 roma tomatoes, seeded + chopped
1 red onion, diced
1 orange bell pepper, seeded + diced
1 jalapeno, seeded + minced
A handful of fresh cilantro, chopped
3 large garlic cloves, minced
1 lime, juiced
1/4 cup Brew Dr. Happiness Kombucha
1 tsp pink salt + a pinch of pepper
Mix all ingredients (except kombucha) together in a large bowl until well combined. Remove 1 cup & add to a high speed blender with the 1/4 cup Kombucha. Blend for 30 seconds. Add mixture back to your large bowl & stir to combine. You can serve immediately or pop in the fridge to develop more flavor for an hour. Enjoy with your favorite organic tortilla chips!
To store: keep in an airtight container in the fridge for up to 2 days.
See Also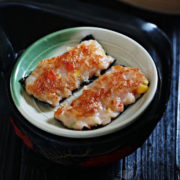 Kombucha for Dinner: Ginger Turmeric Kombucha Marinated Grilled Chicken
Kombucha makes for a perfect marinade ingredient to tenderize and make you meat super flavorful.
1 1/2 Lb Chicken Breasts
3/4 cup(s) Brew Dr. Kombucha Ginger Turmeric
1/4 cup(s) tamari or soy sauce
4 garlic cloves, smashed
1 Tbsp Chili Paste
2 Tbsp mirin
1. Place chicken breasts in a resealable plastic bag.
2. In a bowl combine kombucha, sauce, garlic, chili paste and mirin together. Whisk to combine.
3. Pour marinade over chicken and refrigerate at least 2 to 4 hours. Overnight is best.
4. Preheat grill to medium-high heat.
5. Remove chicken from marinade and shake off excess. Grill chicken 4 to 6 minutes per side, (depending on thickness) or until internal temperature of chicken reads 170F.
6. Allow chicken to rest and cut as needed for serving.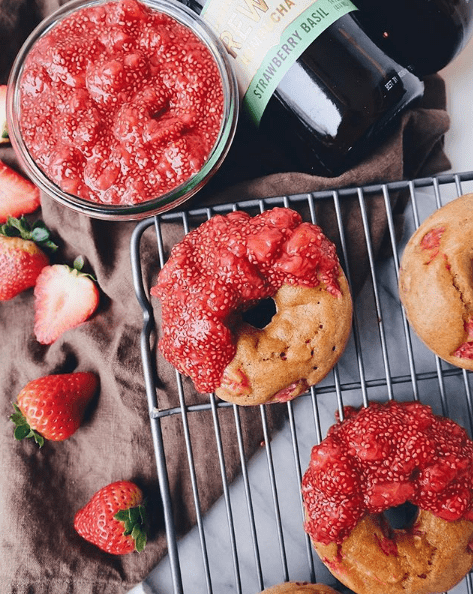 Kombucha for Dessert: Strawberry Basil Glazed Donuts
Recipe by @olive.eeeats
Make the glaze of your next batch of baked doughnuts or muffins extra exciting and whisk in kombucha. Click here for the recipe.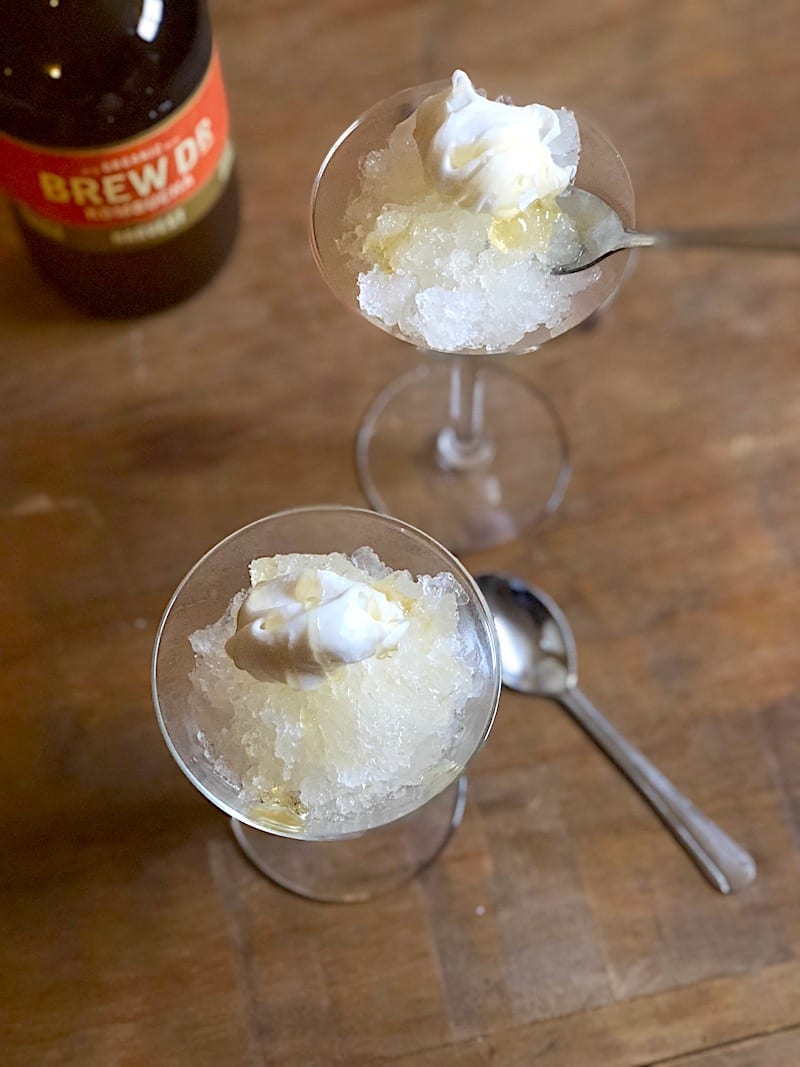 Kombucha for Dessert Part 2: Kombucha Granita
Easily freeze a pan of kombucha granita, a perfect sweet treat after a heavy meal or on a hot day. Click here for the recipe.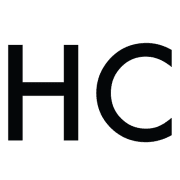 Honest Cooking
The Honest Cooking editorial team handpicks inspiring culinary stories to share with you that we think are beautiful. As an international online culinary magazine with the ambition to truly change the face of online food media we hope to create an inspiring place for serious culinary debate, salivating recipes, interesting food news and international food-fun.