Kiwi Infused Pork Ravioli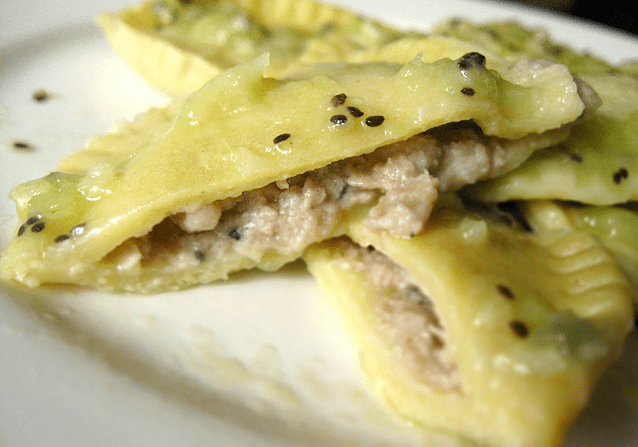 What do you do when you find out that you're chosen to take this beautifully sweet fruit and turn it into an entree?
By Rochelle Ramos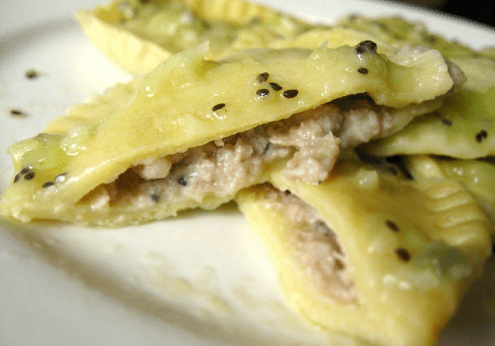 When you are chosen to come up with an original recipe with kiwifruit, you tend to lean towards dishes that are traditionally sweet such as fruit smoothies, breakfast items, or desserts. But what do you do when you find out that you're chosen to take this beautifully sweet fruit and turn it into an entree?
Kiwi Infused Pork Ravioli
What do you do when you find out that you're chosen to take this beautifully sweet fruit and turn it into an entree?
Ingredients
Kiwi Infused Pork Filling
1lb ground lean pork
3 Zespri kiwifruit, peeled
3 cloves garlic, minced
½ teaspoon ground ginger
pinch salt
½ teaspoon ground pepper
2 green onions, sliced
1 chili pepper of your choice for heat, minced (optional)
Pasta dough, either fresh from the grocery store or make it yourself!
Zespri Kiwi Sesame vinegrette
1 kiwifruit, peeled
¼ teaspoon ground ginger
2 tablespoons sesame oil
1 tablespoon rice wine vinegar
Instructions
Take your peeled kiwifruit and place in a bowl, using a fork to mash the kiwi into small chunks. Add in pork, garlic, ginger, salt, ground pepper, green onions and chili pepper. Using your hands, mix well so that all the ingredients are evenly distributed.
Cover and place in the refrigerator for about 15 minutes, but no longer than 30! (Kiwifruit acts as a tenderizer and will break the pork down fairly quickly.)
Prepare the vinaigrette by adding kiwifruit to a bowl and mash with the back of a fork. Add in ginger, sesame oil and rice wine vinegar. Whisk well or place in a jar/bottle with a lid and shake. Refrigerate until ready to use.
Take a sheet of pasta and lay out on a lightly floured surface. Using a spoon, place about ½ tablespoons of the pork filling out on the pasta about 1 inch apart. Take another sheet of pasta and put on top.
I don't have a pasta cutter or a round small cookie cutter so I used the rim of a wine glass to cut out the pasta into round shapes.
Wet a finger with water and run it around the edges of the pasta. Press the edges together, making sure to get the air out of the ravioli before finally sealing the edges together with the back of a fork. Set aside and repeat with the rest.
Boil lightly salted water and add the ravioli a few at a time. Cook about 2-3 minutes. Remove the ravioli from the water with a slotted spoon.
Place cooked ravioli and kiwifruit vinaigrette in a bowl, tossing to coat and serve.
Notes
If you prefer to use a different meat or filling other than pork, try ground turkey/chicken or minced mushrooms for a vegan/vegetarian dish!
Rochelle Ramos
Rochelle is an Americana cooking, eating, photographing and writing in Portugal. She has a love for real food and learning to make it from scratch. As a new expat, she is slowly learning to speak the language and will soon be able to order more than just a café and pastel de nata from the local pastelaria.