The following Lentil flat bread recipe is simple and quite easy to cook without the extra work of grinding, making a filling or deep frying the parathas.
By Sanjeeta Kk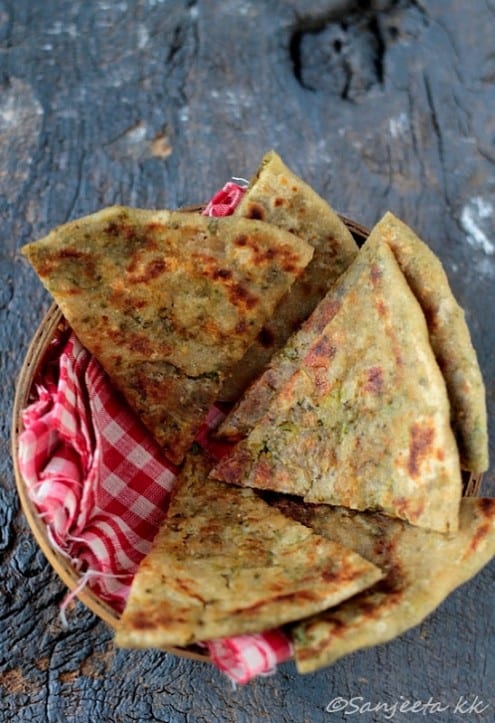 Cheesy Broccoli Flat Bread
The following Lentil flat bread recipe is simple and quite easy to cook without the extra work of grinding, making a filling or deep frying the parathas.
Ingredients
1 cup wholewheat flour
½ cup warm water
½ tsp salt
Oil to shallow fry
Filling;
1 cup grated Broccoli
1 large potato
½ cup grated cheese (processed/cottage)
2 green chillies
Salt and crushed black pepper as desired
Instructions
Add flour, salt and warm water in a large vessel and knead it to make a soft chappati dough. Add a few tsps. of oil or butter to get extra softness in the chapattis.
Make 6-7 balls from the dough, dust them with dry flour and keep aside.
Boil and mash potato. Wash the Broccoli and grate it finely. Chop green chilies finely and add to the grated Broccoli.
Add salt, crushed pepper and mix all the ingredients well.
Take a ball of dough and flatten it to make a small circle. Place about 2 tablespoons of Broccoli filling in the center. Bring all the corners of the circles to close it. Make sure to seal all the edges.
Dust the filled Broccoli dough balls with flour and roll it into a large circle. Sprinkle dry flour during the process to avoid the flat bread getting struck on the board.
Heat a griddle and place the Broccoli flat bread on it. Drizzle a tsp. of vegetable oil and let it cook for 2-3 minutes on medium heat. Flip to the other side and repeat the process.
Notes
Serve the Cheesy Broccoli flat bread with fresh curd raita, green chutney or tomato sauce.
Sanjeeta Kk
Sanjeeta kk is the author of food blog 'Lite Bite' which features vegetarian recipes. Her quest for egg free baking and healthy cooking is extensively shared though all her recipes. She likes to share stories behind the origin of her recipes which are easy and accessible. Homemade, unprocessed and healthy food is what she strives for each day. She defines food as nostalgic, comforting & an important factor to connect with people and make community