Light, seasonal, and easy to make, strawberry shortcake is a simple combination of both strawberries and, of course, shortcake. 
By Marissa Sertich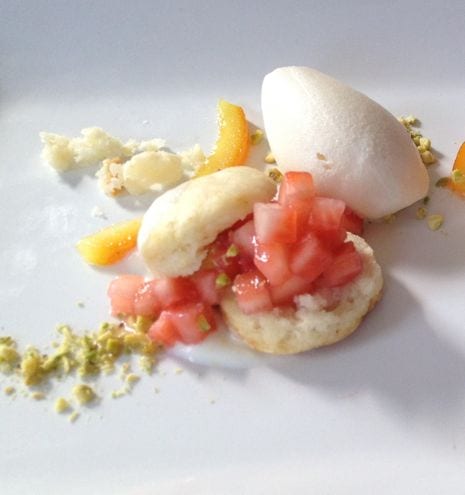 The definition and instructions are in the dessert's name, but I don't always follow instructions and rarely stick to conventions – because of its simplicity, this unassuming American classic can be transformed into gourmet delight with a few additional ingredients and a little more time.
The term, "shortcake," can refer to a simple cake, but I prefer a flaky, layered biscuit to a lackluster vanilla sponge or pound cake. Even the salty notes of a savory biscuit, rather than a typical sweet biscuit, begin to give your strawberry shortcake more depth of flavor. Toss your strawberries in a flavored liqueur, or honey and we're beginning to cross the threshold from ordinary to interesting.
You don't want to stop there, you say?  Of course, how could I forget the ice cream?   While whipped cream is an option (and a good one), ice cream not only adds creaminess, but also variety in temperature.  Contrasts are one of the key points in dish assembly that can make your dessert more attractive to eat. A high-quality store-bought vanilla ice cream will work absolutely beautifully, but if you'd like to jump into the world of dessert obsession with me, explore churning some of your own complimentary ice cream flavors – pistachio, honey, orange blossom, almond, buttermilk…
To garnish your creation, and also add texture, decorate the plate with some toasted nuts, such as almonds or pistachios. And if you were feeling really wild, you could put some candied citrus zest on there, as well.
The only written recipe you may need for this dessert is the biscuit recipe.  Aside from that, it should be something created by you with flavors that you will enjoy.    The strawberry shortcake is your oyster (figuratively) and, like any dish, you can go beyond the recipe and customize it to your own personal taste.
Print
Biscuits
Aside from this biscuit recipe, a strawberry shortcake should be a fun, easy dessert that goes beyond a written recipe and is easily customized to your own personal taste and preferences.
Author:

Marissa Sertich

Prep Time:

20 mins

Cook Time:

10 mins

Total Time:

30 minutes

Yield:

5

1

x
1

c all-purpose flour

2 tbsp

butter, cold

1/2

c buttermilk

1/2 tsp

salt
pinch sugar

1 1/2 tsp

baking powder
Instructions
Preheat the oven to 350 degrees.
In a bowl, whisk together the flour, salt, sugar and baking powder.
Add butter to flour mixture and break the butter apart by hand until it the size of hazelnuts.
Add the buttermilk and mix until it is just combined. It is okay, and preferable, to still see pieces of butter in the mixture.
Roll out the dough and cut to desired size using a round cookie-cutter (or any shape you prefer). Place on a cooking sheet and bake until golden.
Notes
The serving size of this recipe will vary depending on how large you cut your biscuits. I prefer using a miniature cookie cutter, in which case this recipe can serve up to 12 people.
If you don't have a cookie cutter, you can use your knife to cut attractive squares, rather than rounds.
Marissa Sertich
Marissa Sertich Velie is a New York based pastry chef and graduate of the Culinary Institute of America. She passionately documents her adventures of baking and eating her way through the fascinating (and sometimes nutty) underbelly of the American pie. Velie has a Master's degree in Food Studies from NYU.