Twice-Baked Sweet Potato with Bacon and Green Onions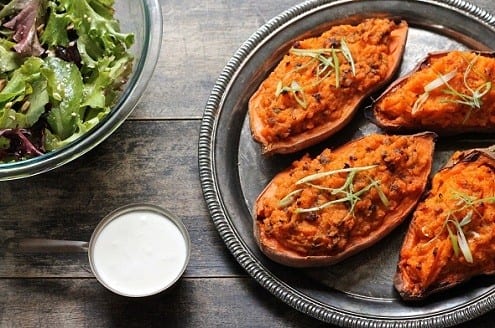 These twice-baked sweet potatoes have crispy, carmelized skins and a smooth tangy filling. Add a dollop of crème fraîche and indulge.
By Bryan Picard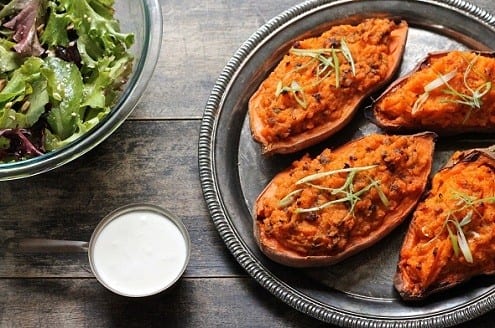 These twice-baked sweet potatoes have crispy, carmelized skins and a smooth tangy filling. Add a dollop of crème fraîche and indulge. Don't ask me why crème fraîche is so hard to find. Until I started making it myself (cultures are from Glengarry) I never had occasion to try the stuff. Now, I love it in soups, curries, and anything that benefits from a rich, creamy kick.
Crème fraîche is similar to sour cream but less sour and with a higher fat content. You can, of course, substitute sour cream, but avoid the artificially soured kind. It doesn't really taste good.
Twice-Baked Sweet Potato with Bacon and Green Onions
Ingredients
3 medium sweet potatoes
6 slices bacon, roughly chopped
4-5 green onions, chopped
2 tablespoons butter
pinch cayenne pepper
½ cup crème fraîche (or sour cream or greek yogurt)
salt + ground black pepper
Instructions
Preheat the oven to 400°F
Bake the sweet potatoes on a baking pan for 45-55 minutes or until you can easily pierce through it with a knife.
Let them cool for about 15 minutes.
Meanwhile, sauté the bacon in a frying pan on medium heat until the bits are crispy, this should take about 10-15 minutes. Remove pan from the heat and stir in the green onions. Set aside.
For 2 of the potatoes, split them in half and scoop most of the flesh out, leaving about ¼? on the borders. Take all the flesh out of the remaining potato.
Mash, then add the butter and the bacon-green onions mixture.
Season with salt and pepper to taste.
Spoon the mixture back into the skins and bake for another 20-25 minutes.
Serve with the crème fraîche.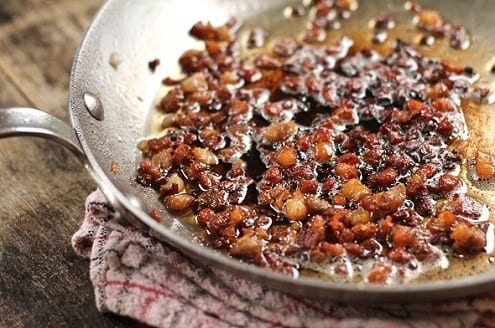 Bryan Picard
Bryan Picard is a wild and homegrown food enthusiast. He lives in the Maritimes in Canada and has worked the kitchens as a cook and chef for the past ten years. He writes on his blog The Bite House.