Khandvi is a snack bite that comes from the state of Gujarat in India and it's made with plain sour yogurt and chickpea flour.
By Kankana Saxena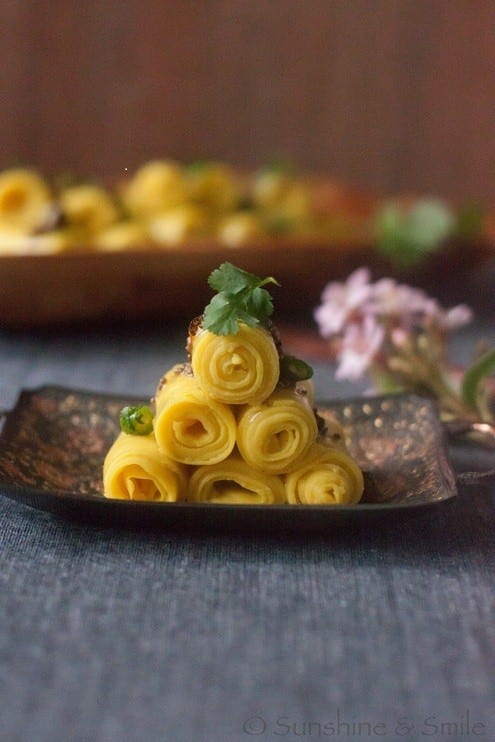 Making Khandvi is not easy and it took me multiple attempts to get it right. It's definitely not one of the easiest snacks to prepare. It needs a lot of time and attention but at the end, you will certainly not regret the effort.
Getting the batter ready was the quick and easy part. In fact, the whole process should not take more than 15 mins. The first tricky part was to cook it to the right consistency, so that it was easy to spread evenly into a thin layer.
Then comes the second tricky part – making the rolls. The thin layers are very delicate and if you hurry, it will break apart. You need to be really careful and patient while rolling the layers.
Khandvi - A healthy finger food from India
A healthy finger food made with chickpea and yogurt.
Recipe Type:
Snack, Appetizer
Ingredients
1 cup chickpea flour/besan
1 cup sour yogurt
2 cups water
1 teaspoon asafoetida/hing
½ teaspoon chili powder
1 teaspoon turmeric powder
1 inch ginger, grated
salt
Instructions
Arrange some steel plates/glass chopping boards or cookie sheets to spread the batter. You can also spread the batter on the counter top. I used back side of a cookie sheet and two wooden chopping boards.
Brush the back of the cookie sheet and the wooden boards very lightly with some oil. Then, rub it using a kitchen paper towel to make sure it's not too oily.
Keeping the spreading utensils ready is very important as you have to spread the batter immediately while it's hot. Once the utensils are ready, start with the batter.
Add water and sour yogurt in a microwave proof bowl and mix it properly.
Then, add asafoetida, chili powder, turmeric powder, grated ginger and give it a mix.
Sift the chickpea flour to the bowl and whisk until it's mixed properly.
Add salt and mix it one last time to make sure that there are no lumps.
Put it in the microwave without the lid and let it cook for 4 minutes in high heat.
Take it out and whisk it properly. Put it back in the microwave for 3 more minutes.
Take it out and whisk it once again. At this point, the consistency should be thick enough.
Spread the thick batter quickly on the back of the cookie sheets or chopping boards. Spread it as thinly as you can.
Let it rest for 2 to 3 minutes.
Kankana Saxena
Kankana Saxena shares culinary journey, travel stories and passion for photography in her blog 'Playful Cooking'. Her cooking style is mostly nutritional with little bit of indulgence here and there. She believes in the mantra 'homemade is happiness'! She is a native of India but currently resides in Santa Clara, California with her husband.