Sponsored Post: It's the perfect time of the year to remember to be a little sweeter. Whether it's dropping off dinner for a neighbor or bringing in a treat for your coworkers, let's be sweet more often. We've partnered with the North Carolina SweetPotato Commission to bring you some sweet inspiration.
Creamy, hearty and warm, this sweet potato au gratin is a perfect side dish for the coldest days of the year.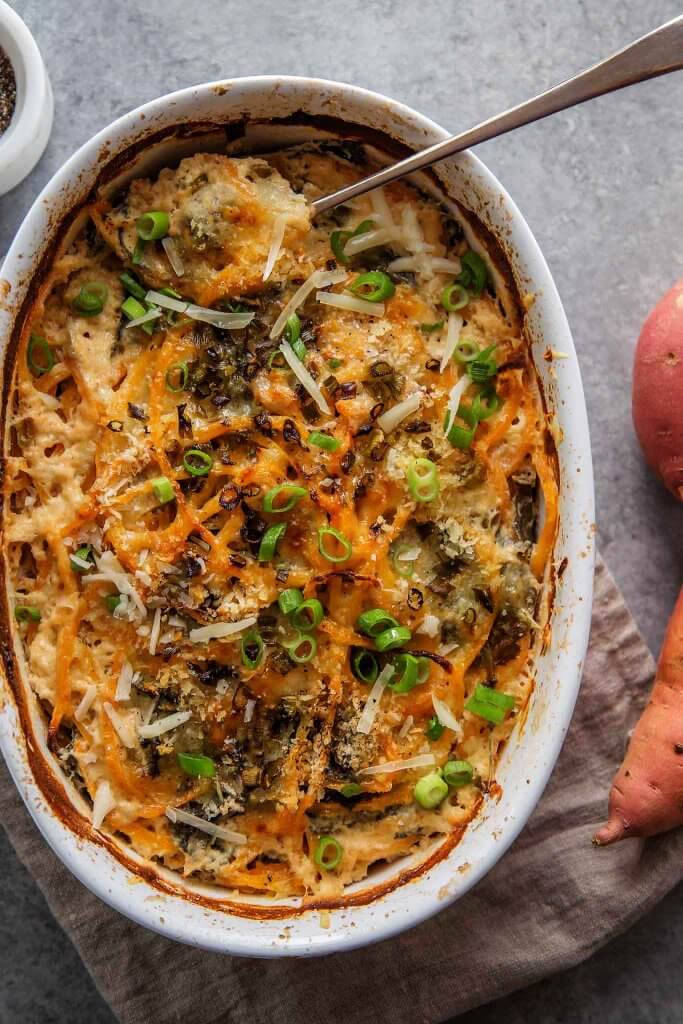 've got a yummy new side dish to share with you today – Spiralized Sweet Potato Au Gratin with Kale and yes, it's a mouthful… A delicious mouthful of creamy gruyere & parmesan cheese, hearty kale, and yummy sweet potatoes!
I decided to spiralize these sweet potatoes with my cool new Kitchen Aid attachment. I mean, why not? I'm trying to find every way I can to justify my purchase and they look so cute too! Of course, if you don't have a spiralizer, you can also just thinly slice and layer the potatoes. Did you know that sweet potatoes are packed with vitamin A and fiber? Plus, we're adding in a few handfuls of kale… All those healthy goodies mean that we have some wiggle room to at least be a little decadent, right?
Enter the gruyere, parmesan and crispy panko topping.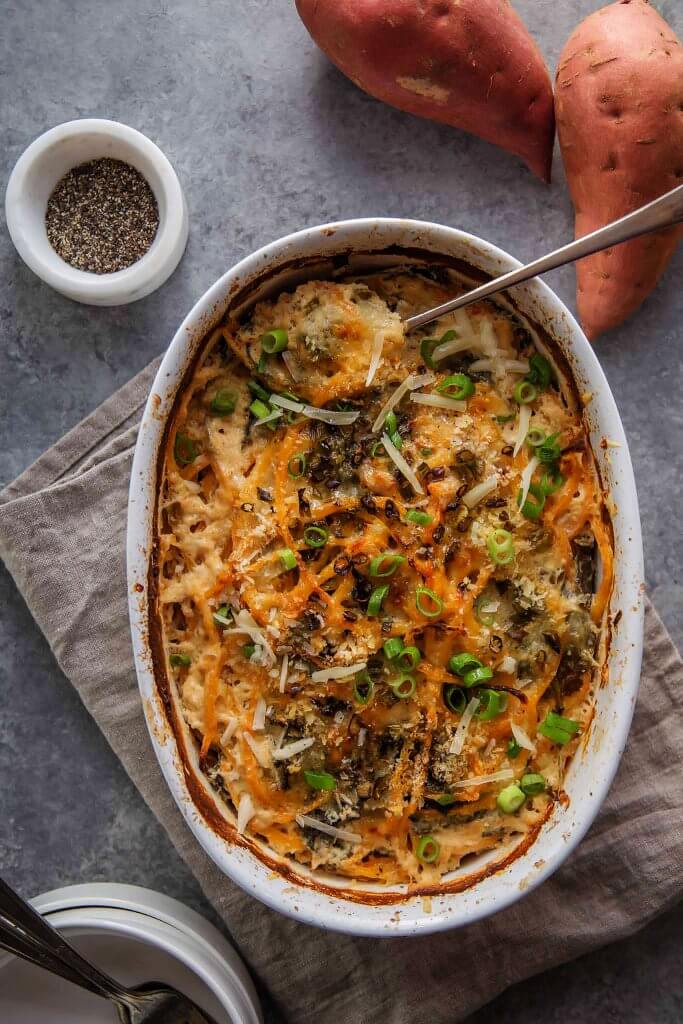 I wanted to make this dish a total comfort food. I added in some warming spices like cinnamon and nutmeg, and them whirled them around with the sweet potatoes and a bit of heavy cream. Layer all that goodness up between layers of the gruyere and parmesan and then top with some crispy panko breadcrumbs… Pop this au gratin into the hot oven, revel in the amazing aroma, and be prepared to dive into this hot, bubbly sweet potato yumminess.
In reality, this "side dish" is hearty enough to be considered a meal in its own… Plus, it's vegetarian-friendly, making it a perfect option for Meatless Monday. However, if you'd like to serve it up as part of a full meal deal, I'd highly suggest teaming it up with this Easy Roasted Chicken or these Apricot Glazed Cornish Game Hens.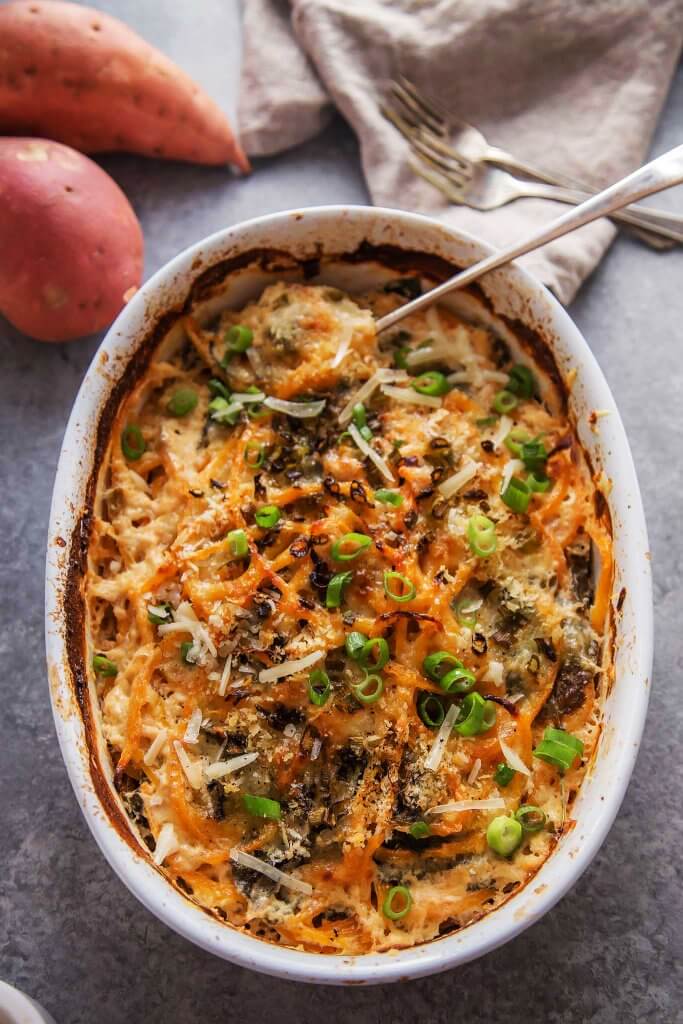 Plus, be sure to enter below for a chance to win a Vitamix!
For even more sweet inspiration, check out this video.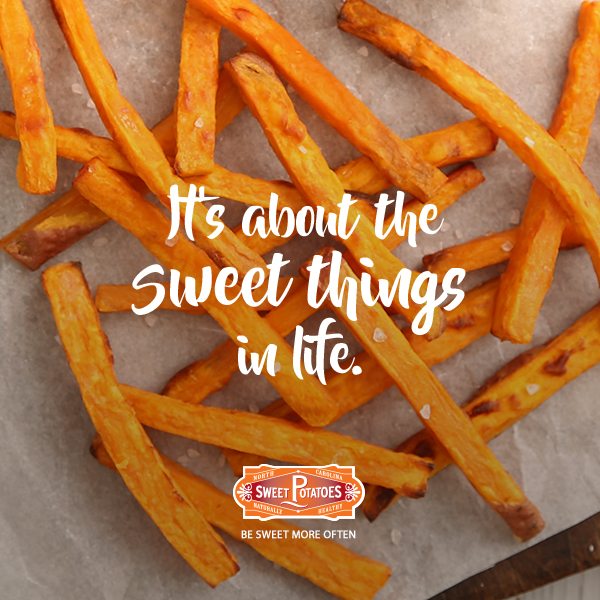 Erin Rebecca
I'm Erin - a self-taught weeknight cook. I occasionally like to delve into the more complicated recipes, like homemade pasta, Cioppino, and boeuf bourguignon. But for the most part, I work full-time, come home, pour a glass of vino and start cooking away.