Oven roasted chicken is an absolute classic that is both amazingly good and quite easy to succeed with. Nancy Lopez-McHugh with the recipe.
Text And Photos By Nancy Lopez-McHugh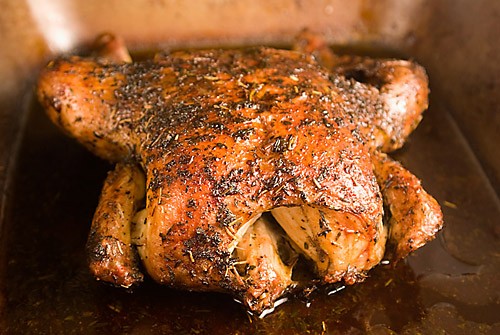 Everyone likes chicken, well not vegans or vegetarians of course. Chicken stands on very neutral ground where no real bad things are ever said about it. The meat eater never talks about it tasting too gamy or being tough. It's just chicken and it tastes like, well chicken. Maybe it's no coincidence that so many meats are described as tasting like chicken. Could it be because of the plain, soft taste and texture of chicken? All I know is that when I want chicken, I want the real deal not something that tastes like it.
Chicken meat is inexpensive and one of the most commonly used meats in the world. Did you know that there are more chickens in the world than any other bird? (Panchito, my scruffy terrier thinks this is great news.) The current species we know today is a hybrid of the red and grey fowl that were raised thousands of years ago in the Indian subcontinent. I found conflicting information as to who were the first people to domesticate chicken, some say India others China. I guess it doesn't really matter who, but rather that because of its domestication many people can eat an inexpensive and healthy meat.
See Also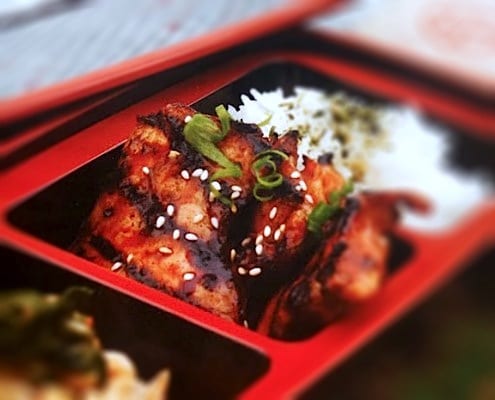 Most sunday nights in our house means roasted chicken night. I love preparing this dinner because it requires very little of my attention and only a few dishes to wash. The whole family, that would be hubby, Panchito the scruffy terrier and I, consider this one of our favorite meals. Okay, okay so it's Panchito's favorite homemade meal and seeing how crazy he goes for it I can't help but want to make a special meal he too can enjoy. He stands in the kitchen watching me rub the herbs and spices over the chicken liking his lips in great anticipation. The enticing smells of the herbs and spices start to fill not only the kitchen but the whole house. This draws Panchito to the kitchen about every 15 minutes to take a peek at "his" dinner in the oven. Gotta love our endlessly hungry furry companions. My recipe uses herbs as the main ingredient giving it a lot of flavor. It is both juicy and crispy a very succulent meal everyone will love.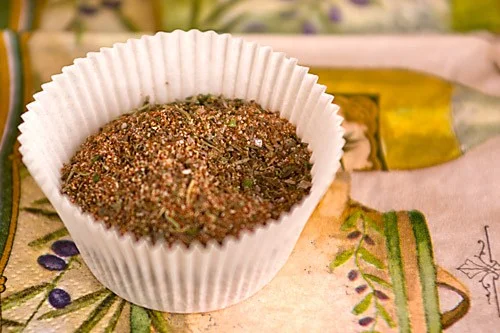 Print
Juicy and Crispy Herb Roasted Chicken
Oven roasted chicken is an absolute classic that is both amazingly good and quite easy to succeed with. Nancy Lopez-McHugh with the recipe.
Author:

Nancy Lopez McHugh

Prep Time:

20 mins

Cook Time:

2 hours

Total Time:

2 hours 20 mins

Yield:

4

-6

1

x
Category:

Main

Cuisine:

American
1

whole chicken

1/2 tsp

salt & pepper, of each

1 tsp

garlic powder

1 tsp

paprika powder

1 tsp

of
each
dried basil, oregano, thyme , rosemary,

1/2 tsp

dried parsley

1

chicken bouillon cube ( look for a low sodium and without MSG )

1 cup

(

250

ml) warm water to dilute bouillon in

1

large baking pan
sharp knife
Instructions
Preheat the oven to 200c /392f. In a small bowl combine all the spices, dilute bouillon cube in warm water. Trim away excess fat from the chicken around the bottom and legs. This fat normally is how the chicken legs are held together but I don't care for the extra fat so I discard it.
The first step is the trick to giving the chicken a lot of the flavor with the spices. Breast side up, either with a knife or using your hand (if they are small enough) you need to separate the skin from the breasts. With either your hand or a couple of fingers rug some of the spice mixture into both the chicken breast, and then rub spice mixture on top directly on the breast skin. Next try to do the same on the drumsticks, make a small incision for a couple of fingers and rub as much spices underneath the skin. Use the remaining spice mixture to rub and cover the entire chicken top and bottom. If you left the excess fat around this area, cross the drumsticks then put it in the roasting pan.Otherwise just place the chicken in the roasting pan.
Pour a quarter of the liquid into the pan. Reserve the rest of the bouillon, you will add it gradually as the chicken cooks and the liquid in the pan begins to absorb. Roast the chicken in the center of the oven. I check on it every 30 minutes, the fat will begin to melt off and collect in the pan. Spoon up that liquid/fat mixture and pour it over the top of the chicken. Half way through the cooking time, flip the chicken over and cook for 30 minutes (pour some of the collected liquid from the pan again), after 30 minutes flip again then finish roasting breast side up again. I cooked this chicken for 2 hours (cooking time depends on weight, higher weight = longer cooking time.
Once roasted the necessary time place the chicken on a cutting board and allow to cool for 5 minutes before carving. Serve with fresh seasonal vegetables, mashed potatoes, warm dinner rolls and a glass of wine. Now that's a meal!
Nancy Lopez-McHugh
Nancy Lopez-McHugh is a food blogger, photographer and published author. Most recently she has published "Yummy Pics: A Food Blogger's Guide To Better Photos".