Natalie McLaury considers herself a bit of a hoarder when it comes to magazines. Never one to pass up a good deal on a subscription, it's to the point where she now finds herself receiving a magazine in the mail several times a week. Most of the time, she rips out pages of recipes but fails to actually create the recipe in her kitchen. Not anymore! Join Natalie as she cooks the magazines.
By Natalie McLaury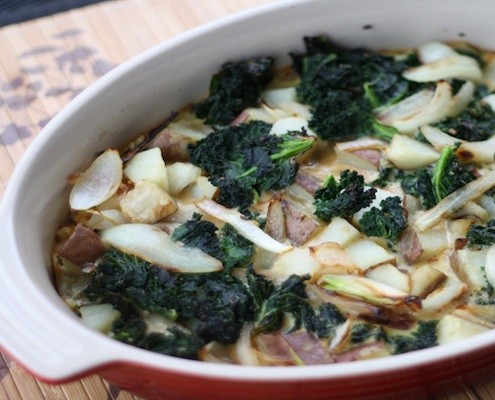 Lately, it seems every magazine or newspaper article you read highlights kale and its benefit. Of course, it's with good reason, the leafy green is low in calories and chock full of nutrients. Ever since discovering kale chips, I haven't had to force myself to regularly eat the vegetable, but I'm always looking for new ways to prepare and serve it. When I saw this recipe for a frittata containing kale in Self Magazine, I was excited to give it a try.
Though this frittata has several pre-cooking steps (such as cooking the potatoes and blanching the kale), you can do many of them a day ahead of time to save you time when you're actually preparing the breakfast or dinner. I simply refrigerated my boiled and chopped potatoes along with my cooked kale overnight. I even pre-chopped my onions! When I got home from work it was simply a matter of throwing a few ingredients together; the whole thing took less than half an hour to make.
I like the versatility of frittatas–most vegetables can be thrown in and work alongside the egg base. In the case of this one, spinach could easily be substituted for the kale (though I recommend giving the kale a try–cooked kale is much easier to stomach for those of you who may have previously tried it raw!) or cheese could be added (feta would be especially good!). Feel free to get creative! I liked this frittata as is, though the overall flavor was relatively plain. Some salty feta or additional spices could easily solve that problem. Don't get me wrong, this version was good, and absolutely a healthy breakfast or dinner option…definitely a win from Self Magazine and another great way to use kale!
Kale, Potato, and Onion Frittata
adapted from Self Magazine, February 2011
Ingredients:
-cooking spray
-1 onion, sliced
-3-4 cups (7,5dl-10dl) kale, trimmed, blanched 3 minutes in boiling water, drained, squeezed, & chopped
-2 cloves garlic, chopped
-2 cups (5dl) boiled diced potatoes (I used red)
See Also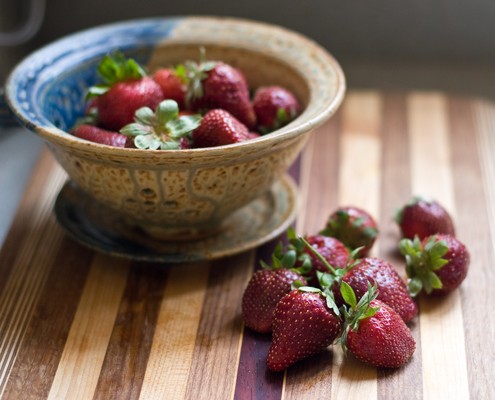 -4 eggs
-1/2 tsp paprika
Directions:
1. Preheat oven to 400F. Spray a medium skillet with cooking spray and cook onion over medium heat, stirring, for 5 minutes. Add kale and garlic and continue to cook for 5 more minutes. Add potatoes.
2. In a separate bowl, whisk eggs with 2 tbsp water and paprika in a bowl. Add potato-kale mixture.
3. In a cast-iron skillet coated with cooking spray, cook egg mixture over medium low heat for 1 minute. Transfer skillet to oven and bake for 6-8 minutes, until eggs are slightly runny. (Alternately, as I did, you can continue through step 2, then mix the eggs with the kale-potato mixture and add to a greased baking dish. Bake at 400F until middle is set, mine took about 10-15 minutes, then broil for 1 minute on high to set).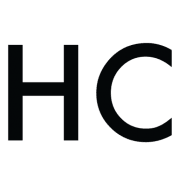 Natalie McLaury
Natalie McLaury is a St Louis based food writer with a passion for real food and experimenting in the kitchen. Her cooking ranges from healthy three course meals to decadent desserts, and she shares many of her food tips and recipes on her successful The Sweets Life blog . As an avid runner and fitness expert, she also gives the occasional tips on how to combine a serious interest in health with a sweet tooth.